I'll be honest: I never understood why anyone really needs a handheld vacuum cleaner. Many full-size vacuum cleaners can convert to a handheld model anyways. But after testing a bunch of them, I now get why they are so popular. And quite frankly, I'm not sure I could live without mine. Yes, I have a pet. Yes, I like to vacuum my kitchen every day because I am clumsy, but that aside, my handheld vacuum means I am always prepared for any spills or messes.
These vacuums are specifically designed for those little jobs — from removing crumbs on your coffee table to getting pet hair off your couch or car seats. I will always rave about how much time my handheld vacuum truly saves me every day. Because who really wants to dig their vacuum out of their coat closet every time they spill something on their floor? Not me.
Whether you're here to find a handheld vac to supplement your upright vacuum (or your robot vacuum), then I totally get it. Even with a convertible cordless vacuum, a handheld-only model will help you get into all the most awkward spots, like under the bed, or down the back of the couch ASAP.
Along with a few Real Homes editors, I've reviewed my way through the best-rated handheld vacuum cleaners currently available to share what we think are the best models to buy right now.
6 of the best handheld vacuum cleaners
Why you can trust Real Homes Our expert reviewers spend hours testing and comparing products and services so you can choose the best for you. Find out more about how we test.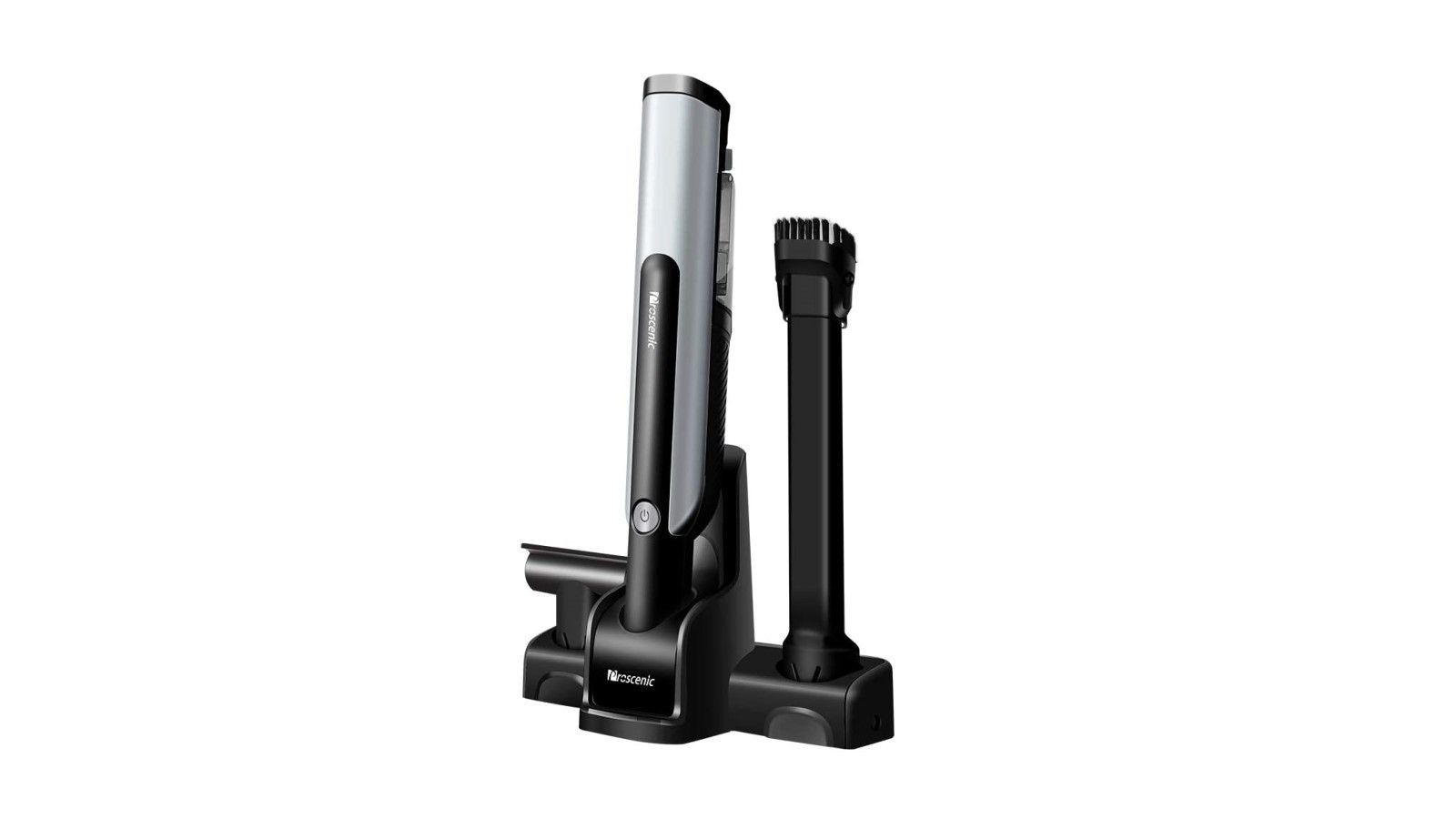 For those who expect a lot out of their handhelds, you'll want to consider the Proscenic S1 Mini Handheld Vacuum Cleaner. It promises up to 30 minutes of power to remove tracked-in dirt in the car or crumbs deep in the couch cushions.
Our verdict
The S1 did a great job in our tests of picking up particles big and small. Our reviewer Millie found the two suction modes were plentiful for dealing with an array of messes, though choosing the lower power setting definitely helped the vacuum run for much longer. When it comes to attachments, the brush nozzle was excellent for working on upholstery, while the crevice nozzle was unrivaled for reaching corners in her high-ceiling home.
Things to note
The Proscenic S1 claims to have a running range of 15–30 minutes. While that doesn't seem too long, it's the longest of the handheld vacs that we've seen and tried. In practice, our reviewer confirmed it lasted 26 minutes on the lower setting, which is pretty good. When it comes time to charge, the S1 can be housed on its charging dock or via its USB-C cable.
Read our full Proscenic S1 handheld vacuum review.
We do like a Shark vacuum cleaner, especially when it's reasonably priced, cordless, and handheld. These features are ideal for tackling pet hair (since it's designed to rival some of the best vacuums for pet hair) and keeping snack crumbs under control. While many spot cleaners have simple attachments, this one is built for animals. Its self-cleaning pet power brush makes cleaning pet beds and upholstery so easy.
Our verdict
As with Shark's larger cleaners, the self-cleaning brush is the star of the show with this vacuum, promising to prevent hair from getting wrapped around the roller. Our appliances editor and vacuum expert Jen found the perks of this design met expectations, though she warns users to be careful when using this smaller tool on large clumps of hair. She also liked how simple it was to operate the vacuum with the straightforward on/off switch. She felt that the 10.8-volt battery provided similar cleaning power to a regular vacuum, although this vac only offers 15 minutes of cleaning per charge.
Things to note
There's a small bin, but it's easy to empty and large enough for spot cleaning. Once removed, you can rinse the bin and filter under a tap to keep it all clean.
Read our full Shark UltraCyclone Pet Pro+ review.
The super lightweight and slim Eufy HomeVac H30 Mate by Anker handheld is about the size of a bottle of wine, meaning it can easily fit in a desk drawer or beneath a car seat for quick clean-ups.
Our verdict
For such a small vacuum, it's big on power. During our tests, our reviewer Jen found that dust, crumbs, and even compost from a toppled-over indoor plant were tackled in a single pass. The 2-in-1 crevice tool was Jen's favorite accessory for getting into tight, awkward spaces and was best used in her car to clean the trunk. She also found the mini motorized pet brush was good for handling stray hairs on the upholstery that she couldn't even see were there.
Things to note
Well, seeing as size and runtime seem to go hand and hand, it's not surprising here that this slightly bigger handheld vac can deliver a runtime of up to 20 minutes. Jen found that this was (almost) enough for cleaning her whole car and that it was longer lasting than the HomeVac H11 (an older Eufy model). However, it does have a tiny dust bin that affects the suction as it gets fuller.
If you don't want to spend as much on a handheld vacuum as you would on a full-sized one, then you can expect the affordable Dirt Devil Scorpion Handheld Vacuum Cleaner to get the little jobs done well. You'll never have to remember to keep it charged either, just plug it in and clean!
Our verdict
The Dirt Devil Scorpion Handheld Vacuum Cleaner is small, light, and easy to handle — it proved to be an ideal purchase for sucking up crumbs from car seats, vacuuming underneath the radiators, and other small clean-ups during our tests. Our reviewer Alex felt a noticeable difference in power, noting that it had more suction than any other handheld she had tried. Alex's favorite attachment was the stair tool — she can recommend it for banishing dust and dirt on not just stairs but on upholstered furniture and rugs, too.
Things to note
Unless you have an outlet close to your car, you'll likely want to skip out on the Dirt Devil Scorpion for consistent car upkeep. However, unlike cordless models, you have the benefit of extended cleaning for however long it takes to get surfaces cleaned.
Alex found that one downside of this Dirt Devil model is that the stair tool is tough to clean and hair accumulates inside the brush roll. If pet messes or long hair is your main cleaning concern, you might want a tool that has specialist features to banish tangled strands.
Read our full Dirt Devil Scorpion review.
The Hoover ONEPWR Cordless offers plenty of power in a lightweight model, with an XL dirt cup if you'd prefer to go a little longer before emptying out your handheld. Or if you have a smaller home. Rather than plugging in this handheld to a charger or slipping it into a dock, you instead charge up the battery and then place it into the unit before you start cleaning.
Our verdict
Daily cleaning became easier once our reviewer Alex had the Hoover ONEPWR Cordless in her life. The fact that it took her seconds to insert the battery into the model and get cleaning was game-changing, alongside the fact that it's handy for everything from countertop clean-ups to getting rid of dust on window sills. Alex found that she could go for pretty long stretches without needing to empty the dust bin too, which is a testament to this model's large capacity.
Things to note
If you buy this vacuum on Amazon, don't forget that you'll have to buy the battery separately. While Alex loved the large capacity available to her with this vac, she thought the suction could be stronger. She also wouldn't recommend using the crevice tool attachment for long periods of time, as it reduced suction power even further.
Read our full Hoover ONEPWR review.
The sleek design of the Shark WV201 WandVac means it's very easy to stash in a cabinet, closet, or even a drawer — but at the same time, we'd totally understand if you want to leave it out on the counter for all to see. Definitely the best-looking of all the handheld vacuums we evaluated, it blends style and ergonomics for a futuristic look.
Our verdict
Aside from this vacuum's looks, it's also included in this round-up because our tester Jenny really rated its performance at home. She found that it was more than capable of dealing with pet dander and toddler debris, and she loved how quiet and light it was to handle. The duster crevice tool was brilliant for all of the smaller spots you can't always get to. Jenny also found that the emptying process was a dream; you only need to slide one button down to release the contents into a bin.
Things to note
The one real drawback is that it only lasts 10 minutes, which is on the shorter side of average for a handheld vac. Also, thanks to its ultra-sleek design, the debris-catching dust cup is very small. But for quick jobs, it does well and looks great while in action and while charging.
Read our full Shark Cordless Handheld Vacuum WV201 review.
Real Homes review process — How we test handheld vacuums
At Real Homes, we know it's important to have hands-on experience with the products we recommend. That's why, as part of our testing protocol, we've tried all of these products out at home for at least two months to give you our honest verdict.
Not only have these vacs been busy lifting dirt and debris, but we've also purposely spilled some cereal to see how it vacuums up food, too. Alongside evaluating suction power, we analyze the ease of set up and use, versatility, runtime, and price.
Meet our handheld vacuum testers below:
Jen is now homes editor on TechRadar. Previously she has written for Ideal Home, Real Homes, and Homes & Gardens as the appliances editor. She has tested the Shark UltraCyclone Pet Pro Plus within this guide, which is a great pick for homes with pets. If you have pets, Jen found that purchasing this vac is worth it for the large dust canister and its ability to eradicate hair on sofas and carpets. She also has hands-on experience with the Eufy Homevac H30 Mate, which has an impressive amount of power for a mini vac, making it perfect for compact spaces.
Annie has been reviewing products for Real Homes since 2018, and she has tested two Shark handheld vacuums for us. She uses the Shark WV201 Wandvac as her main handheld vacuum at home and uses it mostly to clean pet hairs off her dark lino floor that her pug leaves behind, plus she cleans his bed(s) with it.
Millie is the head of reviews at Real Homes and has also done vacuum testing at home in the past. She loved the Proscenic S1 Handheld Vacuum after testing it out, which is why it earns the top spot on this list. The standout features for her were the superior battery life and the excellent suction, and she loved the neat charging station for storage, too.
Jenny is the senior digital editor at Real Homes. She also tested the Shark WV201 Wandvac in her busy family home and found that it was perfect for storing in her kitchen for smaller messes. She would recommend it even if you have a large home, as the speed and convenience of this vacuum are both excellent.
Alexandra is a freelance writer and former journalist. She tests products out for Real Homes to see if they're worth your investment, and from this list she has tried out the classic Dirt Devil Scorpion+ and the Hoover ONEPWR. She was well equipped to try out these two pet-perfect vacs while cleaning up after her cat, Dish, at home in New York City.
6 things to consider when choosing a handheld vacuum
When you're looking to buy the best handheld vacuum for your household, there are a few factors to consider to ensure you make the right choice. They are:
1. Weight
Cleaning power aside, we consider the small size and manageable weight to be the most important feature of these small vacuums. If your handheld is too heavy and bulky, you might as well just get an upright vacuum for its greater cleaning power, and use its hose or attachments for spot-cleaning jobs. Most handheld vacuums weigh 2 or 3 pounds.
2. Corded vs cordless
Once upon a time, handheld vacuums came with cords that had to be plugged into an electrical outlet. But that appears to be a thing of the past: We actively tried to find a standout corded model that would merit a place on this list and decided on the Dirt Devil Scorpion.
If portability is high on your list of must-haves, we recommend going straight to our list of the best cordless vacuums, many of which convert into handhelds on their own.
3. How long do you need to clean?
Handheld vacuums don't have the same battery power as their larger counterparts. A run-time of 10 to 20 minutes is typical, so if you find yourself routinely needing to clean for longer, we recommend looking for a lightweight, easy-to-maneuver upright or stick vacuum cleaner with appropriate accessories.
4. Attachments
Like any vacuum, many of these handheld vacuums come with a variety of accessories for a more precise clean. Most should come with a crevice tool, and other nice-to-have attachments include specialty brushes for carpets and pet hair, dusting brushes, and even hoses for added reach.
5. Level of suction
Handheld vacuums can differ widely in suction capabilities, and sometimes get a bad rap for not being powerful enough. That being said, a 12-volt product should be more than enough for light housework. A good handheld vacuum will have multiple suction settings, though many have just a simple switch.
6. Dust bin capacity
Size matters. While you want a handheld vacuum that is lightweight and easy to use, you'll also want to consider the dust bin size, and how much you will be cleaning. Typically, the lighter the vacuum the smaller the dust bin. A standard dust bin size for a handheld vac seems to be about 10 ounces to 20 ounces. The bins on micro models can be as small as three ounces. Look for designs with transparent containers so you can see how much debris has accumulated as you clean.