Finding the best floor cleaner is imperative if you want to keep your home clean, sanitary, and smelling good. In your search for a floor cleaner that works for you, you'll need to keep in mind a few things like the types of flooring you have and the level of cleaning you'll need. For instance, does your cleaning solution need to cut through a normal week of dirt and grime dragged in by shoes or are you in a battle against major food and beverage stains?
For pet owners, the struggle to find a good floor cleaner is real. Not only do they have to find something that will clean pet accidents, but a floor cleaner that has the capability to rid floors of the odors that come with owning a furry friend.
We tested, researched and read reviews on the top cleaners in the market, and narrowed them down into the best of the best. Keep scrolling to find the best floor cleaner for your home.
Once you've found the best floor cleaner, you'll be able to choose the best mop for your floor cleaning needs.
The best floor cleaners
Why you can trust Real Homes Our expert reviewers spend hours testing and comparing products and services so you can choose the best for you. Find out more about how we test.
We know your time is precious so here are our top three floor cleaner choices. Scroll down to see our full reviews:
Sustainable and biodegradable floor products are the best because they keep those who matter most to us -- our kids and pets -- safe, while also cutting through the tough stains and grime that come with everyday living. This is where Method Squirt + Mop Hard Floor steps in. With a non-toxic plant-based solution, this floor cleaner takes care of your weekly cleaning of linoleum, vinyl, laminate, and tile floors without leaving behind harmful fumes or chemicals.
What do we like about it?
Since you don't need to dilute the solution prior to cleaning, this floor cleaner is easier-than-easy to use. The manufacturers installed a squirt lid with a shower nozzle so all you have to do is aim and squeeze the solution directly onto the floor. The shower nozzle allows the solution to spray evenly across your floors so you can come behind with a dampened mop and clean up any filth in just a few sweeps.

Good to know
If you like the Method brand but have hardwood or laminate floors, you may want to check out their almond-scented Squirt + Mop Wood Floor Cleaner. This formula promises to be wax-free. This is important because wax can actually hold onto grime and dirt rather than clean it up and diminish your ability to buff and finish your floors in the future.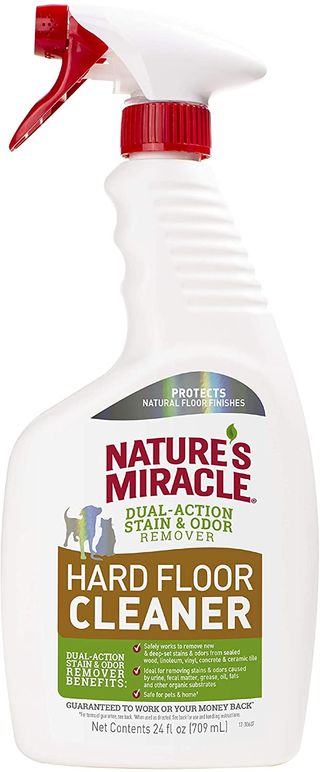 You can love your pet and hate the odors and stains they leave behind. With that in mind, we've got the perfect floor cleaner for you: Nature's Miracle Hard Floor Cleaner. The dual-action stain and odor remover makes this the go-to solution to clean up messy accidents (and the smells associated with them) that inevitably happen when you own an animal.
What do we like about it?
Designed as a spot cleaner, Nature's Miracle has a bio-enzymatic formula that deep cleans stains and odors from all types of floors. Bio-enzymatic cleaners have non-pathogenic bacteria that eat the molecules found in waste, odor, and soils and turns them into carbon dioxide and water. Whether you have linoleum, brick, ceramic tiles, concrete, grout, or sealed wood, you can rely on Nature's Miracle to get into the tiniest of crevices and free your home of deep-set and smelly stains.
Good to know
Nature's Miracle has the cleaning power to battle other major stains, too. Use it in the kitchen to rid your floors of grease, oil, and fats.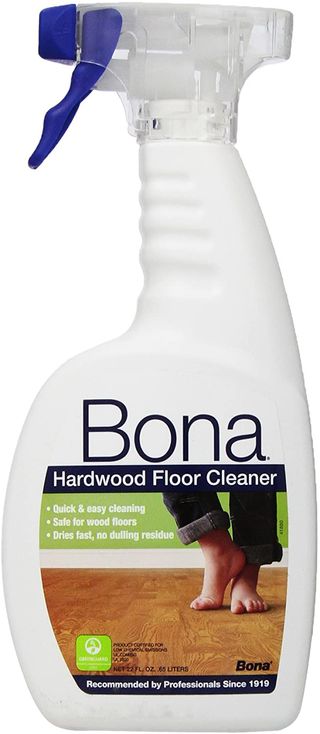 Hardwood floor owners always seem to have trouble finding the right floor cleaner that won't mess up their finish, leave behind a residue, or is up to the tough job of cleaning up dirt and dust. There are a lot of sub-par hardwood floor cleaners, but Bona Hardwood Floor Cleaner isn't one of them. Bona also do some of the best tile cleaners around.
This product has the tough cleaning capabilities you'd expect in a floor cleaner and a pH neutral formula that maintains the floor's finish and ensures it won't discolor or harm your wood floors.
What do we like about it?
Packaged in a spray bottle, homeowners only need to point and spray this cleaner directly onto hardwood floors before wiping it away with a microfiber mop. The water-based solution works twofold to remove dust, dirt, and grime, without leaving residues or streaks that so often occur with other hardwood floor cleaners.
What does it do well?
Bona has added a cedar wood scent with notes of herbs, peony, and eucalyptus to the solution. The soft woodsy scent is a great addition to shiny clean floors.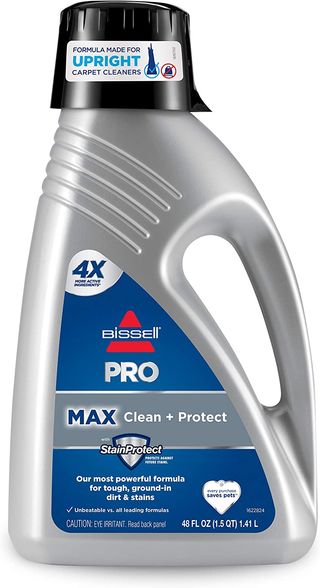 Sink your toes into a stain and odor-free carpet with the help of this Bissell carpet shampoo. Bissell boasts that their solution can remove beverage, blood, makeup, and grease stains on carpets, and plenty of Youtubers have done tests and found this to be true. With Scotchgard protection, this shampoo protects your carpets from stains setting in between uses.
What do we like about it?
Throw a little bit of this baby into an upright carpet cleaner and let the powerful formula remove heavy stains and penetrating odors from your carpet, area rugs, and upholstery. If the stains are a few years old, you might have to use hot water and do a few passes over the stain.
What does it do well?
Pets and carpets don't always mix well, but with this Bissell carpet shampoo, you won't have to worry about that. The formula is safe around pets and frees your carpet of pet odors and accidents. Plus, each purchase of a Bissell product goes toward the Bissell Pet Foundation which aims to save homeless pets.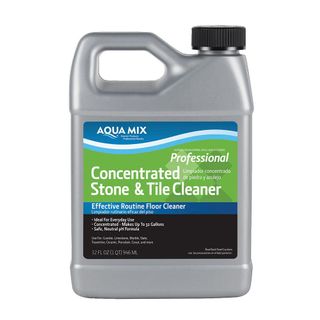 Tiled floors generally appear in bathrooms and kitchens, which are two places where dirt and water build-up can discolor tile, grout, or stone floors. Thanks to Aqua Mix Concentrated Stone & Tile Cleaner, you can cut through those layers of grime and let that tile and grout shine.
What do we like about it?
This cleaning solution is not your average floor cleaner. Where many floor cleaners focus on laminate, wood, or vinyl floors, this one was designed to clean floors made of tile, stone, granite, limestone, marble, porcelain, slate, and travertine. This floor cleaner is quite strong so you'll need to dilute about one to four ounces of Aqua Mix with a gallon of water before using it on your floors with a mop or sponge. Since you only need to use a little at a time, one bottle will go a long way; as Aqua Mix claims -- just one bottle can make up to 32 gallons.
What does it do well?
There is nothing worse than watching your grout discolor or darken and discover that no amount of bleach will do anything to make it clean. Aqua Mix can give new life to grout, as well as remove and prevent soap scum and hard water deposits.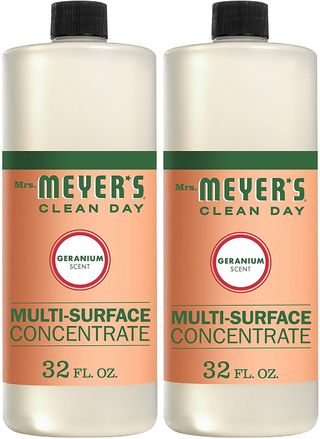 If eco-friendly products are an important part of your cleaning regime, then Mrs. Meyer's won't disappoint. Made with essential oils and natural ingredients, it will easily clean dirt and grime from non-porous surfaces like tile, vinyl, and laminate floors. It might even be safe to use on hardwood floors that have been sealed, as long as its properly diluted with water.
What do we like about it?
A little goes a long way with this product. Use about one-fourth of a cup of Mrs. Meyer's and dilute it in a gallon of warm water before cleaning your floors. The only time you don't need to dilute the solution is if you're trying to get out a pesky stain from something like spaghetti sauce on your kitchen floor or liquid makeup on your bathroom tile (jut do not use this product on unsealed hardwood or natural stone floors).
What does it do well?
This biodegradable cleaner isn't exclusive to floors. Go to town cleaning your countertops, bathrooms, even stainless steel, with this cleaner and enjoy the fresh scent left behind.
What's the best floor cleaner?
Clean your hard floors with our favorite floor cleaner, the Method Squirt + Mop Hard Floor. The great thing about this brand? They have a solution specifically for hardwood floors, too. As for carpet owners, Bissell 78H63 Deep Clean Pro 4X Deep Cleaning Concentrated Carpet Shampoo is the top choice, hands down.
How to choose the best floor cleaner?
When choosing the best floor cleaner, you'll want to ask yourself the following questions:
How much does it cost? While it's important to stay within your budget, you might not want to sacrifice quality for a few bucks.
What type of floors do I have? The type of floors in your dwelling will determine what floor cleaner has the capability to safely clean through dirt, stains, and odors.
Can one floor cleaner be used on various floors in my home? Save money and time by finding floor cleaners that you can use on various floors in your home.
Do I need a specific type of cleaner for sensitive floors? More often than not, you won't be able to use the same floor cleaner on vinyl, laminate, or tile on hardwood floors or natural stone. Hardwood and natural stone floors need sensitive cleaning products that won't damage them.
Do I need to dilute or prep the floor cleaner? Some floor cleaners require you to dilute the product, whereas others can be sprayed directly onto the floor.
Do I need a specific mop or item to use the floor cleaner? Some cleaning solutions have been designed to be used with specific cleaning tools, which is going to be an extra cost. For instance, the Bissell 78H63 Deep Clean Pro 4X Deep Cleaning Concentrated Carpet Shampoo was made to work best with Bissell carpet cleaners like the ProHeat 2X® Revolution® Pet Pro Carpet Cleaner. It could be used in another carpet cleaner, but looking into a Bissell carpet cleaner might be something you want to consider.
Will this floor cleaner remove stains and odors associated with pets? Keep an eye out for floor cleaners that specifically speak to cleaning odors and stains associated with pets.
Looking for more floor cleaning products and reviews?