Its "most sustainable and organic mattress yet", I was beyond excited to try and review The Simba Green Organic GO Hybrid® mattress. I'd heard good things about Simba mattresses, notably how as a brand it makes both quality and eco-friendliness a top priority and is aiming to be Net Zeo by 2023 — into it. Eco-credentials and keeping things as natural as possible are really important to me, from the clothes I buy to how I dress my home, so the fact that the Simba Green GO mattress is made up of innovative materials that are renewable and biodegradable really caught my attention.
All Simba mattresses are 100% recyclable but it's gone the extra mile with this latest release that "has half the carbon footprint of traditional hybrid mattresses." It's all in the detail: the Simba Green GO has six layers in total. To give some context to Simba and/or hybrid connoisseurs, that's one up compared to the five in the Original Hybrid and the later Simba Hybrid Pro which has seven in total. Both of these mattresses got 5 out of 5 stars for their good level of bounce, support, and balanced motion transfer FYI.
I had been sleeping on a memory foam mattress that I bought back in 2018 and it's safe to say that it was in a sorry state. I could feel miracoil springs popping through and having put it through a few house moves, and a lifetime of pets on the bed (sans mattress protractor), it was looking very grubby and in need of a good mattress upgrade. The fact that Simba has thought about every detail of sustainability, from not using glue that can be polluting to the environment, to the organic latex comfort layer that cushions your entire body, makes this bed extra special.
TLDR
As you'd expect when sleeping on any new mattress, the first couple of nights felt, different. Those six layers, inc. patented micro springs and organic latex seemed to really pull through, as once the mattress had settled (2-3 days) and I'd adjusted to the thickness of it, I really started to feel that my body was getting more support than before and that my bed space was a little more bouncy, breathable, and less stuffy.
I repeat the SImba Green GO is a lot thicker than the mattress I had before (12" compared to the average 10-11" you'll typically find) — not that that is a bad thing. It does mean, however, that you'll deep-set bedsheets and bedding if you want your bed to look more polished. I only had standard sheets but thankfully my king-size duvet hides the mattress sides while I put a bedding order in.
I sleep solo, with my cat — a vibe I am aware — but this doesn't mean that I starfish. I actually tend to sleep in a hamster-like position on my side. As the mattress is so thick and the edge support is there — but noticeably softer than on my last mattress — I did have a few "oops, nearly fell off there" moments, but that is something I will get used to. Not forgetting that the eco-cred on this mattress does make it one of the best organic and eco-friendly mattresses on the UK market RN, so that is not too shabby at all.
Testing the Simba Green GO Hybrid® Mattress
Although I was in the market for a new mattress, I didn't really know what I was looking for. All I did know is that I sleep on my side or back, usually have some sort of muscle ache going on from too much running, and I struggle a little with temperature regulation. According to our sleep expert Louise Oliphant, a soft-medium mattress is best for those sleeping positions and a hybrid (pocket spring base and memory foam top) is pretty ideal if you don't have any particular needs.
Without many/any customer reviews to go by, as the Simba GO only came out at the end of 2022, it's actually been so exciting to be one of the first to test it out. I've been sleeping on a UK double Simba GO mattress (135X190) for a month now.
Layers for dayz & other cool specs
Available sizes: UK single, UK double, UK King, UK Superking.
Firmness: Medium
Type: Hybrid
200-night trial: including free collection and refund, with no obligation to put it back in the box yourself either
Guarantee: 10 years
Composition: 95% cotton (00% Global Organic Textile Standard certified sources.)/ 1% Spandex / 4% Polyester
Depth: 30.5 cm
RRP: £1579-£2749
Construction: 6 tech and comfort-filled layers
Layer 1: The cooling sleep surface made from organic cotton (and certified to the global organic textile standard)
Layer 2: This is the thick down-like Simba renew layer. It's anti-allergenic renew fibres (of which 75% are recycles) encourages breathability, offering cloud-like support with increased airflow to discourage dust mites also.
Layer 3: This combo of latex and cooling graphite is designed to contour and comfort the body. Certified organic GOLS latex graphite absorbs excess heat and added perforations increase air flow for enhanced berathability.
Layer 4: There are up to 2000 engaged patented microsprings in the aerocoil spring layer
Layer 5: Next, nearly 1000 pocket springs create the Zones Supportcore™ base, offering targeted edge to edge support in five areas, inc. hips and shoulders.
Layer 6: This final layer is to increase air flow again and help the mattress maintain its shape. It's built from a breathable 3D mesh casing made 50% recycled fibers.
Delivery and unboxing the Simba GO
Delivery was a breeze, as was organizing a removal of my old mattress. The Simba Go came in one medium/large box, with the mattress itself wrapped tightly inside within a couple of layers of plastic. As expected from a mattress made with 100% recyclable materials, and with a completely Carbon Neutral Delivery too, I didn't find that there was any unnecessary packaging at all.
Unboxing was, of course, exciting and kind of hilarious because I'd never had to take a mattress out of a box before. Getting the Simba GO in place didn't take longer than a half hour but I did ask my friend to help as I don't think I wouldn't have been able to do it myself without difficulty and/or knocking over a few plants.
If you scan the barcode on the side of the box it tells you more information on the mattress itself but otherwise, there were instructions on the plastic wrap. We laid the mattress onto my bed slats and left it there for the day. Come the evening, about nine hours later, I carefully cut off the cover and pulled it away to make my bed and sleep in it.
My Simba sleep journal
Night 1
The mattress rested for about nine hours before I took off the plastic and hunkered down to sleep. As mentioned, my friend helped, but once the mattress is down and in place, it's easy to work with, especially with the four handles.
When I jumped (yes jumped) on it I was like woah, this is way thicker and softer than my last mattress (a pocket-sprung memory foam), and that I should probably not lean over the side too much for risk of falling off.
So perhaps the sheer excitement of/combined with a little vertigo and the fact that it can take up to 72 hours according to Simba for the mattress to fully rest, meant I didn't actually sleep that much! I would like to stress, this is a regular in my world.
I also really like the added height it gave to my bed, it elevates what is a small room. Note to self that I should order deeper-set sheets too.
Night 2
I woke up with a sore neck from awkward pillow positioning and cat battles for space on said pillow, rest of body fine, just generally need to move and stretch.
Night 3
I had a super active day inc. lots of cycling and pilates, and I also felt like this was the breakthrough night which so happened to be on point with what Simba noted as the 72hrs rest time. I.e. I slept like a log.
Night 4
Good sleep continued and I started to notice small improvements compared to what I had before. The cushioning was the best and I did feel like I was sinking into a cloud which is always ideal after a long day in the city.
Night 5
The smug feelings continued and, as a solo gal, I got my housemates to hop on to help me gauge the motion transfer and firmness rating too. Unsurprisingly, they were more than willing to help. We didn't have a weight but we're all pretty different heights and body shapes so it was a pretty fair way of testing this. There wasn't much motion transfer so if you have a partner, or a really heavy cat, you shouldn't have any issues.
Night 6
I didn't sleep a ton this night, however, I felt pretty okay in the morning and my body wasn't painful or achey — surprising considering how little shut-eye I got.
Night 7
Okay so one week has gone by and call it placebo or not, I'm feeling pretty good on the Simba GO. With or without a lot of actual sleeping hours, my body feels supported and rested.
Admittedly I am still getting that "oops don't fall off" feeling when I approach the side, but then again, perhaps I should stop reaching for my phone on the floor in the early hours.
What happened next
Support: As time has gone on, a month or so, I've only enjoyed sleeping on this sustainable and bougie-feeling mattress even more. The Simba GO keeps delivering on comfort and you can feel the targeted Supportcore™ base coming into play — the unnoticeable springs gently respond to your body movement.
Cooling properties: Another feature that I feel became more prominent over time was the cooling properties of that top cotton layer and the breathability. Every once in a while, I'll struggle with temperature regulation at night, being either too hot (I have been told I am like a little furnace) or too cold, but I find that this mattress does a good job of keeping things balanced.
Edge-support: I love how thick it is and although the edge support is not solid, it really isn't an issue and the average, un-chaotic person should not fall out of bed. There is a lot of support from the highly positioned micro coils and it's got a cozy level of bounce.
Pressure relief: Although I have no particular back problems or posture issues, as far as I'm aware, the Simba GO offers pressure relief and a soothing sensation for hard-worked muscles. Simply put, this mattress serves a dreamy and restorative night's sleep.
Psst
Full disclosure, I took a week out and went to France to visit family during the testing period. All I will say is that my sleep setup was quaint and less supported, I had clearly been nicely adjusting to my new plump mattress and I was happy when I got back to resting on it.
I'd never considered a mattress protector before but I will be investing in one asap. You can clean the fabric with a clean, damp, soft cloth but you can't fully remove the cover to wash it so Simba also encourages you to use added protection.
Who would the Simba GO suit?
Eco warriors
Active folk
Side and back sleepers
Allergy sufferers
More mattress picks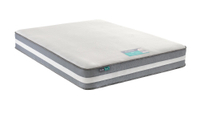 (opens in new tab)
If you want something cheaper |Silentnight Eco Hybrid mattress (opens in new tab)
We get it. This super sustainable mattress is pretty pricey. But the good news is you can still go for an eco-option if you have a smaller budget. The Silentnight Eco Hybrid mattress is known for its eco-properties and great price point.
Read our full Silentnight Eco Hybrid mattress review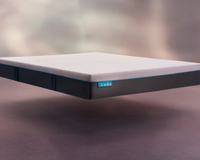 (opens in new tab)
If you're not *too* eco-obsessed | Simba Hybrid Pro mattress (opens in new tab)
The Simba Hybrid Pro is at the premium end of hybrid mattresses, yes, but it's the best one in the game. It's still 100% recyclable but not as eco-friendly as the GO. If green isn't your first thought, then this is one we can highly recommend.
Read our full Simba Hybrid Pro review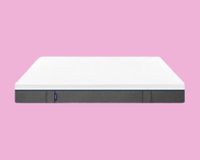 (opens in new tab)
About Real Homes reviews
This was Camille's first mattress she tested for realhomes.com, but as someone who regularly misses out on a full eight hours, she was more than willing to up her cosy bed game. Here are her sleep stats:
• Sleep position: solo, on her side, with an eye mask (and a cat) ICYWW
• Insomnia: None
• Sleep problems: a good amount of support to restore tired muscles after swimming sessions and running around at the weekend
• Average sleep time: 7-8 hours
If you're interested in full details you can check out our how we test mattresses page. We've got you covered with all the intel from testing time to processes.