If you're looking for a Hybrid, eco-friendly mattress then your search may well now be over. The Silentnight Studio Eco Hybrid mattress – part of a new range by Silentnight launched in summer 2020 – marks the latest milestone in the brand's eco drive to help prevent millions of recycled plastic bottles from entering our oceans and landfill sites.
We've been putting this mattress to the test for three weeks now, and when I say 'we' I mean my husband and I, and our eldest daughter Kitty (not all at the same time thankfully!). Nick and I slept, very well, on it for the first two weeks, and then Kitty, aged 10, decided she'd like to get in on the reviewing action. Clearly, she just wanted to treat her inner Princess to a double, but we'll take our excitement where we can in lockdown! The results were surprising…
Keep scrolling to find out what we thought, and to see if this option could fit the bill of being your next best mattress – one that doesn't cost the earth.
Silentnight Studio Eco Hybrid mattress specifications
Tension: Medium firm
Type: Mirapocket (mini pocket springs)
Sizes available: Single, double, king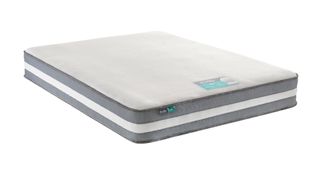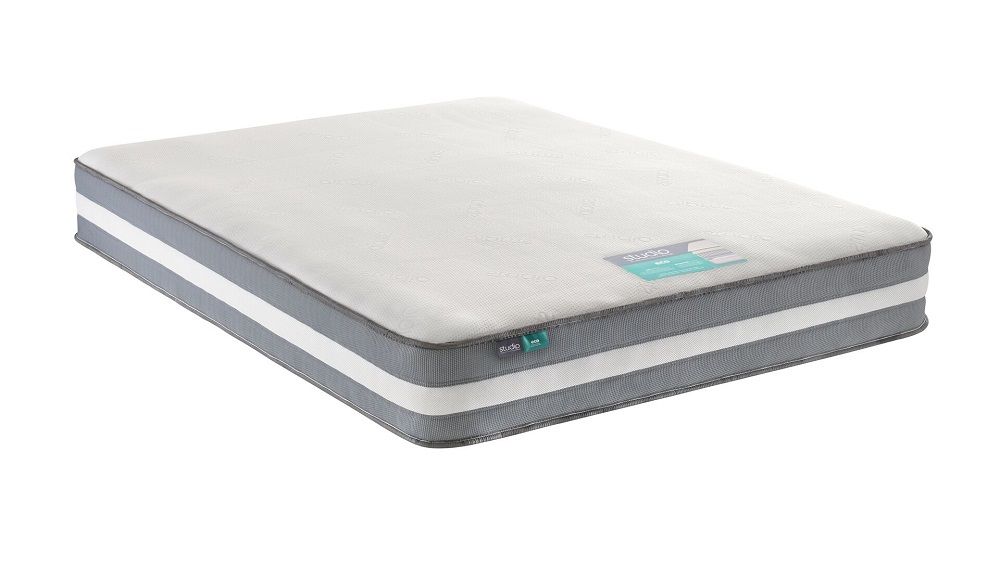 Who will the Silentnight Studio Eco Hybrid mattress suit?
All sleepers: especially lighter body types: it offers comfort and support, no matter how you roll;
Children: the cooling layers help hot little sleepers enjoy an undisturbed night;
The environmentally concerned: contains eco fibres made from recyclable plastic bottles;
Flats and homes with narrow hallways: delivered vacuum-rolled, one able-bodied adult can easily manoeuvre.
The unpacking
If you've ever received a mattress that's either not vacuum-packed, or squeezed into a box, you'll know how hard they are to manhandle. The former is virtually impossible to get up all but the widest of stairs, and the latter is a pig to de-box and leaves you with 12 trees' worth of cardboard disposal. Fortunately, the Silentnight Studio Eco arrives neatly wrapped and rolled in plastic and was light enough for me to carry upstairs, with a teeny bit of sweating. Handy given the delivery guy (albeit mask wearing and very friendly) was probably not allowed in our house. A king size would need two people, unless you're built like The Hulk.
Once upstairs I slit the plastic bag – yes, I did spot the irony in the fact an eco-proud product was wrapped in very thick plastic, but I guess I could take it to the Recycling Centre once lockdown is lifted – and the mattress unrolled very quickly. Try to get it up on the bed frame first as it's less easy to manoeuvre in this floppy state.
I left it overnight to fully expand, although it was pretty well cooked in about three hours. I was delighted that the slight chemical odour I noticed when opening the bag was long gone by morning.
What's the Silentnight Studio Eco Hybrid mattress like to sleep on?
First impressions were not great; the first time Nick and I got horizontal on the Studio Eco we both felt it was a little hard and unyielding. One problem might be that our usual mattress has a very squishy gel topper, then a foam layer and finally springs. So, bounce is our bag. But before you stop reading, things massively improved. The longer we lay, the comfier we felt and we both went off to sleep unusually quickly and slept right through, which is rare.
Now, it's hard to properly assess your sleep if you're too busy being asleep, so in the morning I made Nick help me on some motion transfer assessment (no, not like that!!). I got him to roll over and generally thwump about like the demented penguin he often is in the dead of night, while I lay quietly next to him. Bearing in mind this was a Double and we're used to Super King, I was really impressed with how little his antics disturbed me. I genuinely think I could have slept through it, and most likely had. Top marks on motion transfer then.
The tension of the Studio Eco is advertised as Medium Firm and I definitely wouldn't want it any further. Firmness is a personal thing but, generally speaking, the heavier you are, the firmer the mattress you'll need. Nick is a fair step heavier than me, lockdown hasn't been kind, and he found it a little less firm after he first laid down. His final assessment after two weeks was that it was actually perfectly pitched. I did think it might be too hard for young Kitty, who weighs practically nothing, but she found it really comfortable - not too firm at all (read more on Kitty's experience later).
The weight test involved hefting my 56 lb/4 stone weight onto the mattress at the edge and in the middle. You can see from the photos (4 & 5) that it sank by 6.5cm on the edge and just shy of the 7cm in the middle. This is deeper than I was expecting it to sink, which suggests it is indeed Medium-firm but I was also pleased to note it held at those two levels, which means you won't get trapped in the mattress. On a memory foam, the weight often keeps on sinking until it must almost be touching base, which isn't great for free movement during the night. It's also good to note the closeness in measurement, which means the surface is evenly tensioned and you can use the full width of the mattress to sleep comfortably on.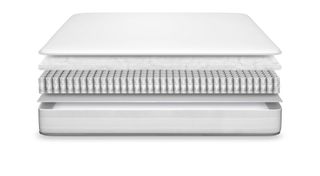 Silentnight Studio Eco Hybrid mattress fillings
The Studio Eco mattress is made with sustainable fibres – specifically recyclable plastic bottles. The magic cooling properties inside the Studio Eco are, according to Silentnight, down to this new high-tech fabric that boasts a 3D cross structure providing airspaces. As you move in the night, the air under your body circulates, keeping you cool in summer and warm in winter. This layer also provides the softness. We tested this mattress when the outside temperatures were about -6, so I'm not sure how much the mattress had to do with it, but we were definitely didn't overheat when sleeping on the Studio Eco. The core contains a single layer of 1000 mini pocket springs that provide balanced but responsive movement. This is the entry-level in the Studio Eco range, so does not contain fancy foam or gel. However, there is a memory foam and gel version in the Studio Eco range if these are ingredients you can't sleep without.
What do you get for your money?
Like all Silentnight mattresses, the Studio Eco comes with a full manufacturer's guarantee against defects for five years. Any replacements required are like-for-like or a current equivalent. Crucially, it also comes with a 60-night comfort exchange guarantee, which means the mattress doesn't need to be broken or defective, just not to your taste. With the inability to visit showrooms for a IRL lie down, this type of service really takes the pressure off mattress shopping.
Ordering and delivery
As a rolled mattress, the Studio Eco comes with free, safe delivery, without contact, to your doorstep. Delivery is between 9am-6pm and you can choose your preferred date from a calendar style menu when you order. You'll get a text with a specific four-hour time slot the night before, which is updated an hour before eta.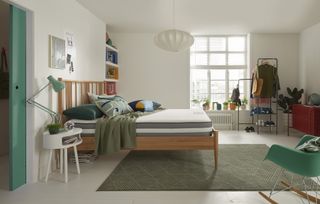 Is the Silentnight Studio Eco Hybrid mattress worth it?
After our initial apathy, the Studio Eco Hybrid proved a surprising hit with Nick and I. Although we'll happily buy one the next time we're in the market for a new mattress, we were perfectly content to return to our usual mattress. However, the real revelation came when it was 10-year-old Kitty's turn to test it out. This is a girl who does a LOT of sleepwalking/talking, wakes at the drop of a pin and has always got up before 6am (sob). I had her tested for Sleep Apnea when she was six because her lack of sleep was affecting her day-time behaviour but, thankfully, that has improved in recent years.
On the Studio Eco mattress however, she slept like a baby (a baby that sleeps through the night that is) and on one, blessed morning she slept right through until 7am. My first reaction was to feel massive #mumguilt that her current mattress must be akin to sleeping on a bag of rocks, or a single was just too narrow for her (tiny) frame. But then I remembered that a) her single is a really good mattress, handmade by Vi-Sprung and very comfortable and non-lumpy, and b) she slept on the new double memory foam mattress in the spare room for two weeks while we redecorated her bedroom, and her sleep remained the same level of annoyingly restless. So, it must be the Studio Eco that is responsible for this game-changing improvement.
Obviously, I can't be certain of the reason she sleeps so well on it, but I think it could well be the Studio Eco's temperature controlling benefits (see mattress fillings for details). Like many children, Kitty is a very hot sleeper - we put her hair up at night otherwise the back of her neck is dripping come 10pm and she sleeps under a summer duvet year-round, sometimes just a sheet. I noticed, when I checked her before I went to bed, that she didn't kick her duvet off like usual or feel anywhere near as clammy. Whatever the reason, the Studio Eco gets five stars from Kitty! And for me, especially while home-schooling, a well-rested child is pretty much priceless.
About our review – and our reviewer
Linda Clayton has been writing about homes and interiors for nearly 20 years, working for publications such as Homes & Gardens, Country Homes & Interiors, Real Homes, Ideal Home, Livingetc and House Beautiful. As a minimum, Linda and her husband spend between five and 10 nights sleeping on each mattress. Find her on Twitter at @lindaclayton and @lindaclaytonwrites on Insta.