If you can't decide whether you love an iced latte more or a piping hot Americano, you need a machine that can do both. I've tried a number of Keurig coffee makers, and the Keurig K-Café Smart is by far the most sophisticated of the bunch. From its smart features to its coffee house focus, the gadget makes brewing lattes and other specialty beverages easy.
The Keurig K-Café Smart is an extension of the Keurig K-Café. Coupled with a dramatic redesign, the Smart version is loaded with new features like Keurig's BrewID technology (which detects the K-Cup pod in the brewer), automatic customization of the brew settings for an optimized drinking experience, and recipe recommendations within the app. It also has an upgraded built-in milk frother with three speeds and a cold froth setting. Keurig's MultiStream Technology is also packaged in the machine for more thoroughly saturated coffee grounds, which is all customizable and controllable through the app.
I've spent the last few weeks familiarizing myself with this all-in-one machine in my own kitchen to see how it fares against other coffee makers we've tested at Real Homes.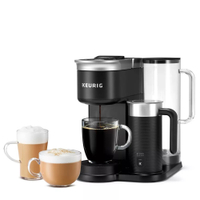 TLDR: What we thought of the Keurig K-Café Smart
With both a tech-forward and a creative element to it, it's clear that the Keurig K-Café Smart is not your ordinary single-serve brewer.
This machine showcases the very best of Keurig's brewing technology, which I especially noticed thanks to its MultiStream brewing technology and BrewID system. I loved that its Wi-Fi-enabled features let you customize brewing and discover new recipes, as well as easily order more of your favorite pods. If you plan to transform your K-cup routine into a coffee house experience and you love a latte, you will definitely enjoy how easy it is to use.
Now, it does have some growing pains. Because the milk froths separately to the brewer, I wouldn't call it a time-saving experience, but it does open up a ton of opportunities to get really creative with recipes, allowing you to unleash your inner barista. I also think it will come down to personal preference as to if you prefer the dedicated milk frother spot at the front of the machine or if it was available separately. I found that when I used an oversized mug, the coffee station felt a little squished.
Testing the Keurig K-Café Smart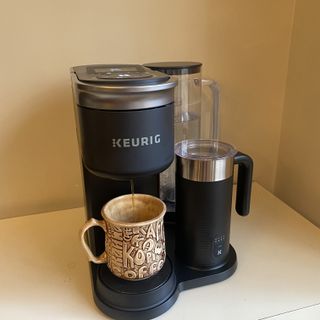 Reviewed by
Reviewed by
Jaclyn is an ecommerce editor at our sister site Homes & Gardens and previously worked on Real Homes as our resident sleep expert. In her waking hours, she scopes out the best products for your home to help you make the right purchasing decisions. Jaclyn has been a loyal Keurig user since her college days, sampling the majority of the product lineup, and she loves browsing the gourmet coffee options at her local HomeGoods for specialty K-cup flavors, or let's be honest: just getting lost in HomeGoods in general. She spent several weeks trying out all the various coffee prep methods of the Keurig K-Café Smart at home.
The techy stuff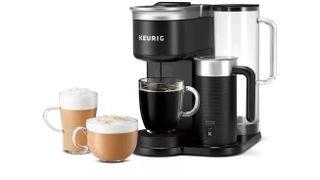 • Water tank capacity: 60 oz
• Dimensions: 12.7" x 11" 12.1"
• Weight: 8.1 lb
• Cord length: ~34.65"
• Water filter: Yes
• Warming plate: No
• Programmable: Yes
• Warranty: 1 year
• RRP: $249.99
Unboxing
Keurigs are notoriously simple to set up. I simply needed to lift it out of the box and place the water tank and milk frother into their designated spots.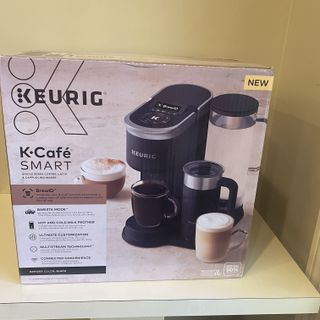 It also comes with a water filter that you can place after you submerge the filter capsule for five minutes in water. After submerging, rinse it, then snap it onto the base of the water container. The filter should be replaced every two months or 60 tank refills.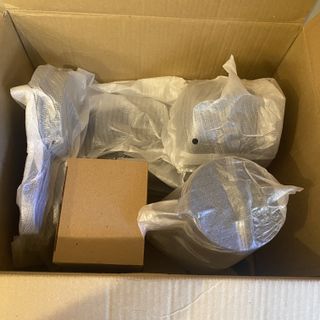 While I was waiting for the water filter to position, I went to set up the app. It took just a few moments to create an account and pair the coffee maker, which it did by scanning the QR code located at the back of the machine.
Once the machine was plugged in and ready to go, I simply placed a large mug under to flush the machine with 10 oz of hot water. After that, you're ready to brew.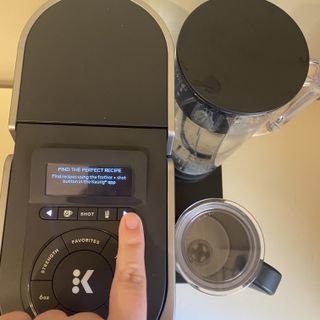 Using the Keurig K-Café Smart
For brewing a cup, I simply place the K-Cup into its position. The BrewID takes moments to identify what K-Cup you have, in which you can decide to use their automatic setting or adjust the temperature and brew strength features by pressing the Strength and Temp buttons to your desired level.
You can also select the shot button, or the over-ice setting and no other selections are required. The LCD screen sort of spells out your choices, as well as directs you to the app to follow recipes. To start brewing, you'll touch the large center K. The small digital display provides updates on brewing and what the machine is doing. If you choose to froth milk alongside, you'll do that first, and then the coffee will brew directly after.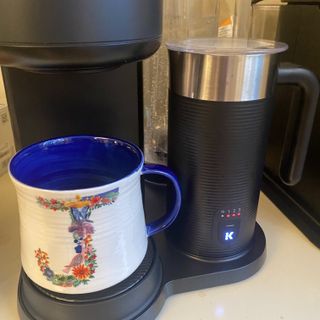 Key features of the Keurig K-Café Smart
Multi-Stream technology
Keurig's Multi-Stream technology changed my perspective on the coffee quality from Keurig machines, and I only want my Keurig's going forward to have this feature. Rather than the single puncture in a K-cup for water to filter through, five entrance needles create multiple streams of water to saturate the grounds in a rainfall effect inside the pod more evenly for extra flavor and aroma extraction.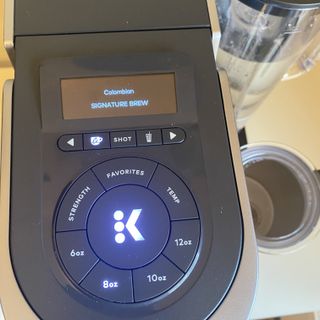 Brew ID
Each time you open the device, you may notice a small light that reads the inserted pod. BrewID detects the K-Cup pod in the brewer, which grants access to the Keurig Signature Brew and automatically customizes the brew settings to the recommendations of the coffee roasting expert who created it. In order for this setting to work, it must be an official Keurig-approved K-cup. For instance, I tried to use a K-cup I had lying around from a recent hotel stay and it did not recognize it, but I could still brew it. The Brew ID also unlocks tailored coffeehouse drink recipe recommendations on the Keurig app.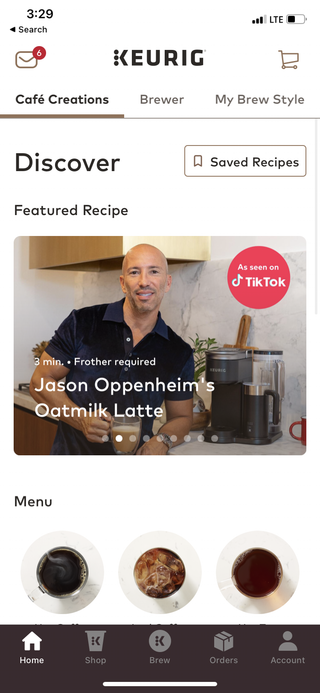 The Keurig app
I found the Keurig app really useful, and I thought it had some good features, but it's not necessary for daily use. It's divided into a few sections: an area where you can shop K-cups and Keurig accessories directly, a place to track your order history, and
a section to manage your Keurig account. On the home page, you'll see a number of recipes categorized by coffee type and even recommendations based on your brews. The idea of the craft recipes was novel at first, especially with the step-by-step directions, but it does require some pre-planning such as having the suggested K-cups, syrups, and other ingredients on hand.
You can also control the brewer from afar, but note you can only brew or schedule a cup of coffee if a K-cup is already inserted into the machine, and don't forget to have a cup underneath it, which I almost forgot about when I was playing around with starting a brew from across the kitchen. Fortunately, it only lets you tinker with cup size, temperature (Warm to Max Hot), and strength settings (balanced to intense) when a pod is detected, and it knows.
You can also schedule it to make a brew with the app for coffee right when you get to the kitchen or your office and create a routine schedule if you're organized to prep a coffee pod (and mug) in advance.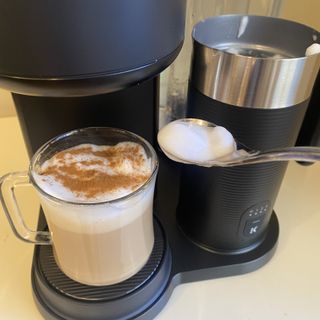 Milk frother
The upgraded built-in milk frother features three speeds and a cold froth setting. It has its own dedicated spot at the front of the machine, which is useful for those who like to keep everything together but lost points with me for the frother not being able to operate at the same time as the coffee brewed, but before it and then the coffee brew cycle started. It won back points for the tremendous amount of froth it was able to produce and the inclusion of a handle and subtle spout — though I still needed to pull out a spoon to scoop out the froth.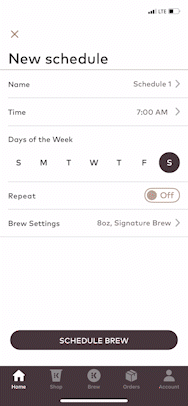 Cup customizations
From cup size to brew strength to temperature adjustments, you have more control over the parameters of your coffee. Choose from 6-ounce, 8-ounce, 10-ounce, and 12-ounce sizes, and for lattes, you can brew a concentrated single or double shot, as well as the 6-ounce over-ice setting. I found that a 12-ounce coffee on the same medium strength setting as the 6-ounce tasted significantly weaker and was most happy with the 8-ounce selection. Don't forget about the other five tiers of customizations for temperature and strength either. You can control cup size and strength on the machine or the app, too.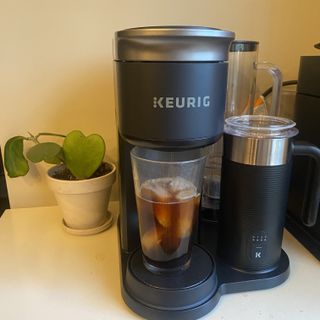 Over-ice feature
The over-ice feature will brew 6 ounces at a lower temperature optimized for iced beverages, but it is still a hot brewing cycle, so not truly an iced coffee. Adding ice beforehand and topping it off with additional ice before drinking is the way to go. This kind of drink is also well-complemented by a heaping scoop of cold milk froth. The lower temperature setting helps the ice not melt so quickly for a perfectly concentrated cold cup.
Large water tank
Though not the largest water tank Keurig offers, the 60-ounce container lasts several brews, and the machine lets you know when the water level is low and when it's time to refill. It sits slightly detached from the machine and flows from the reservoir through the undercarriage of the machine. It easily lifts up and off from its port, with a handle to make carrying easier. The water tank is also built to support Keurig's water filters.
How to clean and maintain the Keurig K-Café Smart
The beauty of the Keurig is it's pretty fuss-free and requires minimal cleanup to remove the pod in between brews. If you want to be particularly sustainable, the K-cups are recyclable when you remove the lid and the used coffee grounds, which can be composted. The included water filter should be replaced every two months or 60 tank refills. Additionally, when it comes time to descale, after 250 uses, the machine will notify you, and Keurig also offers its own descaling solution.
The included milk frother jug can be cleaned with soapy water, but keep liquid contact only within the interior as it can not be submerged in water due to its electrical components.
How does the Keurig K-Café Smart rate online?
The Keurig K-Café Smart was initially sold directly through Keurig and has a rating of 4.7 out of five stars with enthusiastic reviewers commenting how it's the best coffee maker they've ever used and so easy, from brewing to cleaning.
A few four-star ratings and lower expressed frustration with Keurig's smart delivery application while another person wished it would fit a travel-size mug. The most critical comments came from the wait time of the BrewID identifying the pod and issues connecting with the app.
What's it like in comparison to other Keurig machines?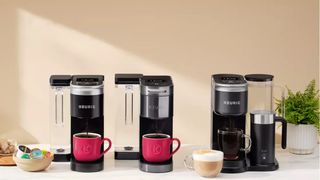 The Keurig K-Café SMART is Keurig's most specialized machine, as only a few models have the SMART edition, like the K-Supreme SMART. This one is perfect for those who want to make lattes and other milky beverages. Comparatively, if you were to purchase Keurig's Hot and Cold milk frother separately, it will cost you an additional $90, and the other machines do not have a concentrated shot option.
I've previously reviewed the K-Supreme Plus, which has been my favorite Keurig to date as it also offers temperature and strength control, over ice, an additional 4-ounce cup size, programmable favorites, and an LCD digital display.
The Keurig K-Café SMART is an upgrade to the original K-Café Single Serve Coffee Latte & Cappuccino Maker in almost every way, from its sleek, streamlined, and more compact appearance to its customizable features. Of course, there is quite a price difference, $250 vs. $190. The original does not offer temperature control or iced coffee, but it does have a stronger brew option. On the contrary, the milk frother cup is dishwasher safe with a stainless steel design that has its own pocket on the machine to froth.
Keurig K-Café Smart vs. Nespresso Vertuo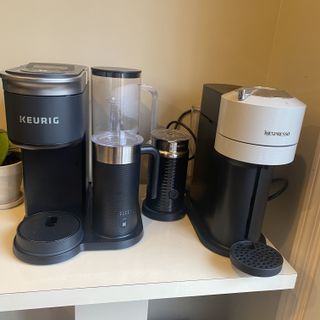 In the debate of Keurig vs. Nespresso, the Keurig K-Café SMART truly narrows any gap. During my time with the Keurig K-Café SMART, I couldn't help but immediately draw some similarities between the Keurig K-Café SMART and the best Nespresso machines. The most direct comparison for me is the Vertuo Next model, which can be purchased with just the appliance or bundled with a free-standing Aeroccino milk frother.
The Nespresso Vertuo is inherently smart for its barcode system that identifies what flavor is being added, and it's clear the BrewID from Keurig is a reference to that. The beauty of the K-Café SMART is truly how customizable it is, and you're able to use any K-cup. You can brew your coffee so many different ways, while on the Nespresso Vertuo, the pod you choose is already pre-determined as to how it will brew and the quantity.
The Nespresso does offer true espresso, while the Keurig's shot setting doesn't offer the same velvety consistency but rather a more concentrated coffee.
As the Aeroccino milk frother is detached, it operates separately from the Vertuo machines and can work simultaneously as you brew your espresso, which was an advantage for me. The attached design of the Keurig to the separate device of the Nespresso really comes down to personal taste. In performance, the Keurig milk frother and the Nespresso frother were nearly identical with their non-stick interiors, different settings, and cold froth features, however, the Nespresso does not have the handle or the subtle spout that the Keurig does.
Price-wise, the Nespresso Vertuo Plus with an Aeroccino milk frother is about $230, depending on which model you go with. This is comparable to Keurig's $250 ask. That being said, Keurig does tend to offer deeper and more frequent discounts than Nespresso, especially when you purchase directly through Keurig.
Is the Keurig K-Café Smart right for you?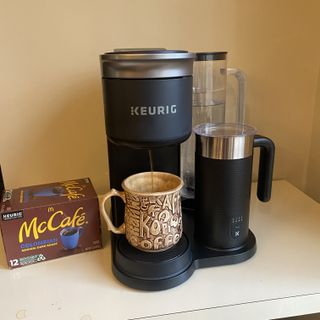 If you're looking for a single-serve coffee maker that can do it all, absolutely. It's definitely on the pricier side, but it's never been easier to make single-cup coffee, a latte, iced coffee, or whatever caffeinated drink your heart desires. The Multi-Stream technology makes all the difference in the flavor and quality of the brew, while BrewID adds a further techy component that provides even more perfection to your cup.
You should buy the K-Café Smart if you plan to make good use of the frother, otherwise, you'll get on fine with Keurig's other brewers if you're looking for something more compact. However, once you try any of the SMART brewers, it's hard to go back to your traditional Keurig. Consider me spoiled.
More pod coffee makers we can recommend:
About this review and our reviewer
Jaclyn lives in Georgia and she tested this pod coffee maker in her family home. She lives with her parents and countertop space is quite generous, though this all-in-one machine did give them a little prep space back. Jaclyn tested this machine for a couple of weeks, using it every day to get her daily helping of caffeine.
We are sent products to review at Real Homes and sometimes we are allowed to keep them so that we can update our reviews after using products for a lengthy amount of time. In this case, Jaclyn has been allowed to keep this machine.