Our DreamCloud Luxury Hybrid mattress review is a must read if you're on the hunt for a luxury mattress, but want to consider all your options before making an investment.
Industry expert Linda Clayton has been sleeping on a range of the best mattresses and putting them through their paces to bring you a true picture of how comfortable each one is and how much support it provides. She's also roped in her husband, Nick, to create a balanced view of what each mattress is like for women (so often the purchasers) and men, persuaded friends and family to try them out, and has conducted some semi-scientific testing so that you can buy your mattress online with confidence. So, let's see what she really thought of the DreamCloud Luxury Hybrid Mattress.
DreamCloud Luxury Hybrid specifications
Type: Foam hybrid
Sizes: Single, double, king, super king
Firmness rating: Medium–firm
Cost: £849–£1,149
Who will the DreamCloud Luxury Hybrid suit?
Risk-averse shoppers with deep pockets looking for a deep sleep.
What's the DreamCloud Luxury Hybrid like to sleep on?
Let me make one thing clear from the get-go, the only reason I didn't award this mattress the full 5 Star rating was because the cover doesn't remove for washing. Most bed-in-a-box mattresses have this benefit. And, I won't go into details, it has proved really useful, on more than one occasion (we have small children, let's blame them!). DreamCloud does sell a luxury waterproof mattress protector that's machine washable at 60 degrees but it'll cost you an extra £45–£60.
Moving on, this mattress looks and feels as luxurious as DreamCloud claim. First impressions were very promising. Once unleashed from its bag, the mattress expanded with unprecedented speed. The recommended wait time for expansion is a mere five hours but I reckon we could have bedded down within two. This is great news if you've taken advantage of the old mattress removal service (an additional £35) and are dreading the prospect of sleeping on the sofa.
When I first got horizontal this mattress felt too firm and unyielding. Nick admitted he was mentally preparing to decamp to the spare room. Patience, young grasshopper, this mattress is a grower. Once you settle into position, things get substantially comfier and, after the shortest of time, we were both sleeping as sound as a pound. When I woke in the night in need of a 'comfort break' and returned to bed I am convinced the mattress felt much softer. Perhaps it had yielded with my body heat or maybe it's magic. Whatever, I went back to the land of nod very speedily indeed.
According to DreamCloud's website, this mattress is rated Luxury Firm, which is a new term on me. Closer reading reveals this means 'plush but highly supportive' and rating 6.5 on a scale of 1–10, "with 1 being a cloud and 10 being a cement floor". Love it. If you were using more modest/standard firmness terms, it would be called Medium-Firm. Our tame testers (three male, three female, ranging from 10–17 stone) mostly concurred – only the lightest tester found it 'firm-firm' and scored it 8.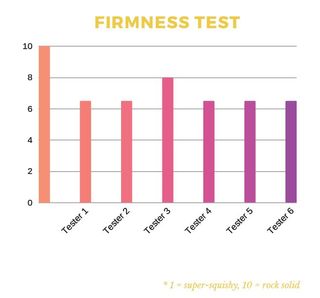 On the subject of support, DreamCloud says this mattress is sufficiently supportive for any sleeping position. I tried side, front and back, and found it most comfortable on my back. Nick said the same. I was perfectly comfortable in other positions but on my back I really felt my spine and shoulders unknotting.
Our weight test showed significant difference between sinking levels on the edge and middle. In the middle it sunk to nearly 10cm and on the edge, a mere 7cm. Of course our large weight covers a small area so is going to sink far deeper than a body, where the weight is spread more evenly. But that's still pretty deep and demonstrates this mattress is springier than I'd imagined. The firm edge support is almost certainly down to this mattresses' ActivEdge technology, which essentially means its coil layer goes right to the very edge of the mattress so that you get to enjoy the whole area. This also cuts down on motion transfer, which is great if, like mine, your partner likes to flail about like a sealion on a rock.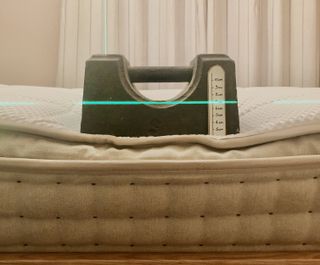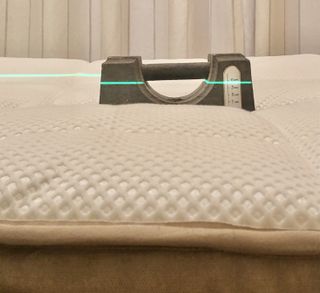 On posture, our laser level showed very good alignment across Nick's lower spine but not so good at the neck. An element of curve in the neck is inevitable when you have your head on a fairly hefty pillow but his shoulders should sink down more than they do here. Wide shoulders are a factor, and Nick is naturally a back-sleeper, so he didn't complain of any discomfort.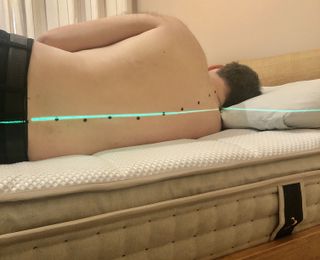 How does the DreamCloud Luxury Hybrid rate online?
On DreamCloud's own website, the ratings are pretty epic. A 4.6 rating is the average across 2,308 reviews. However, many of these are American – there is a US version of this mattress, which is not exactly the same. Presumably not made in Britain for starters. And they won't be talking about the same customer service. Still, there's lots of 'changed my life' enthusiasm going on. Bless Americans for being so upbeat! Reassuringly, Trustpilot UK's reviews also give DreamCloud 4.6 out of 5 stars (273 reviews). The one-star reviews are focused on bad customer service, specifically slow delivery, rather than mattress quality.
Dreamcloud Luxury Hybrid fillings
Starting at the top, the quilted top layer is lovely and soft, and temperature controlling. We tested this in winter and our house has no heating but that doesn't usually stop me sweating up a storm at 2am. I can happily report this mattress didn't exacerbate the situation. It didn't fix it, that probably requires HRT, but it didn't make it worse! Layer two is breathable memory foam, which handles body contouring, and layer three is a denser foam for support. Layer four is all about the coils – 15cm tall and individually wrapped, they offer maximum support. You can really tell they are there, making this mattress the perfect first memory foam experience for anyone moving from Pocket Sprung. The final layer is a base foam that provides stability and height. The mattress is 29cm thick – a great height for getting in and out of bed.
Ordering and delivery:
Ordering is a breeze via DreamCloud's website. Delivery slots are free and usually available within two weeks. Choose your day (Mon–Fri) and then get a three-hour delivery window to narrow things down a couple days before it's due. Delivery is organized and executed by the unfortunately named (but very lovely) BJS Two-Man Home Delivery. They were very friendly chaps who rang an hour before arrival and carried the mattress upstairs for me without grumbling about the assault course left in the hallway by our builders.
What do you get for your money?
Did I mention the lifetime warranty yet? Or the 365-day sleep trial? This winning combo is hard to beat on the reassurance front. I took a deep dive into the Ts&Cs and could see nothing sinister (like sneaky get-out clauses) in the warranty. It's for your lifetime, you can't pass it on if you give the mattress away, which seems fair but otherwise it would appear you'll get a spanking new mattress, or a repair if more appropriate, should any defects occur, ever. And yes, you can sleep on it for a year and send it back if it's not for you. The customer service team will arrange free collection and you'll get a refund within 3–5 business days.
Is the DreamCloud Luxury Hybrid worth it?
This isn't the cheapest hybrid out there but it is one of the most luxurious and comes with the longest trial period and warranty that I have come across to date. DreamCloud's parent company, Resident, also owns Nectar, and the DreamCloud Luxury Hybrid mattress was developed using all that mattress know-how and experience.
If you're still not convinced, think of the trees. DreamCloud runs a carbon off-set programme via ClimatePartner, which means its mattresses are effectively carbon neutral. They are also CertiPUR-certified to guarantee the foam is free of harsh chemicals and gasses, which will appeal to allergy sufferers. Off-gassing was minimal during our test period; the slight chemical smell that comes with all memory foam faded in less than 24 hours. I'll definitely put the DreamCloud near the top of my leaderboard when it's time to replace our current mattress.
More mattress reviews to check out...