Dash Compact Cold Press Power Juicer: Quick Menu
You're going to want to hear about the Dash Compact Cold Press Power Juicer if your guilty pleasure is $12 fresh-squeezed juices from the smoothie shop down the street. Slow juicers can often be bulky, expensive, and hard to clean, but this adorable little appliance is none of those things! It's one of the smallest slow juicers we've ever tested, and despite its petite form, it's a total powerhouse when it comes to processing all sorts of fruits and veggies.
Slow juicers — also called cold press or masticating juicers— use a spiral-shaped auger to slowly crush up ingredients, then they press the pulp through a sieve to separate the juice. This process helps preserve all the good enzymes and nutrients (and flavor!) from your favorite produce, turning it into a delicious and nutritious drink that's amazingly fresh. With the Dash juicer, you can squeeze all that goodness out of fruits and veggies, creating your favorite juice recipes at home for a fraction of the price.
I used the Dash Compact Juicer for several weeks to see how it would hold up against the best juicers we've tested. I tried it out on fruits, vegetables, and even nuts, and at the end of the day, there was very little that I didn't love about this mini juicer.
Dash Compact Cold Press Power Juicer review
What I thought of the Dash Compact Cold Press Power Juicer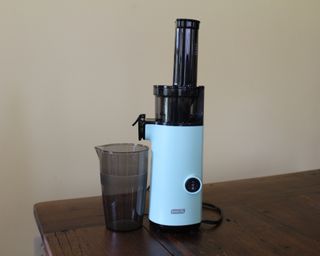 I've tested quite a few different juicers in my career — including ones that cost upward of $500 — and the Dash Compact Cold Press Power Juicer is my new all-time favorite. It's powerful, easy to operate and clean, and a great all-around value, retailing for just $80. During testing, it had no problem processing both fruits and vegetables, including harder ingredients like carrots, and it was even able to make smooth, delicious almond milk from whole nuts!
The only reason you might not like the Dash juicer is if you're someone who likes to make big batches of juice and/or toss whole ingredients into the machine. Because it's on the smaller side, the juicer's chute is fairly narrow, so you do have to cut up ingredients before feeding them in. However, I don't think this will be a deal-breaker for most people, especially when you consider all the money you'll be saving.
Dash Compact Cold Press Power Juicer specifications
Type: Masticating
Dimensions (in): 14.2 x 3.9 x 4.9
Weight (lbs): 3.4 pounds
Power (watts): 130W
Capacity (fl oz): 16 fluid ounces
Colors: Black, Graphite, Aqua
Included: Pulp cup, juice cup, cleaning brush and recipe guide
Testing the Dash Compact Cold Press Power Juicer
I'm Camryn Rabideau, a freelance writer and product tester for Real Homes, and I've been testing all sorts of kitchen appliances for more than seven years. I've personally reviewed close to a dozen different juicers, including options of all different shapes and sizes, and my favorite recipe for a mid-morning pick-me-up is a combination of apple, pineapple, and ginger. (It's also perfect for a vitamin C boost during cold season!)
Unboxing the Dash Compact Cold Press Power Juicer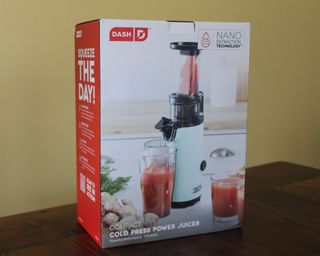 I've tested a lot of kitchen appliances that claim to be compact, but the Dash Compact Juicer is one of the few that actually lives up to its name.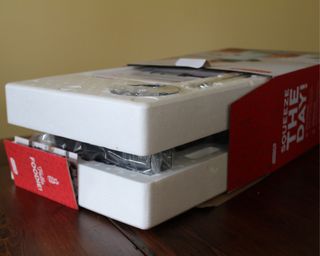 When I unboxed this gadget, I was genuinely surprised at how small it was! The base is less than five inches in diameter — if I had to compare its form to something, I'd say it's slightly larger than a can of Pringles.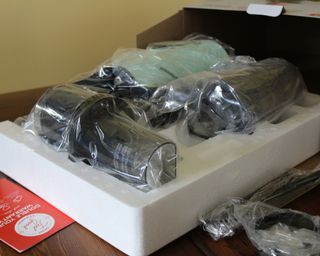 I've tested several juicers in the past, so I was able to put the pieces together without consulting the manual. The design is pretty intuitive, but it did take me a minute or two to figure out where the "hopper" piece went. It fits on top of the chute, but it's probably not necessary to use — it seems like it's just meant to catch stray ingredients as you feed them into the tube.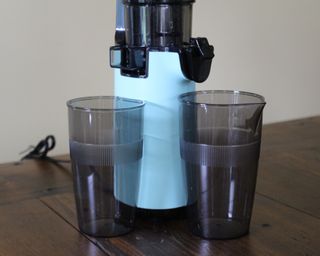 In addition to the juicer itself, the package also contained two plastic cups — one for juice and one for pulp — and I was happy to find that they stacked together nicely, making for easier storage. It also included a cleaning brush, which is standard for juicers. In addition to stiff bristles on one end, it has a tapered point on the other side that makes it easier to get pulp out of the spout.
Using the Dash Compact Cold Press Power Juicer
Making Apple-Pineapple Juice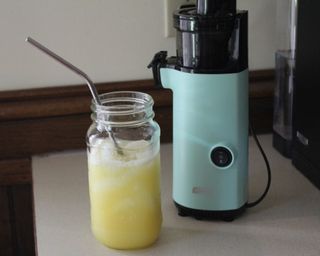 The first recipe I make with any juicer is always apple-pineapple juice — not only is it a fairly easy task, but it's also hands-down one of my favorite combinations. I usually add a little ginger to it to cut the sweetness, but I had to do without this time around because I didn't have any on hand.
While prepping the fruit for juicing, I had to cut the ingredients into smaller-than-average slices, as the juicer's chute was narrower than most. The largest pieces I could fit were quartered apple slices, so it's not too small. I also cut the pineapple into long, thin slices that made them easy to feed into the appliance.
Once all that was done, I jumped straight in and started juicing! Because it's a slow juicer — also called a masticating juicer — the inner auger spins fairly slowly, chewing up the ingredients to separate the juice from the pulp. The auger was able to easily break down the soft pieces of fruit, but it did take a little longer than expected for the liquid to come out, likely because the juicer's strainer was quite small.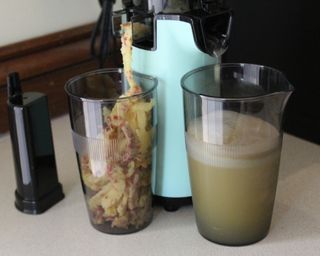 Still, it was well worth the wait. The Dash juicer extracted virtually all the liquid from the apples and pineapples, and the pulp that came out was impressively dry.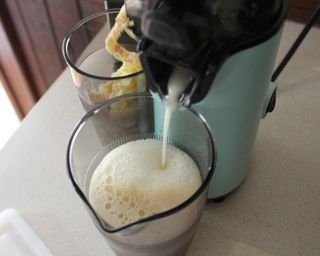 My only (minor) complaint is that it doesn't strain off the foam that ends up on top of the juicer, but I was able to keep most of it out of my drink when I poured it from the plastic juice cup into a glass for serving. Overall, my first impression of this appliance is that it's a little powerhouse, and I was excited to see what else it could do.
Making Rise and Shine Juice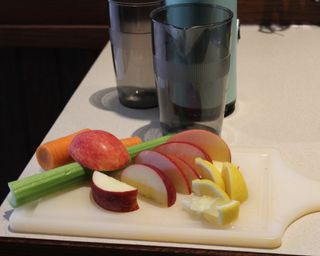 Another one of my favorite recipes is Rise and Shine Juice from Giada De Laurentiis. It uses a mixture of fruit and vegetables, including carrots, celery, spinach, apple, lemon, and ginger, and while it may seem like a random mix, I promise it tastes refreshing and delicious.
This time around, I didn't have any spinach, so I just made the recipe without it. The Dash juicer had no problem chewing up the celery, apple, lemon, and ginger, but I was curious to see how it would fare with the carrot, which is the hardest ingredient yet. It turns out I had nothing to worry about — the little juicer quickly pulverized the carrot and squeezed a good amount of juice out of it! The finished drink was a pretty orange hue, and it tasted as good as I remembered.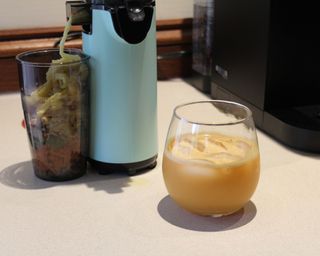 Making Almond Milk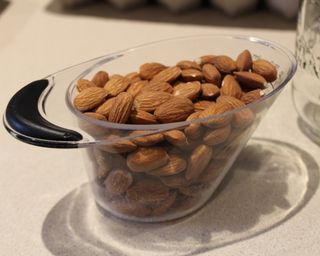 Dash claims that this little juicer is even powerful enough to make almond milk, so of course I wanted to test it out for myself. The process involves soaking raw almonds in water for several hours, then feeding the nuts into the juicer along with some water. This was definitely a task when the hopper came in handy, as it helped to catch the stray nuts as I poured them into the chute.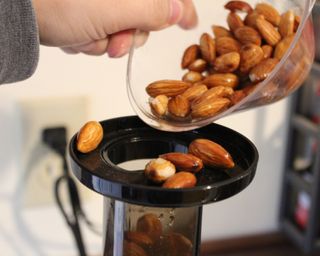 Overall, I ended up processing around a cup of almonds, and it yielded half a cup of milk. It was a little gritty when I first tasted it, so I poured it through a strainer to filter out the little nut pieces.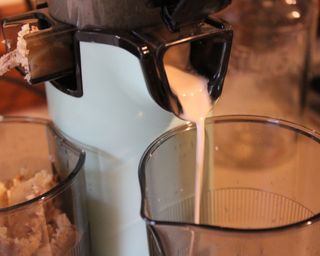 The finished product was actually really good! It was creamy and tasted just like the almond milk I usually buy at the store. I'll probably just stick to buying the premade stuff out of convenience, but it's good to know that the Dash juicer is up to the task if I ever run out!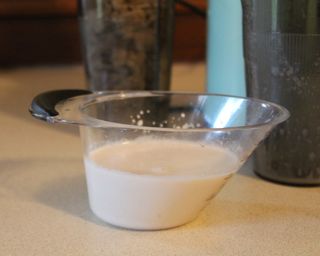 How to clean the Dash Compact Cold Press Power Juicer
One of the reasons I don't use juicers more frequently is that they're generally quite irritating to clean. There are so many nooks and crannies where pulp can get lodged, and many juicers aren't dishwasher safe, either.
To my pleasant surprise, that wasn't the case with the Dash juicer. All the pieces of this juicer come apart easily — you can separate the juice bowl, auger, and chute —which makes them easy to rinse out. Pulp would sometimes get lodged in the exit chute, but there's a little silicone valve that you can remove to get stuck pieces out.
Plus, all these components and the two plastic cups are dishwasher-safe, which is absolutely amazing in my book. I would generally just rinse them off to get the worst of the pulp out, then pop them in the dishwasher for a more thorough clean. Plus, because the pieces are so small, they don't take up the entire top rack — a problem I've run into with cleaning juicers that are larger in size.
How does the Dash Compact Juicer compare?
I've tested several other popular juicers, including models that cost three or four times more than the Dash Compact Cold Press Power Juicer, yet I think the Dash might just be my new all-time favorite! It does everything a slow juicer should, plus it's affordable, compact, and easy to clean. What more could you ask for?
The Hurom H-AA is another fairly compact model you might want to consider, but it's significantly more expensive, retailing for around $400. This high-end slow juicer makes quick work of any ingredients and yields an impressive amount of juice, but it's substantially larger than the Dash and also has to be hand-washed. If you've got the dollar and want a super Instagrammable appliance (that doubles up as one of the best orange juicers), read our Hurom H-AA slow juicer review)
Should you buy the Dash Compact Cold Press Power Juicer
If you're in the market for a slow juicer, the Dash Compact Juicer is definitely worth considering. It's small enough to fit in even the tiniest kitchens, but it has comparable power to juicers twice its size! Plus, it costs less than $100 and is surprisingly easy to clean thanks to its dishwasher-safe components. Whether you're making fresh green juice or homemade nut milk, this cute little juicer is up to the task.
How we test juicers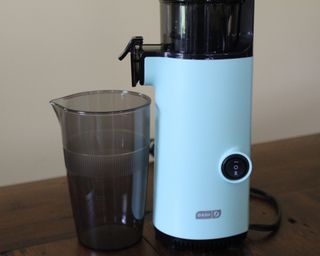 Our testers call in products directly from the brand and/or their PR associates. With juicers, we will run a variety of tests using seasonal soft fruit, hard fruit (ie: apples) and vegetables (celery and/or apple). On occasion, our experts will observe what the yield is. That is, how much liquid is available after pressing the produce in question. Some reviewers will note how wet or dry the waste pulp is using a kitchen towel to see if more could have been rendered.