Thinking of buying a Casper mattress? Let this review convince you. I've been sleeping on a vast range of mattresses and putting them through their paces to bring you a true picture of how comfortable each one is and how much support it provides. I've also roped in my husband Nick to create a balanced view of what each mattress is like for women (so often the purchasers) and men, persuaded friends and family to try them out, and have conducted some semi-scientific testing so that you can buy your mattress online with confidence.
If you're looking to find the best mattress for your needs, you'll find plenty of choice in our guide to the top picks – but don't miss our deep reviews first.
Casper mattress at a glance
Firmness: it rates as medium.
Sleep position: it suits side and back sleepers.
Your weight: it's suitable for people of average and above average weight.
Motion transfer: fidget next to you? You won't feel it.
How it feels: supportive but soft.
Sizes: single to super king.
This time, we tried the Casper mattress. Click the link to buy if you're already convinced, or discover the latest Casper mattress deals in our guide.
Casper mattress specifications
About our review – and our reviewer
Linda Clayton has been writing about homes and interiors for nearly 20 years, working for publications such as Homes & Gardens, Country Homes & Interiors, Real Homes, Ideal Home, Livingetc and House Beautiful. Linda and her husband spend between five and 10 nights sleeping on each mattress. Find her on Twitter at @lindaclayton and @lindaclaytonwrites on Insta.
Type: Comfort foam/memory foam
Sizes: Single, double and king (each in UK and EU versions), plus small double and super king
Who will the Casper mattress suit?
Can you use an electric blanket with a Casper mattress?
Nights are definitely chillier now autumn is here, which might make you wonder whether you can use an electric blanket with this Casper mattress. Although breathable, meaning you won't get too warm in bed like you might have with the original memory foam mattresses, we still find modern memory foam topped mattresses quite warm to sleep on. However, if that's your idea of heaven, you'll be happy to know it's perfectly okay to top your Casper with an electric blanket. 'You can absolutely use an electric blanket with any of your Casper products!' says the company (dog beds excluded we suspect...).
This is a real crowd-pleaser. There's even a Casper bed for your dog!
Perfect for anyone seeking memory foam with a bit of bounce.
Medium firmness fans who, as we've said above, like a bit more bounce than sink-ability;
Hot sleepers: it might be memory foam, but it's breathable;
Side sleepers and joint pain sufferers;
Fidgets or anyone with a fidgety partners: you'll hardly know they're there;
Apartment/flat and small home dwellers: it's a bed in a box, so it's easy to deliver to the bedroom.
What's the Casper mattress like to sleep on?
The first thing I noticed when laying on the Casper was that it has a little more give than other memory foams. It is marketed as 'not too soft and not too hard', and that's a pretty accurate assessment. Think of it as the Goldilocks' Choice mattress – just right! Both Nick and I found it pretty comfortable when sleeping on our sides, backs and fronts (plus starfish, in my case). Being squishier, it also offers more comfort on your bottom and lower back when propped up on the pillows reading, or enjoying breakfast in bed. (Sadly the latter only now happens when Nick is plotting to escape to a rugby match.)
Most foam mattresses seem to score well on motion transfer compared to springs. The Casper is no exception and absorbed the impact of Nick flailing around in his sleep very well. If I wore earplugs, I could quite happily forget he was in the bed at all.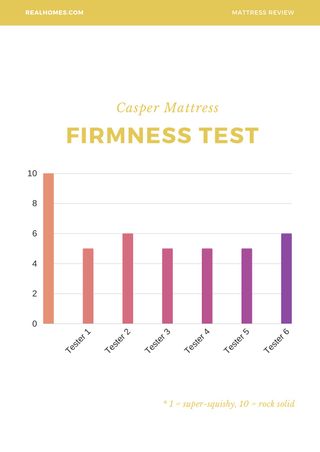 As mentioned, this is a medium mattress on the firmness front and you definitely feel your body sink into it, but not drastically. There's no need for a rescue team on standby. Happily, concerns that the slight sinking factor would lead directly to Sweatsville proved unfounded – and this was during a particularly hot and muggy week. Our half-dozen tame testers (three male, three female, ranging from 10 to 17 stone) gave it mostly fives for firmness (see graph above), which is slap bang in the middle of our one to 10 scale. And they all made positive remarks about its comfort, too. Evicting them from my bedroom wasn't as speedy as I'd have liked!
The weight test (below) confirmed that this is indeed a squishy number, with the laser marking between 9 and 10cm – the top of our scale. The centre was only marginally deeper, which indicates fairly equal support across the full surface of the mattress. Despite having a super king, I often find myself clinging to the edge of the mattress at 2am so this is a definite bonus.
Regarding posture, we both felt well supported by the Casper, and this could be due to its zoned support layer, which is designed to reduce pressure on the shoulders and hips. Our laser test shows a slight dip in Nick's spine (see below) but it wasn't enough that he felt cranky in the mornings. Pressure relief when sleeping on our backs was equally impressive, if not more so. The foam seemed to fill the void in my back and supported my lumbar region (lower spine) well. In fact, we had a cabinetmaker friend with fairly significant back issues house-sit for a week, and he said the Casper wasn't comfortable (even a little painful) when lying on his side, but when he turned onto his back it was better than the orthopaedic mattress he has at home.
How does the Casper rate online?
On Amazon, the majority (77 per cent of 84 reviewers) give it the top five-star billing.
Over at Trustpilot things aren't quite as rosy, with 32 per cent of the 34 reviews rating it 'bad' – the main complaints mention sagging and smelliness. We haven't noticed the former and while there was a very strong chemical smell for the first few days, it did fade. The noxious odour issue appears universal across memory foam products.
What do you get for your money?
A 10-year warranty, free delivery and returns, plus very good customer service – it's hard to find a review that doesn't applaud Casper's 'Snooze Specialists' (cheesy moniker notwithstanding). Look out for discount codes on the Casper website – typically around 15 per cent.
Is the Casper mattress worth it?
All the foamy layers, zone support and breathability (etc) sound impressive but in reality all you need to know is: what does it feel like? Our verdict is soft enough to enjoy that 'aaaand relax' experience when you first climb in, but still supportive. You don't feel your bones creak when you get out in the morning, even if you're over 50, like Nick, or someone who spends far too many hours hunched over a screen, like me! We would both happily recommend this mattress, but if you suffer from back pain you might find it comfier to sleep on your back.
Casper mattress fillings
This is a four-layer mattress that is all tucked neatly within a soft cover – the top zips off for easy cleaning. The top layer is an open-cell foam that provides immediate bounce and has cooling properties that I can certainly vouch for. Next is a high-density memory foam layer, which supports your pressure points. The Transition Layer deals with even weight distribution, and the final layer acts as a supportive base that helps keep everything stable. Foam nerds might enjoy this video covering the science behind the Casper mattress' construction.
Ordering and delivery
Ordering is super easy with online tracking and, for £20, you can pick which day you'd like.
The delivery peeps will carry it into your bedroom, unpack and take back the packaging. For an extra £15 they can also spirit your old mattress away.
Not only does Casper offer the now standard 100-day free trial but, if you order it direct from Casper.com, they'll also come and pack it up and remove it from your bedroom if you're not happy, which is actually quite a bonus given how heavy and unwieldy mattresses can be.
The redundant mattress is then either recycled or donated to charity – bless them!
More mattress reviews to check out:
Looking for more mattress options?