Ever thought that the air inside your home might be making you sick? It's entirely possible – especially considering how much time we spend indoors. If you had to guess, what would you say? Fifty per cent of your time is spent indoors? Sixty per cent?
Well, new research by Crown Paints has revealed that we spend over 90 per cent of our time inside, whether in our homes, work places or schools. We found that statistic shocking – even more so when you consider that these environments aren't always that healthy to be in, whether due to poor air quality, poor ventilation or over-heating – common in this hot weather we're having.
And while there's not that much we can do to in our work places or within schools, other than hoping for good ventilation and a smoke-free environment, we can influence and improve the air quality in our homes
A recent article in The Harvard Gazette reported on further home air quality and well-being research carried out by the Harvard T.H. Chan School of Public Health, which highlights the Crown Paints work.
The article, which talks about our homes' air quality, says that 'Much of it is cause for concern, such as the facts that vacuum cleaners without proper filters simply break dirt up into smaller particles and scatter them around the room; the average adult uses nine personal-care products each day, exposing him or her to 126 different ingredients; and cooking with poor ventilation can make kitchen air resemble that of a smog-filled city.'
The Harvard report looks into the air we breathe in our bedrooms, too, and raises similar concerns. 'A full third of our life is spent in one room on this planet: our bedroom. When you talk about it that way, it changes your frame. Here's a full third of your life in one maybe 12-by-12-foot box on planet Earth, and so it's critically important,' says the research author, an assistant professor of exposure-assessment sciences.
The report offers 36 ways we can improve our homes' air quality – you can read it in full from the link above. But we can drill it right down for you to a few simple must-dos. Doing so will reduce your exposure to allergens, chemicals and pollutants within the home, which will improve your overall health and wellbeing.
1. Spend more time outdoors, use gardening as therapy
We all know the health benefits of getting out and getting some fresh air, so try to get outside into the fresh air as much as you can. In good weather, like we're having now, eating outside, work outside, and, if you haver a garden, take advantage of gardening therapy – something we've reported on ourselves before as being incredibly beneficial to mental health and a good physical work out for both adults and children alike.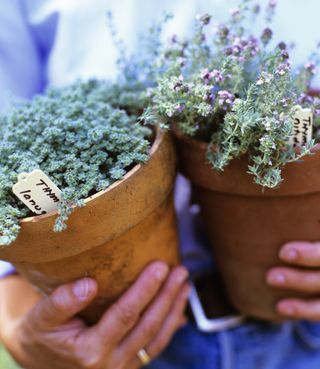 2. Limit the use of heavily scented candles and air fresheners
We love a good candle, we get it, they smell great, they just make you feel instantly more relaxed and can actually really improve your mood. But they can also affect the quality of the air in your house. Heavily scented candles, air fresheners and even some cleaning products can contain volatile organic compounds (VOCs) that can trigger asthma and allergies.
Or switch out these sorts of products for natural ones; look out for soya wax candles and organic room sprays that have as few ingredients as possible, something like the Standard Moso Air Purifying Bag or the Beefayre Bluebell & Wood Anemone.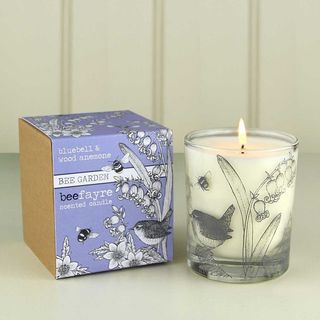 3. Ventilate your home every day
Sounds like an obvious one, but make sure you regularly open your windows to freshen up the air in your home. And if opening windows on to a busy road doesn't do the trick, invest in an air purifier.
Ventilation is not just about opening windows, though. Think about how you're venting the kitchen when you're cooking – is the cooker hood expelling air or merely recycling it – and if so, have you been replacing the filter frequently enough. Is your wood burner or stove properly vented – or if you're a fan of open fires, has the chimney been properly maintained? Lack of maintenance of these vital pieces of kit can mean you're breathing in polluted air – indoors.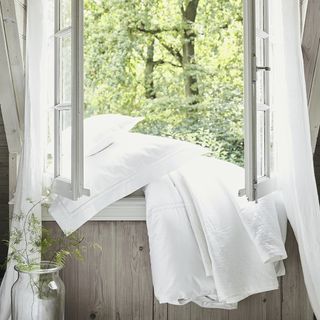 4. Have your home tested for Radon
A cause of lung cancer, radon is a radioactive gas found in homes. We've reported on it before – find out more in our article.
5. Invest in a vacuum cleaner with a HEPA filter
Make sure you are regularly vacuuming with a good quality model that has a HEPA filter. This way you won't be circulating everything from pollen to dust around the room. Vacuum cleaners for pet hair are a good bet – see our pick of the best.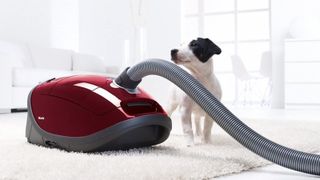 6. Invest in fans and dehumidifiers to ward off damp
If you live in a house that is even slightly damp or mouldy you could be increasing your risk of asthma by 40 per cent. So to ensure you are reducing the chances of damp and mould, think about getting yourself a dehumidifier, especially if your bathroom doesn't have a window or gets particularly steamy.
Make sure you are regularly cleaning areas where mould tends to grow – showers, sinks, fridge, dishwasher. And make sure you don't leave piles of damp clothes around, even in the washing machine, get them on drying racks asap. Check out our round up of the best dehumidifiers for reviews. Fans won't do quite the same job but they will help move air about.
7. Be aware of what you are decorating your house with
You might not even think about the paint you use to give your rooms a quick spruce up, but your choice could actually help you achieve a healthier home. Look out for paints that are solvent free or as close to solvent free as you can get (Crown Breatheasy paint is 99 per cent solvent free). You might see this termed as 'VOC free' or 'No VOCs'. Using solvent free paint means that you are minimising the paint fumes that will linger in the air and can cause irritation in the airways of allergy sufferers in particular. Plus, they are better for the environment.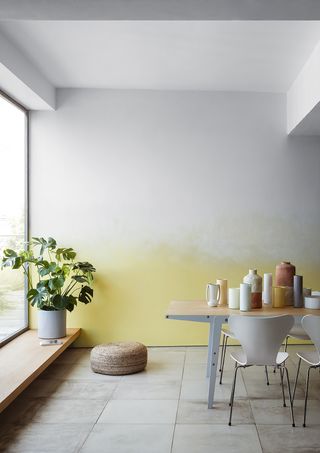 8. Take off your shoes at the front door
According to the Harvard research, one of the most effective ways to make your home healthier is by taking off shoes at the front door. This 'limits the amount of dirt and dust picked up from sidewalks, streets, and other places that harbor an alarming array of bacteria, germs, and chemicals that people bring indoors.'
Such a simple move, so easily executed. Why are we not all doing it?