Ina Garten has recently shared an Instagram post about entertaining outdoors during the fall months, and we want to copy everything about her outdoor dining area.
It's cozy and inviting – and very well planned for social distancing. With a few carefully thought-out detailing, it's perfectly possible to enjoy your patio or garden when the weather gets chilly. And we all know that food tastes better outdoors (well, that's our theory anyway), so why not give it a go and create your own welcoming outdoor dining nook?
See more garden ideas at our dedicated page.
1. Fill the table with flowers and candle to help guests feel closer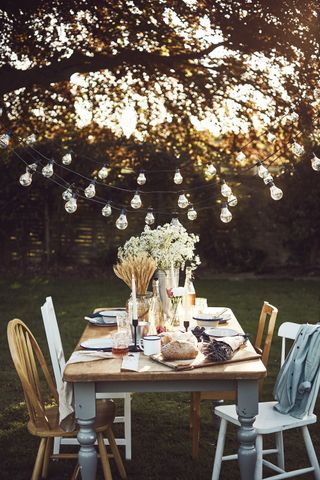 As Garten explains, spacing out chairs for social distancing can make people feel a little isolated; a great way to make them feel like they're close to each other is by filling the center of the dining table with plenty of fresh flowers and candles or lanterns. The effect is like an outdoor hearth round which the guests have gathered to spend time together. It gives the table arrangement more focus.
Let garden lighting ideas in our gallery inspire you.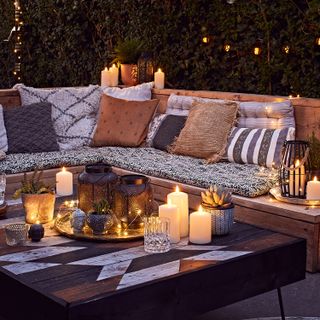 2. Blankets and a patio heater are a must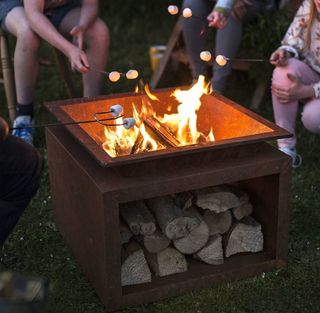 Fall is chilly! If you're planning to spend more than half an hour outdoors, you will need to keep everyone warm. Fortunately, there are ways to do this stylishly. Not all patio heaters are ugly: some look like table lamps or floor lamps and will give the outdoor area the coveted outdoor living look. Fire pits are also very useful for conjuring up a cozy atmosphere and keeping everyone warm. Mix and match blankets of different textures for a slightly boho, on-trend look.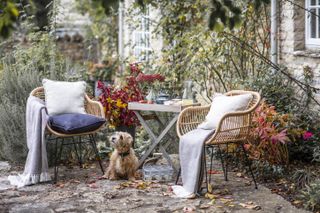 3. Keep the cooking to a minimum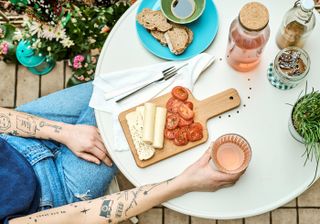 If a food celebrity advises you to take it easy on the cooking front, you'd better listen up: Garten says that because serving food outdoors is more difficult than indoors, it makes sense to keep food prep to a minimum. So, think ready-made canapes, a cheese board, and a pizza or simple salad. If you have a pizza oven, you can cook homemade pizzas outdoors without needing to even turn on the oven in the kitchen.