This time last year, I officially moved into my first New York City apartment, and I thought I'd hit the jackpot. I had finally been able to secure an apartment with no roommates and thought freedom — that was until a worldwide pandemic hit and the gyms closed.
I spent hours, if not days, wondering "What other storage ideas are out there" before realizing I needed to invest in the best home gym equipment. And, when I did just that? I knew the key to safely securing my equipment stylishly required this storage bench.
The Christopher Knight Home Hayes Armed Fabric Storage Bench is a complete gamechanger for my home décor and storing equipment, and that's due to its strategic design. It's essential when maximizing my space; the "firm but padded" seat flips upwards and stays in place (thanks to added hinges) and can securely store everything from the best dumbbells to my sneakers.
Inside, you'll notice not only the "stunning" black velvet fabric (according to other happy shoppers) but how spacious it is. It's perfect for not only gym equipment but for "pillows and blankets," too. But for me, the best part was the exterior shade.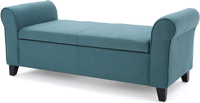 Traditionally, teal is not a go-to for me, but in this case? It was the pop of color my small apartment needed. I stepped outside my comfort zone without ever questioning if the tone was too outlandish or over-the-top for my current muted decor.
Plus, as someone who gravitates towards anything velvet or tufted, I loved that it checked both off without breaking the bank. It's a win-win — that keeps on winning.
Due to the larger size — it measures in at 19.75D x 50W — it also doubled as the best armchair when guests were over. Except, it came without the bulkiness that traditional chairs usually bring. (Like I said, win-win.)
I could write a novel on why this storage bench is such a gamechanger, but for the sake of time? Add this $199 storage bench to your shopping carts and see for yourself. Trust me: it's worth every penny.
Want more? Check out these additional storage benches available at Amazon: