Every parent of a young child should consider investing in a Pikler triangle. This climbing toy is a kid's best companion for learning how to balance, grip, climb, and know their own strength. Unlike tall climbing frames for older children, the Pikler is suitable for inquisitive babies of six months and older and will serve your child until they're about five or six. Keep scrolling to see why you should invest, while the price is right!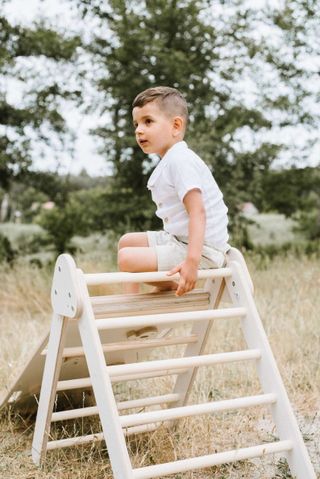 This handsome and beautifully made Pikler frame is made from 100 per cent beech wood and comes in a choice of a white or lacquered finish. It can also be personalised with rugs or numbers on one side. It will look very good indoors or out on a contemporary deck or patio – although if you're planning on prolonged outdoor use, you may need to consider oiling it (one of our decking oil will do the job).
What we really like about this PIkler triangle is how strong it is: unlike many similar climbing frames, it will take up to 80 kilograms in weight, which means your toddler won't (easily) break it, and that it can be used by more than one child at a time.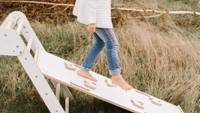 Pikler triangle | Was £180.24, now £144.19 at Etsy
Great fo so much more than just playtime, the Pikler triangle has been shown to improve children's cognitive abilities, confidence, and teach them about boundaries and balance.