Oh, we love a before and after, and this one is a good as they come. An old, small, outdated downstairs bathroom (complete with brown tiles and a cumbersome radiator) transformed into a stylish, spacious feeling room, using just paint. No plumbers involved, no ripping out tiles – just paint and imagination.
This project comes from Lily Sawyer at @layered.home, and it honestly the easiest, most effective DIY glow up we have seen in a long time. Keep scrolling to find out how to update old tiles in any room of your home, and for more inspiring bathroom ideas check out our gallery.
You will need: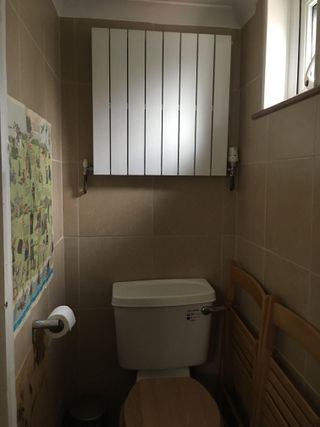 Step one: clean your tiles
So as you can see from the before, this bathroom was all tiled with brown, boring tiles. If you have a tired-looking tiled wall in a bathroom or kitchen, this DIY would work well, but you can also do it on a small scale on a splashback too.
Start by giving the tiles a good clean, getting rid of any dirt, dust, or mould. Allow them to completely dry before you start painting.
Step two: start painting
Using a roller start painting you tiles – lots of thin coats works best so don't overload your roller. Lily used three thin coats to cover her tiles and radiator. Allow that to dry before moving on to the next step.
Step three: paint your pattern
Switch to a different colour of paint for this – any colour that is darker than the base will work. Now, Lily freehanded her fern pattern using a small brush, and you can go down that route too, just do a few practices first. But if, like us, you know you would mess it up, there are loads of lovely stencils you can buy that will achieve a very similar look. We love Annie Sloan's stencils but you will find them on Etsy and Amazon too.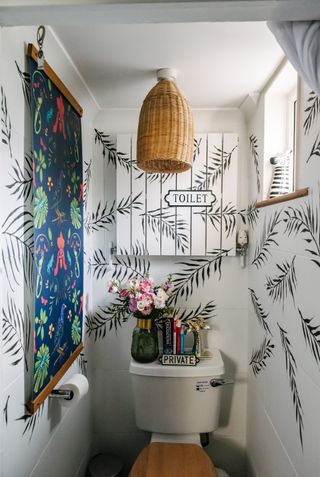 If you after more DIY ideas, tips on using social media and creating content, and just gorgeous interiors make sure you check out Lily's website too.
Read more: