It's officially the time of year to dig your sprinkler out of your garage. Don't have one? Luckily enough, we've found just the buy – this was one of Amazon's top sellers this week, and for good reason, too.
Why buy a sprinkler? It's hot and (mostly) dry! And, unless you enjoy the job of watering your garden – it IS a soothing task and times are fairly monotonous right now, to be fair – a sprinkler can save you time and effort. Connect it to your hose, pop it on your lawn and go about your daily activities (of drinking gin and reading books). Anything that rids the need of standing on your front lawn for 10 minutes trying not to stare through your neighbour's windows is well worth it in our eyes.
This lawn sprinkler – the Amlion Lawn Sprinkler – rotates 360 degrees to water every single blade of grass on your lawn. Its spray can reach 25 to 30 feet depending on your water pressure, and it's easy to set up. Oh, it's also a bargain at under £20. And it can be delivered fast. Shop it below.
Best garden hose: 6 greatest hosepipes for effortless garden maintenance
Head over to our dedicated gardens page for more advice on caring for your plot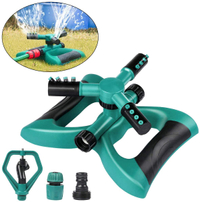 (opens in new tab)
Amlion Lawn Sprinkler | £19.99 at Amazon (opens in new tab)
This high-quality sprinkler is made from ABS plastic and it comes with two nozzles for different types of water spraying. Each jet has three different angles to ensure the water covers a wide irrigation area. How to use it? Simply connect the water joint to the connector and faucet. Turn on your tap and the sprinkler will begin to spray. Not only will this sprinkler do the job of watering your grass, but it'll provide the kids with some entertainment while the sun's out, too. You won't be able to stop them from running through it.
Good to know
In order to use a sprinkler, you'll need to own a hosepipe and have a garden tap nearby. This sprinkler requires a minimum bar pressure of 2.5 and a maximum pressure of four-bar. If your water pressure exceeds this it will break the sprinkler.
More sprinkler deals...
More garden content: