Looking to invest in a HEPA air purifier? Perfect timing: we've spotted one on sale at Amazon, with nearly $30 off today. It has 4.6-star reviews, over 6,000 reviewers and it's recommended for use by allergists. Great for larger rooms or bigger houses (up to 465 sq. feet), this HEPA air purifier can help capture up to 99.97 percent of airborne particles. From pet dander to pollen, dust, and smoke. Even airborne viruses and mold spores, too. One thing's for sure: you won't regret spending your money on the best air purifier around this year.
Usually $249.99, you can pay only $220.40 for this air purifier today. That's just under $30 off. Buy now, ready for the cold winter weather. This way, since we are all spending more time at home, you can breathe easy knowing your inside air is cleaner.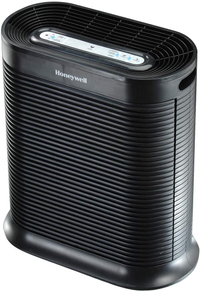 (opens in new tab)
Honeywell HPA300 True HEPA Air Purifier | $249.99 $220.40 at Amazon (opens in new tab)
With over 6,000 positive reviews behind it, this HEPA air purifier is definitely worth the price tag. It's easy to use, it has a timer function and four different cleaning levels. You can dim the control panel at night, should you want to use it while you sleep, and it even notifies you when you should change the filter.
If that hasn't convinced you...
If the fact this HEPA air purifier has nearly $30 off hasn't convinced you, or that it's super easy to use and allergist-recommended, then us telling you that it can be used year-round should make you change your mind. Get it out in the summer and use on warm days when you have the BBQ going in your yard, or, use it in the winter when you don't want to let the cold air in by having your windows open all day. That and you can move it from room to room – kitchen, nursery, mudroom – and it can remove allll of the bad stuff from the air. From bacteria to dust, cooking smells, and even pollen. Only the best air for your family.
Don't miss...