Just WOW. This stick vacuum cleaner must be the bargain of the year, and it's already proving mega popular in our beloved Aldi stores.
It's ticking every single box for us, alerting our bargain finding senses and desire for (realistically) clean homes. Priced at just £29.99 – yep, £29.99 – crumbs will be be gone, and dust will be banished. It's a 2-in-1 multi vac from Salter which means that it will effortlessly clean from floor to ceiling with its two interchangeable heads and four accessories. Oh and if yo're worried about being tethered to the plug, don't be: there's five metres of power cord with this one which is plenty enough for a couple of rooms around the home or up the stairs.
Keep scrolling to be wowed and check out with this vac, just as we have... you can always count on Aldi to deliver on the bargain front! And whilst you're hear, you may as well check out our top stick vacuum cleaners as a comparison.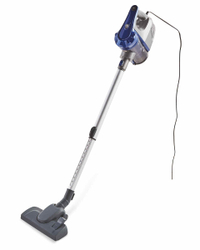 Salter 2-In-1 Corded Multi Vacuum | £29.99 at Aldi
We're serious when we say this vac is proving popular because it's already sold out online. BUT, as of this morning (and if you're quick) you can find it at a store near you and then it can be yours. At this price is a fab gift if you, or you know someone who, are returning to uni.
More vacuum cleaner recommendations: