An outdoor hammock is an easy and effective way to bring vacation vibes to your backyard. If you're anything like us, you're mourning the holidays that should have been – but with so many beautiful spring days, you can still have a staycation from the comfort of your own backyard with a hammock. After all, is there anything better than lounging around on a comfortable swinging bed with a cocktail in hand? We'll answer that: no, there is not.
Because hammocks come in all shapes, sizes and styles, there's plenty of options out there to suit your space. Some come with hardware included, so you can set up straight out the box, but others require you to buy a frame separately – something to watch out for before you buy. Of course, if you're that way inclined, you can even hang some hammocks between two trees for truly exotic vibes.
Love the idea of an outdoor hammock? Check out our picks of the best online offerings today, all available to ship to your home or pick up from the store.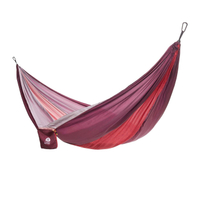 Sierra Designs Double Lightweight Hammock | $39.99 at Target
Coming in at the cheapest end of the spectrum with a super-practical package including tree saver straps and carabiners, this lightweight hammock is a great starter buy, especially if you also love camping – it's perfect for stuffing into your rucksack when you can finally go out adventuring again.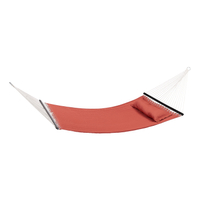 Mainstays quilted double hammock with pillow | Was $70.55, now $45.99 at Walmart
We love the simplicity of this hammock – it has a minimalist style with a choice of three colors to brighten up your backyard. It holds two adults so you can get cozy with your other half on a balmy evening, and even has a built-in pillow – we dare you not to fall asleep.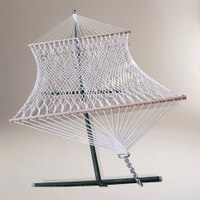 Cotton rope single hammock | Was $79.99, now $47.99 on World Market
This cotton rope hammock has serious boho vibes and we're loving it. It comes with spreader bars, which help the hammock maintain its shape, but you'll need to buy a frame separately. Fitting one person comfortably, it means one thing: absolutely no sharing required.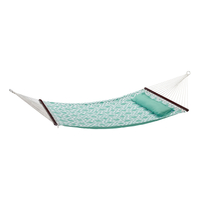 Mainstays Finne Isle Quilted Outdoor Double Hammock in Mint | Was $89.99, now $55.99 at Walmart
This quilted hammock has an amazing woven design in on-trend mint green, making it a stylish buy for your space. It comes with a carrying back and spreader bars, plus chains and S-hooks for hanging – but if you want a hammock stand, you'll need to buy one separately.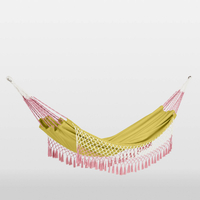 Opalhouse Flat Weave Macrame Fringe Hammock in Yellow/Pink | $69.99 at Target
Pink? Yellow? Macrame? Swoon! This hammock gets major style points from us – we're loving the color palette and the fringe detail. It's the perfect product to add brightness to a backyard, especially if you love a boho theme. Note: you'll need to buy hardware separately.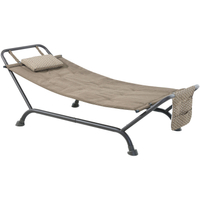 Mainstays Wentworth Deluxe Hammock with Stand | Was $89.99, now $75.99 at Walmart
There are plenty of great reviews for this luxe hammock, which comes complete with a stand for easy setup. The classic design means it fits perfectly with almost any outdoor scheme, and it comes with a magazine bag to keep your favorite reads close at hand.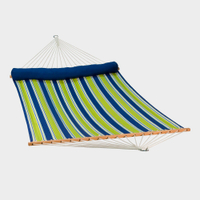 Green and blue stripe quilted double hammock | Was $149.99, now $89.99 on World Market
Want to add a splash of color to your space? This one's for you! This cozy hammock has a double pillow so you can cuddle up to your other half in style. It's at the pricier end of the scale and doesn't include hardware – but we think it's worth the investment for the major comfort factor it offers.