The results of the Cuprinol Shed of the Year competition are in, and what a wonderful bunch of sheds they are this year. From a shed that has a tree growing through it to sheds that double up as pubs, it's been a colourful and varied lineup, with a new category introduced especially for sheds that have designed to counteract the effects of lockdown. Without further ado, here are the winners in full.
1. Shed of the Year: Bedouin Tree Shed by Daniel Holloway
The Bedouin Tree-Shed has been an eight-year labour of love for expedition organiser Daniel Holloway, who built it around two living tree trunks in his back garden in Blackheath, south London. Daniel explains:
'When lockdown arrived, the shed really took on a life of its own, bringing us closer together as a family.
'Spending time in it taught us some valuable lessons about appreciating what is precious and provided solace for us all during those really uncertain weeks and months. We whiled away many an hour in there listening to music, playing games and quietly reflecting. I'm delighted that it's been crowned the Cuprinol Shed Of The Year 2020.'
2. Special commendation: Shed School by Ashley Bates
In a competition first, judges have this year also awarded a Special Commendation alongside £250 - to celebrate the efforts teacher Ashley Bates went to in order to educate children while lockdown closed classrooms. Winner of the Lockdown Repurpose category, he streamed maths and English lessons for five to eight-year-olds from his Shed School in his back garden in Hinchley Wood, Surrey. He said:
'With so many children potentially missing out on education because of lockdown, I thought I had to do something to help. I was stunned how it took off - going from a few hundred followers to over seven thousand in just a few weeks.'
3. Unexpected: Buck's Bar by Len Lavelle
Len, 51, built this replica of a traditional Irish boozer as a tribute to his cherished dad. The Quality Control Manager from Heald Green, Cheadle said:
'My dad brought us up with all the traditional Irish values, and whenever we went on holiday to Ireland we would find ourselves spending most of the time sitting in the corner of an old Irish Pub. I will never forget the day that I invited him and the rest of the family round for him to cut the ribbon and officially open the bar. It was a great afternoon, and each and every item inside the bar reminded him of his past and he had many tales to tell.'
4. Cabin/summerhouse: Jane's She-Shed by Jane Moyle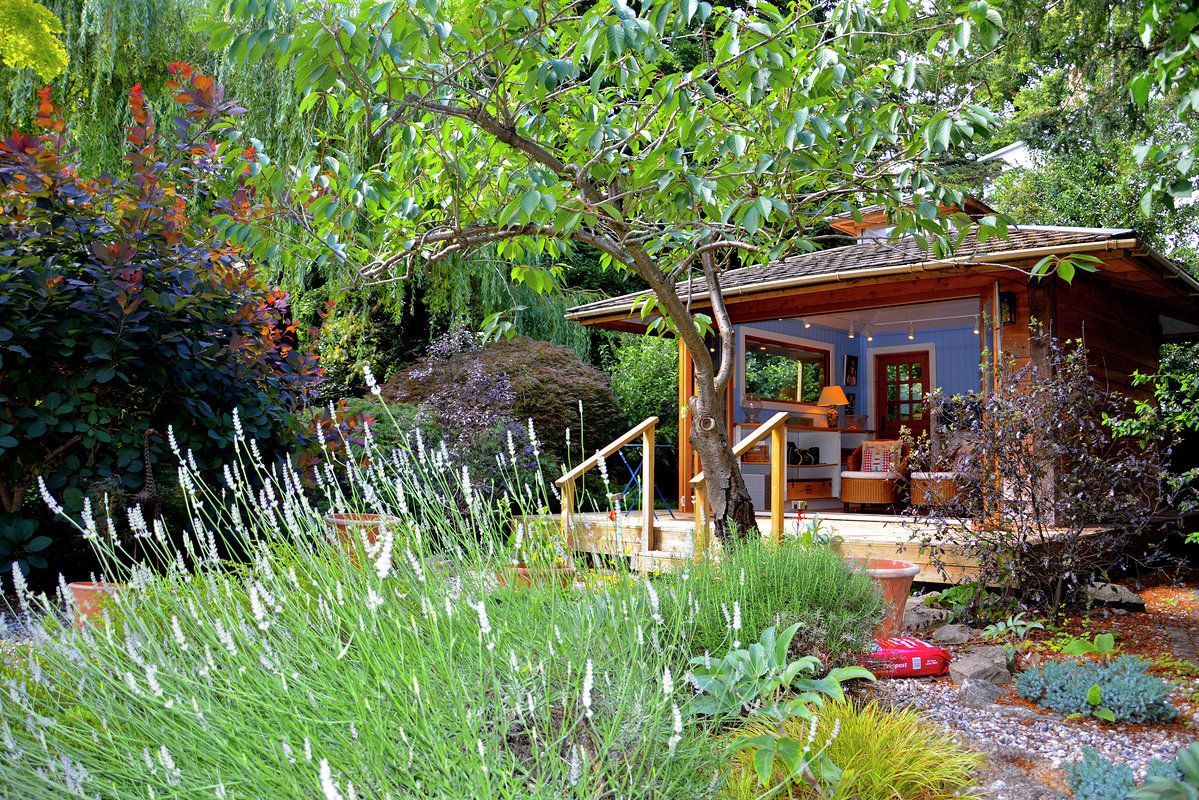 Retired company director from Gloucestershire, Jane took inspiration from Japan in creating her ultimate Summerhouse. What started as somewhere to store photo albums soon blossomed into a space for entertaining her 11 grandchildren. She said:
'I wanted a quiet place to read and relax. With the folding doors and the decking outside, it is ideal for outdoor meals, sunbathing, reading.But above all, the summerhouse is surrounded by a magnificent huge weeping willow tree, bronze and green Japanese acers, a yellow Robinia and a purple smoke shrub.'
5. Workshop/studio: Colin Furze's Workshop
YouTube star Colin Furze keeps his ten million subscribers entertained with his creations in his workshop in Stamford, Lincs. He said:
'My dad never let me in his shed. So once I moved into my own house the shed was the first thing I did. The shed is not just a workspace or place of work, it is now an inspiration for the many people that watch my videos to see what can be made in a garden workshop. I get a lot of messages from people and parents of children who've been inspired to get making their own creations and even make their own sheds based on mine.'
6. Lockdown new-build: Joe Melton
Norfolk sheddie, Joe Melton, kept busy during lockdown by building this homemade rum shack in his back garden. The Senior Project Manager from King's Lynn, Norfolk, explained:
'The bar has brought us together during lockdown as we have continued to make changes and improvements. The whole family has been involved in building, sanding and waxing - giving the children a chance to learn new life skills and then enjoy slushies sitting back looking at what they have built.'
7. Unique: Old Bill by Adrian Backshall
His life-long passion for trains inspired Eastbourne sheddie, Adrian Backshall, 59, who built his shed on rails. The retired train worker said:
'From when we bought our first house I've always had a shed. I've collected lots of old railway stuff over the years and wanted to reuse it for the shed. It's kept me busy in my retirement and I've had it all to myself, but I've spent so much time and money on it I thought it was worth showing off.'
8. Pub/entertainment: Pallet Hollywood by Mark Killick
As the name suggests baggage handler Mark Killick used old wooden pallets to create his Pallet Hollywood bar in the back garden of his home in Farnborough, Hants. It boasts a hot tub and a stash of original 80s vinyl to play on his Kenwood Hi-fi system. He said:
'Before the lockdown, friends and family would come round for a few drinks at Pallet Hollywood. We've got music in there and have had some great parties, and with all the outside lights on every evening it's great to look at when we're in the house.'
9. Budget: Pallet Hobbit House by Julie Twydell
Marketing Manager Julie Twydell, from Bromley, Kent credits working on her Budget Pallet Hobbit House for keeping herself occupied during lockdown.
'If I didn't have it, I'm not quite sure what I would have done instead', she says. Made entirely from recycled materials Julie reveals: 'Nothing is really straight, correct or perfect and that's what I love about it. I like its rustic charm. I can read there, have a glass of wine, watch tv with the cinema screen, do craft and building projects - it's great.'
Read more: