Planning to use Easter weekend to tackle the garden? Make the whole process that little bit easier by investing in one of these smart gardening products. And now is the perfect time to get gardening...even if you'd normally do anything to avoid it. With exercise limited to one outing a day and most of us spending way longer than normal in our homes, gardening can offer a welcome distraction, and some Vitamin D thrown in for good measure.
Whether you've got a sprawling garden, a postage stamp or a window box, we've rounded up the five smart gardening products that'll help you make the most of it, as part of the latest episode of the Real Homes Show.
If you need new outdoor furniture to sit back on and admire your handwork, check out our guide to the best garden furniture sales.
1. Sit back and watch your robot lawnmower
First up, it wouldn't be a smart garden without a robot lawn mower. If you want to avoid the chore of mowing the lawn, investing in something like the Husqwarna Automower 105 will deliver you that little bit of smart garden luxury. It'll cost about £875 for the pleasure, and you'll need to install a guide wire under your lawn to keep it on track, but think of all the summer evenings you'll get back! It can run for 65 minutes and will take itself off to charge when it's done.
2. No space? Grow your own inside the house
For those of us who have gardening intentions but either don't have the outside space, or the time to spend on it, the Click & Grow Smart Garden 3 is one of the easiest ways to grow your own fresh herbs, fruit and veg.
It works sort of like a capsule coffee machine, but instead for plants, with biodegradable plant pods that come complete with all the seeds and nutrients it needs for you to enjoy homegrown food all year. Just refill the water pod once every month, check in on the companion app to see how your plants are doing and reap the rewards of your own harvest!
3. Water your garden with zero effort
As much as we love the sunshine in the summer (when it chooses to come out) our lawns hate it. The Gardena Smart System, which starts just under £400, takes control of keeping it healthy for you with an easy to use smart sprinkler, which saves up to 70 per cent on your water consumption in the process.
You control it from the Gardena smart app, where you'll also find details on the soil moisture content. It'll keep track of that and will stop watering if the weather changes to ensure you don't waste water you don't need. It's an entirely wireless connection and you can schedule when you want irrigation to start and for how long – from just a couple of minutes to a full 10 hours.
4. No garden? Keep your house plants happy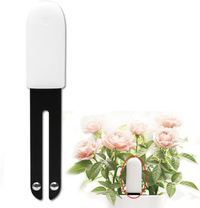 Ollivan Plant Monitor – £32 on Amazon
This four-in-one plant monitor will make even the most serial plant killer feel green fingered. It monitors light, temperature, soil conditions and water and uploads data to a cloud-based database, connected to your phone via Bluetooth.
The Ollivan Plant Monitor is for those who prefer to keep their plants inside, and allows you to keep a close eye on how your plants are doing. For your £32, it includes temperature and sunlight sensors, a plant nutrient monitor and soil moisture detection, so you can be sure your plant is getting the right balance of everything you need. It connects to your phone via Bluetooth and even tailors its suggestions based on the plant you say you're monitoring, to tailor its care.
5. Monitor the weather for plentiful plants
As any keen gardener will know, knowing what the weather is up to is key to successfully growing plants. The Netatmo Weather Station costs about £140 and is a great way to weather watch, reporting back current details on humidity, CO2 levels, pressure and pollution. The software then analyses all that data, and serves up all the environmental trends a gardener could need to figure out what to plant, when to plant it and how to best take care of them all. You can also buy a whole bunch of additional sensors, like a rain or wind gauge, to add even more data.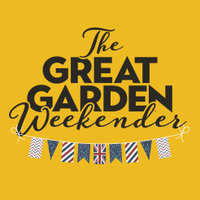 The Great Garden Weekender – Easter Bank Holiday 2020
Garden looking a bit sorry for itself? This Easter we'll be bringing you everything you need to transform it with our amazing Great Garden Weekender, which runs from April 10th–13th.
We'll have the best prices on garden furniture, lawnmowers, sheds and barbecues, as well as easy step-by-step guides to help you finally paint your decking, clean your patio or plant that veg.
Want more great garden updates?