The Mandalorian's second season officially dropped on Disney+ today and, boy are we in for an exciting season! If the trailer was any indication, Mando's mission is clear: he has been quested to bring Baby Yoda back to his kind, which means things are about to get a whole lot more Star Wars-y this time around.
Now, before getting into any of those twists and turns— let's get this season started the right way. And, the best way to do that? By adding this Mandalorian-inspired slow cooker to your carts and kicking this premiere party off in the kitchen!
The first thing you'll notice about this crockpot? It's not just good, it's out-of-this-galaxy good. I mean, just look at the Baby Yoda! The force — and the cuteness — is strong. It might even earn a spot on our list of the best slow cookers.
Don't have Disney+? Now's the perfect time to sign up and see what the Mandalorian hype is all about.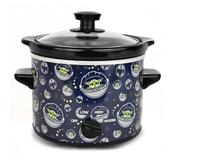 This cooker can conquer it all! Designed with three heat settings — low, high, and warm — it can easily adjust in seconds. Making it the perfect machine for any skill level or recipe on the menu, and we mean it! This magical machine can whip up everything from your favorite brisket to your go-to vegetable stew. You name it, this 2-quart pot has room for it— and speaking of room! Since slow cookers tend to be a bit on the slower side, just make sure you block out enough time in your calendar to allow this pot to work its magic on those melt-in-your-meals. They're worth every minute!
Best of all, this crockpot is dishwasher safe. Meaning, all you have to do is simply unhook the stoneware insert after each use and add it into your dishwasher and ta-da! It'll look brand-new with every new.
So, what are you waiting for? Go ahead and add this cooker to your cart and fire up Disney+! It's the Mandalorian premiere party you won't want to miss!