It's official: We're obsessed with the Home Edit's new Netflix show. What's not to love? Not only does Get Organized with Home Edit motivate us to stay tidy, but it's also filled with smart organizational tips we can easily implement into our space.
While the show's eight glorious episodes are filled with drawer inserts, storage boxes, and labels with Clea's pristine handwriting, we have to admit our favorite organization hack is one that's really quite simple: the purse hanger.
Whether you're a bonafide fashionista or minimalist who has given your place the KonMari treatment, figuring out where to store your purses has always been a head-scratcher. Stuffing all of your purses into a storage bin seems like the obvious choice, but it's possible your bags will lose their shape. (Plus, larger shoulder bags and totes will take up a lot of precious closet space.) You could hide your bags underneath your bed, but then they will be out of sight ... and out of mind.
Enter: the purse hanger. Co-founders Clea Shearer and Joanna Teplin purchase special hangers that are designed for handbags, then hang purses with their respective outfits, or use them to divide up a closet.
Not only is this a space-efficient storage solution that retains the shape of your bags, but it's also a great way to display all your accessories. Best of all? You can add this organization trick to your closet for just $15. If you're looking for an easy way to stay tidy—but don't want to spend the time and money on a custom closet—this tip is a no-brainer.
Want to try it? Check out where we found the acrylic purse hanger, below.
For more organization tips, check out our storage ideas for small bedrooms.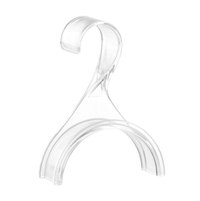 Acrylic Purse Hanger|Currently $14.99 each
If you want to recreate the look in your home, give these acrylic purse hangers from the Container Store. This option has a semi-circle arms, offering the perfect place to hang your top handle and shoulder straps. The lipped edges will keep your bag from sliding off and falling into the depths of your closet, while the large tracks will support your straps and help the bag retain its shape. Thanks to its clear, acrylic design, this hanger will blend in with the rest of your closet.
Read more: