Aldi must have cottoned onto the home spa vibe floating around at the moment. Their new bath tray is a step on from the lovely one they were selling earlier this year and is a life saver for those of us that have fallen victim to soggy books and bathroom essentials floating around in our baths. This is the ultimate life hack for anyone who enjoys a peaceful and indulgent bath time. Not only that, but it also looks pretty cool, too! And, of course, it's the perfect extra storage for small bathrooms.
Want one? read on to find out more. And check out other – similar – models that we've included from our favourite retailers, below. For more fab bathroom ideas, don't miss our inspiring design gallery.
Aldi's beautiful bath tray... and more lovely buys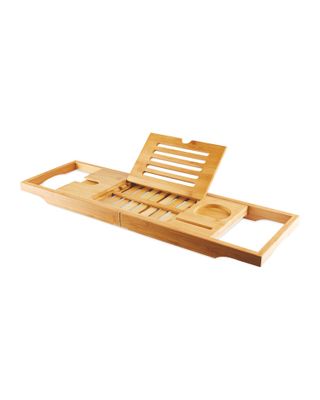 Aldi's bamboo bath tray (above) adds a natural look to your bathroom. When you're not using your bath, it's a great place to put indoor foliage to dress up your bathroom. Oh, and it also is extendable and comes with a comfortable backrest! We're getting spa staycation vibes off this piece but it would also come in super handy at bath-time for your little ones – the perfect place to balance a rubber duck or toy boat.
Aldi bath tray, £11.99.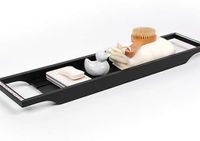 Sparkle Black Bamboo Bath Rack | £14 from Dunelm
This is the perfect bath rack for a bathroom looking for a bit of glitz and glam. Contemporary and gorgeous with jewelled panels, this will accessorise your bathroom will offering an effective storage solution for your bathroom products.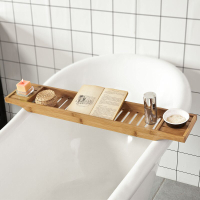 Ezekiel Bathtub Shelf | £21.99 from Wayfair
This bath tray is more of a shelf because of how high it sits on the edge of the bath. We love this elevated style and the generous length, meaning it can adapt to different bath sizes and still look contemporary and cool when it overhangs.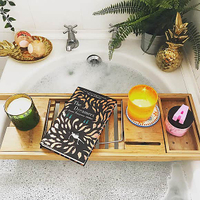 Elements Bamboo Extendable Bath Rack | £25 from Dunelm
We love an extendable model because they're super versatile and easy to adjust depending on the size of your bath. Crafted from natural, hard-wearing bamboo, this bath rack is ideal for storing shower and bathing items in an easy to reach place.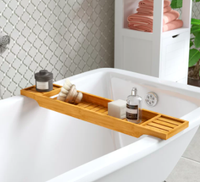 Colley Luxury Bridge Bath Rack | £26.99 from Wayfair
Simple and clean with a deep tray effect for safe and durable holding power. Get this bath tray from Wayfair for a reliable and sturdy buy with a natural look.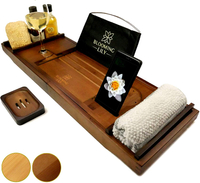 Blooming Lily Sturdily Designed Bath Tray | £32.99 from Amazon
When it comes to bath trays this is definitely a luxury storage solution but it comes with so many nifty features that we think you'll still be getting bang for your buck! Again it's crafted from natural, eco-friendly bamboo. It's solid and sturdy, won't get mouldy no matter how often it's used, according to tests. Featuring a wine glass holder, a detachable book / tablet rest, a phone stand, and a candle holder.
Read more: