Looking for tech gifts for the smart home tech lover in your life? If you're really not into technology, are only loosely acquainted with Alexa and can't recall which iPhone model we're on now (is it 5, 9, X, 9X, who really knows?) ,shopping for the techie in your life may seem like something of a daunting activity. But, it doesn't have to be.
Today's technology is pretty inspirational and – you'll be pleased to know – doesn't have to cost a fortune. So, we've rounded up some of the best (and most gift-worthy) tech to make the process of gift giving as simple and straightforward as possible this Christmas. Shop our top picks below and expect a pretty happy giftee.
Today's best deals on tech gifts:
Why you can trust Real Homes Our expert reviewers spend hours testing and comparing products and services so you can choose the best for you. Find out more about how we test.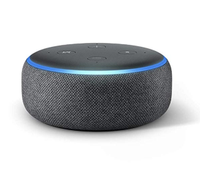 Amazon Echo Dot | Was £49.99, now £24.99
An updated version of Amazon's most popular voice-controlled speaker, with improved sound and a stylish new design.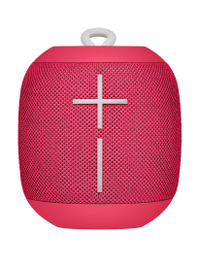 Ultimate Ears UE Wonderboom Bluetooth Speaker | Was £74.99 now £69
Packing a punch way beyond its size, this is a super-portable Bluetooth speaker gives you clear, crisp harmonies and big, rich bass in 360º sound to really bring your music, podcasts and music stations to life.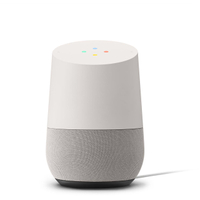 Google Home Smart Speaker | was £89, now £49
Step into the future with this voice-controlled Google Home smart speaker. It can handle a world of tasks at your command, from researching answers to questions, reminding you of appointments, giving you the latest news or even telling jokes.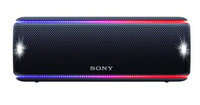 Sony SRS-XB31 Portable Wireless Waterproof Speaker with Extra Bass | Was £129.99 now £98
A light show and a powerful speaker? Who needs to actually go out? Just stick one of these in your living room...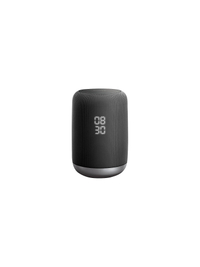 Sony LF-S50G Smart Speaker with Google Assistant | £129.99
Combining Sony audio, a stylish speaker system and hands-free voice control, this smart speaker brings great sound quality to the home powered by built-in Google Assistant.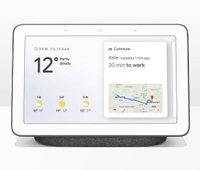 Google Home Hub Hands-Free Smart Speaker |Was £119, now £59
Google Home Hub gives you the power of Google and help at a glance thanks to a 7" touch screen display, making it a great option for starting a smart home system.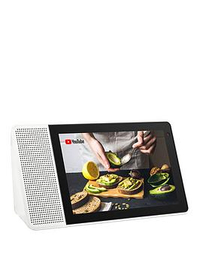 Lenovo Smart Display 8 inch Tablet with the Google Assistant | Was £229, now £204.99
From streaming videos to browsing photos, video calling friends and pulling up recipes, the Lenovo Smart Display (which is compatible with Google Assistant) makes an ideal addition to your home.
1. Pick up the super popular Amazon Echo Dot with clock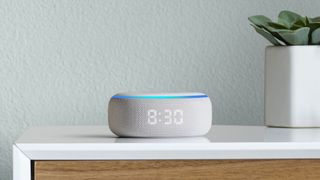 A bestseller this Black Friday, the Amazon Echo Dot with clock would make a perfect gift for those keen to expand a smart home system (aka most tech lovers).
As well as boasting all of Alexa's basic skills – setting reminders, providing updates on the weather, public transport, sports fixtures and more and playing music – this stylish smart speaker also features a simple, LED clock which makes it perfect for use as an alarm clock.
2. Gift the super stylish Ted Baker ConnecTed wireless chargers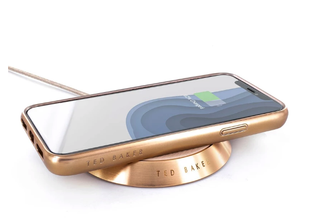 You don't think fashion or style when it comes to phone chargers usually, but this partnership between Ted Baker and mobile phone accessory maker Proporta changes all that.
Finished to the brand's luxury standard, the Ted Baker Wireless Charger lets you charge your phone simply by placing it on to the wireless dock, no plugged-in cables necessary. And, unlike your usual charger, it'll look mighty stylish left on your desktop surface.
3. Help them upgrade their Alexa with Amazon's Echo Show 5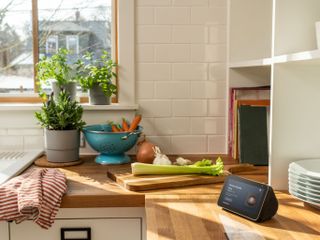 An upgrade from its older sibling – the Echo Show 2nd Generation – the Echo Show 5 is a super handy addition to a smart home set-up for those with security systems, as well as those of us who enjoy step-by-step tutorials and more. It comes complete with all of Alexa's usual functions, as well as some handy new skills, a super stylish design and more.
We also love the idea of gifting the Echo Show 5 to a partner, friend, or family member, who live far away as it make video calling super easy. Read our full review of the Amazon Echo Show 5 for more information.
4. Or the Best Hub Max if they're a Google devotee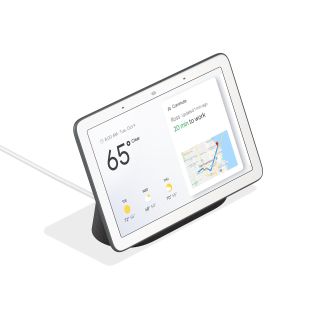 If you're thinking of gifting a smart device, you really need to know whether your giftee is team Amazon Alexa or team Google Assistant. If the former, shop the above. If the latter, this is the one for you. Not sure? Drop them a text, feigning an interest in investing in a set up yourself. Simples.
If your giftee is a Google devotee, it really doesn't get much better than the Nest Hub Max. Released earlier this year, this model boasts an impressive 10 inch HD screen, plus a 6.5 MP camera which makes it super easy to video call friends and family.
5. AirPods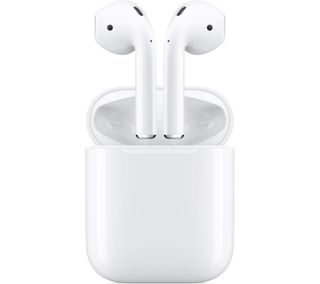 It took a while, but we've finally reached a point where people wearing AirPods aren't ruthlessly mocked by their friends, family and the whole of Twitter. And now that we're there, they make a pretty cracking Christmas present.
Not something that people would necessarily buy for themselves, AirPods are the perfect gift the Apple user in your life. And there are two options available to you. The classic AirPods – which come complete with a charging case – or if you're feeling super generous, the newly released AirPods Pro.
6. And a case to keep them in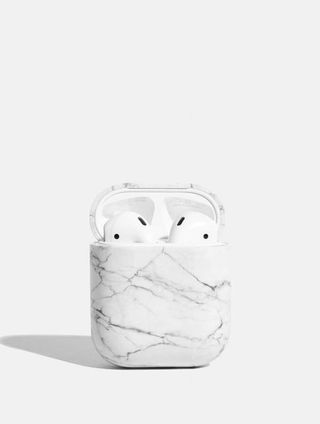 If the techie in your life already has a pair of AirPods – or you're looking for something a little more budget friendly – why not buy them a super cute case to house their headphones in?
We love this Marble AirPods Case from Skinny Dip. They're stylish, yet understated and certainly don't cost a fortune.
7. Sky Now TV Smart Box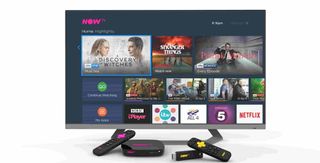 Love Sky TV programmes, but don't want to commit to a costly satellite subscription? The Sky Now TV Smart Box is an affordable way of getting pay-as-you-view access to loads of Sky TV content away from any lengthy contracts, with individual monthly passes sold to all the best TV and movie content that Sky has to offer.
This latest version of the Sky Now TV Smart Box is jammed full of techy features too, including 4K high resolution visuals and the ability to search for the show or movie of your choice using your voice alone.
For more inspiration, check out our guide to the best streaming devices.
8. Samsung HW-MS650 soundbar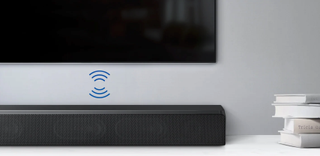 What's a great TV without some great audio to support it? If you want to hear with supreme clarity the dulcet tones of the Queen's speech this Christmas, you'll be hard pressed to find a better soundbar than the Samsung HW-MS650 to do it with.
It may be over a year old (making it more affordable than at launch, too, and perhaps a Black Friday steal this year, too) but it remains the superior soundbar on the market, with physics-defying bass handling, incredibly powerful and punchy sound, support for lots of input sources and a massive array of streaming services including Spotify, Deezer, Tidal and more.
The MS650's one-body design offers a 3.0-channel (left, right, centre) mix powered a superb combination of six woofers and three tweeters - all powered by their own individual 20W amps. Though it's not capable of delivering fancy overhead Dolby Atmos sounds, it's otherwise about as good as soundbars get.
Not sure this is the model you want to gift? Browse our guide to the best sound bars.
9. Subscriptions to Spotify, Xbox Live, PlayStation Plus, Netflix or Amazon Prime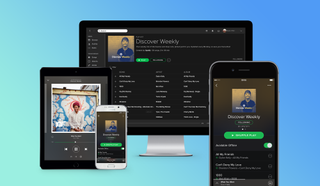 Looking for a useful, simple stocking filler? Or a gift for the person who has everything? We'd recommend picking up a subscription to an online service. They're the sort of essential that's a costly chore to maintain, but well appreciated as a gift – and easy to pick up last-minute, if you'd forgotten that special someone's special preference.
You're looking at an average of £10 a month for most of the following services, though premium and entry-level accounts for some services are also available.
10. Parrot Anafi Drone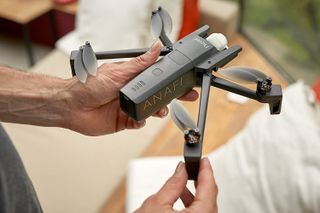 Played around with drones before and looking for the next step up and away into the skies? The Parrot Anafi is the drone for you.
Ultra compact thanks to its folding frame design, it shoots pro-quality 4K HDR video and can capture crystal clear 21MP photos. And that's before flying the thing, with beginner-friendly controls letting you make high-speed, daring stunts way above your head.
11. Botvac D4 Connected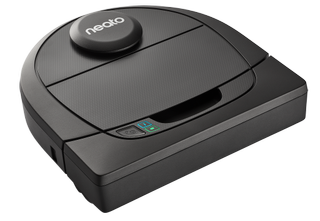 Next up, a piece of home tech that even the least techie amongst us are guaranteed to appreciate. Yep, that's right, a robot vacuum cleaner. And a good one at that.
While the best robot vacuum cleaner won't replace their regular current vacuum cleaner entirely, what it will do is make keeping up with daily chores easier and more efficient. Especially this Botvac D4 Connected Robot Vacuum Cleaner, which boasts an impressive runtime – particularly when compared with competitor products – and makes use of lasers to ensure a more effective clean.
12. GPO Brooklyn Boombox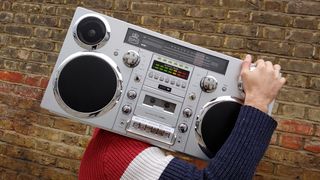 Want to bring some retro cool to your next party? The GPO Brooklyn Boombox is the only way to be playing Run DMC's Christmas in Hollis this festive season.
Aesthetically a dead-ringer for the 80s classic boombox, it's got all the mod cons you could ask for from a contemporary music player, from Bluetooth connectivity to USB playback. It's even got a CD player and a tape deck, as well as an FM radio, with a microphone input allowing for karaoke sessions too. It's the office Christmas party on your shoulder.
Looking for more gift inspiration?