Those with glass shower screens in their bathroom understand the struggle of removing stubborn watermarks. While we might think we know how to clean glass shower doors, this TikTok user has taken things up a level with a trick using car cleaner.
See also: Bathroom ideas – 51 stylish looks, trends and tips to inspire a makeover
She shared a simple bathroom cleaning hack using a car cleaner that leaves glass shower doors so very clean that the clumsier among us would be in danger of walking into them. In a TikTok video that's now received a staggering 204.9k likes, she uses Rainex on her glass shower doors.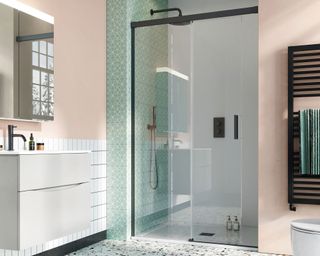 In the video, she explains that a good friend of hers who's an Airbnb 'super host' introduced her to the hack. 'Treat your glass with Rainex,' she says.
'I know that a lot of people are familiar with Rainex when treating your car windows, but you can also treat your shower glass windows with Rainex.
'You essentially prevent hard water stains because the water beads right off the glass,' she says. The video shows how water flows off the glass before and after she sprayed Rainex on and wiped it with a microfibre cloth.
Insulation Express explains that car glass cleaner often contains a repellent to help prevent a build-up of water stains. So using a car glass cleaner prevents watermarks that build up every week.
Keeping on top of marks will making cleaning the glass shower doors a much easier, quicker task. If you're in the market for a new shower, our guide on how to choose the best shower will help.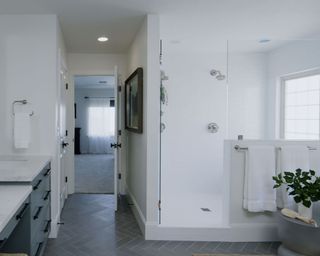 Cleaning influencer Mrs D has an alternative solution. 'The best thing to get a streak-free finish on shower doors, windows, and mirrors,' she says, 'is deionized water.
'Always use a good quality glass cloth such as the green Minky glass cloth and you will always have a streak-free finish,' Mrs D adds.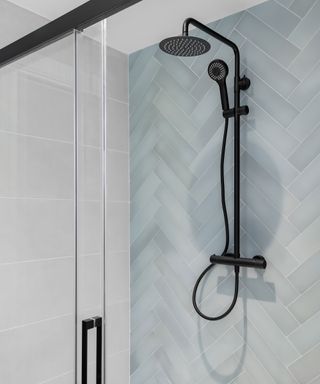 There's something about a squeaky-clean bathroom - compared to rooms with soft furnishings - that's extra satisfying. If this hack left you feeling more motivated to give your bathroom a good clean, read our in-depth how to clean a bathroom guide.
Will you be trying this hack?