Shea McGee has dispelled the common myth that says rugs don't belong in carpeted spaces. If you have carpet, you can totally layer over a rug and enjoy the added color, texture, and pattern it provides — without thinking you've made some dreadful interior design faux pas.
A living room rug works wonders in grounding and zoning this space, whether you've got gorgeous parquet flooring or soft carpet underfoot.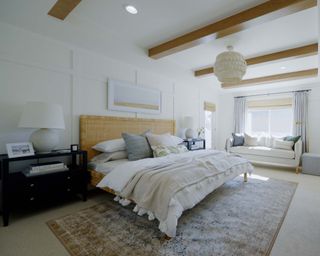 Shea McGee is a famous interior designer from Texas. She and her husband, Syd, run interior design and e-commerce company Studio McGee, and wrote autobiography Make Life Beautiful, available at Amazon.
The interior designer ascended to fame thanks to the hit Netflix series Dream Home Makeover, which she hosts alongside Syd. She recently revealed some styling advice around rugs on the Studio McGee website, including her view on whether rugs are needed in a carpeted room.
'Rugs are still important in carpeted spaces,' she says. She comments that this is in fact a question she gets asked all the time. How to choose a rug is another frequently asked question given that they're usually a big investment, but we always say go as big as you can.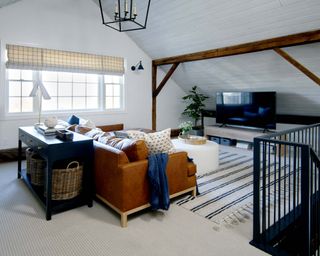 The Dream Home Makeover star says that 'although it might seem strange,' to cover your carpet, 'a rug is still needed to ground the space visually.' A large rug is a great foundation for any living space, anchoring your furniture rather than having them look like they're floating.
Carpet or no carpet, rugs are great for making the design of any room look more intentional. For example, in the bedroom, a decent-sized rug under and around your bed will create a distinct zone for where you sleep.
Shea goes on to say that 'a rug can provide extra padding for an even more comfortable place to land.' As she points out, on a more practical level, rugs add comfort and soften the acoustics in a room.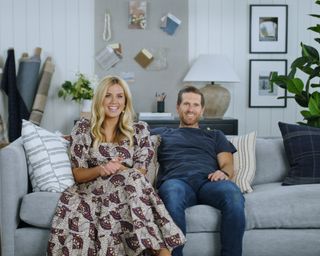 How do I stop my rug from slipping on my carpet?
If your rug is slipping on your carpet, you could try a rug pad gripper, at Amazon. These will stop rugs from slowly wandering across your room, and are particularly helpful for dog-owners or parents with young kids.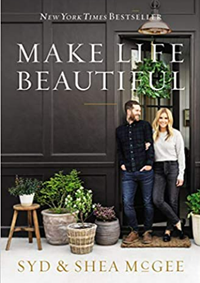 Make Life Beautiful by Syd and Shea McGee | $16.39 at Amazon
Shea McGee and her husband Syd tell their story, from founding Studio McGee to life as working parents. The pair give a behind-the-scenes look at their life and career, guided by their motto to 'make life beautiful.'