It's #NationalDIYWeek, and today we're talking masonry paint – and a rather unusual way to use it. So far we've celebrated the DIY fest by bringing you some really clever real life DIYs, including a five-day bedroom transformation for under £500, a wheelie bin storage shed, and a flower wall DIY. Today? We're totally gushing over Instagrammer @iamhayleystuart's gorgeous DIY patio.
Yep, we hate to break it to you, but you cannot buy these patio slabs in B&Q (although we very much wish we could); Hayley spent 15 hours stenciling each one by hand.
It may be inching closer but this weekend's dry weather does mean you can get this DIY project done before autumn. Here's how, plus we've listed all the products you need. Happy painting!
HOW TO use masonry paint to STENCIL YOUR PATIO
1. First thing's first, you'll need to measure your paving slabs and find a stencil that fits their dimensions (more on that below). Then, choose your paint colours, buy a roller, extendable pole, paint brush and some sealant (more on all that below, too).
2. Then comes the prep. Sweep the area you're stenciling to ensure it's free from dirt, leaves and whatever else may be lurking around. If your paving slabs are super dirty, it's a good idea to jet-wash them and leave them to fully dry. Our best pressure washers are a good place to shop.
3. Ensuring the surface is fully dried, pour your masonry paint base colour into a paint tray and using a roller and extendable pole (this one will do), begin to coat the entire area. Add another coat if needed when the first is dry.
4. After leaving to fully dry, grab your stencil and pour your top colour into a paint tray. Here you'll need to find something to hold down the stencil so it doesn't move – Hayley used paint tins. Using a small brush, begin painting your stencil on to the first slab. Stipple around the edges so as not to bleed on to other slabs. Complete this on all paving slabs (it'll take a while, but the end result will be more than worth it). Once it's completely dry, give it a sweep and marvel over all your hard work.
5. The last step is to seal the area to protect it from weather and inevitable muddy footprints. Pour the patio sealant into a paint tray and using the (clean) roller and pole from before, coat the entire area. Let it dry for four hours. Apply another coat and then wait four hours before dancing, skipping or walking on it.
Read Hayley's full instructions over at her blog. Otherwise watch her step by step on Instagram stories.
WANT TO COPY THIS DIY? HERE'S WHAT YOU NEED
The website Hayley purchased her stencil from is called Dizzy Duck Designs. Although the stencils are reusable, they quickly become paint-filled and in-need of a wash so it may be handy to purchase two or three dependent on how big the job is. For everything else, see below.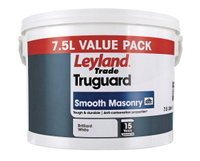 Leyland Trade Masonry paint | £18 at B&Q
Hayley purchased a tub of this in white and a tub in black. The amount you'll need will depend on your patio size. They say this product covers 10 m² per litre on average. You can also purchase it from The Range if it's in stock (it sells fast).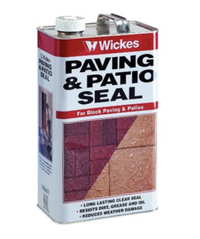 Wickes Paving & Patio Seal | £18
This miracle stuff will protect your hard work from dirt, grease and oil among many other things. Apparently it covers 6m² per litre.