Searching for a patio heater deal? You've read our minds as we've been searching high and low for the top offers available online this week. So that you can enjoy your back garden, no matter the temperature on your phone.
We are officially out of lockdown, but the majority of us have technically gone into another form of lockdown. For those of us in tier one and two, we can meet up to six people outside (yaaass!) hence why we think you should buy a patio heater (or four!).
See the top offers for this week below – patio heaters are sought-after at the moment (unsurprisingly) so the case of nothing being on sale, we've listed affordable buys, instead. Don't miss your chance to buy a patio heater now as these are selling like hotcakes.
Head to our dedicated garden furniture sales page for more great offers. See our best patio heaters guide for more recommendations.
Patio heater deals: click to shop
5 best patio heater deals
1. A budget-friendly patio heater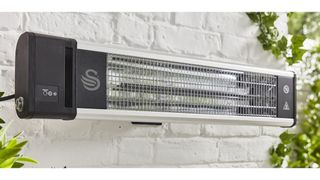 Swan Wall Mounted Patio Heater | £109 £99 (save £10) at La Redoute
Now under £100, this patio heater will need to be wall mounted, but that does mean it frees up some floor space. It has 1,800 watts of power behind it, and you can control it via a remote – fancy! That and it has a 1.8 metre cord, and it features an anodised extruded aluminium alloy housing.
2. Choose this patio heater table if you are tight on outdoor space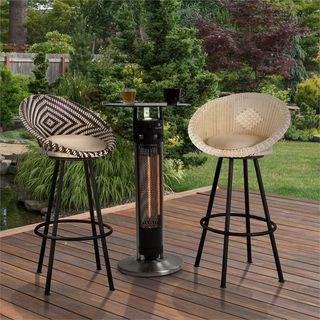 Blumfeldt Primal Heat Electric Patio Heater | £284.99 £227.99 (save £57) at Wayfair
This electric patio heater also doubles as a garden table to hold your drinks – smart! It has splash protection so can be left outside no matter the weather, while it's on wheels for easy moving. It also has a heat range diameter of 0.6 metres. With 1,600 watts behind it, it'll sure do the job.
3. Choose this large patio heater if you've a wide space to get warm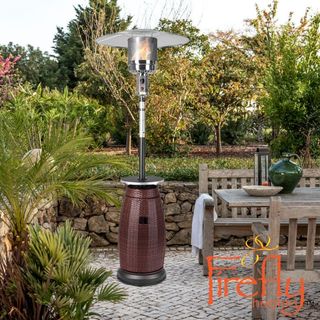 12KW Ios Freestanding Gas Heater with Rattan Base by Firefly™ | £159.99 £119.99 (save £40) at Primrose
This gas heater is large, standing at 224cm tall, with a heat output of 12KW. It has a rattan base to hide your gas bottle, while it's on wheels so is easy to store. Durable and rust-proof, this patio heater will automatically turn off if it gets knocked over. What's more? It has a table built-in so you can pop your drinks (mulled wine!) on there.
4. Choose this black heat patio heater for a cosy evening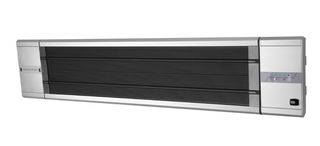 1.8kW IP55 Electric Patio Heater 'Black Heat' with Remote Control 2 Heat Settings by Heatlab® | £139.99 £109.99 (save £30) at Primrose
Check out this remote control patio heater which uses black heat to provide warmth – this is so you don't get the glare most conventional heaters give off. To add a cosy vibe to your patio and create mood lighting! With a running cost of less than 13 per hour, it has a lamp life of 5,000 hours and it has multiple heat settings.
5. Hang this patio heater above your garden dining table for dinnertime warmth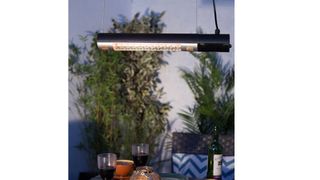 Holly Infrared Electric Patio Heater | £129.99 £99.99 (save £30) at Wayfair
This electric patio heater can be hung from any ceiling, and it's remote-controlled. Made from aluminium and stainless steel, it has a heat output of 1,500KW and it's silent and clean to run – no fumes!
Also see: