Recently, we were asked to review the Lay-Z-Spa Milan hot tub (it was a tough job), and its arrival coincided just in advance of the Coronavirus lockdown. Perfect timing to get the whole family into swimwear to kill some time and unwind a bit in the garden.
The Lay-Z-Spa Milan hot tub costs £599, it's easy to set up and offers hours of fun for all ages, no matter the time of year. Not sure you'll use it in the summertime? Turn off the heat and turn on the bubbles.
You can find our full round-up of the best inflatable hot tubs in our dedicated shopping guide, but here are our thoughts on the Lay-Z-Spa Milan...
Lay-Z-Spa hot tub specifications: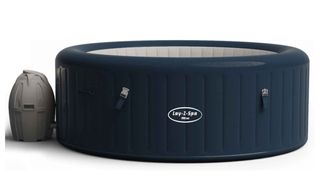 First, let's talk practicalities. The Lay-Z-Spa Milan hot tub is inflatable and comes in a (heavy) box. You can get it through a front door, but it's easier to push or drag the box to where it will be set up, rather than carrying it on your own. Two of you? No problem.
Box size: 64cm x 75cm x 51cm
Weight in box: 34kg
Assembled size: 1.96m x 71cm
Seats: six people
Heat up time: 6-12 hours
Power cable length: 7 meters
Plug socket: UK 13amp/240V
Unboxing the Lay-Z-Spa Milan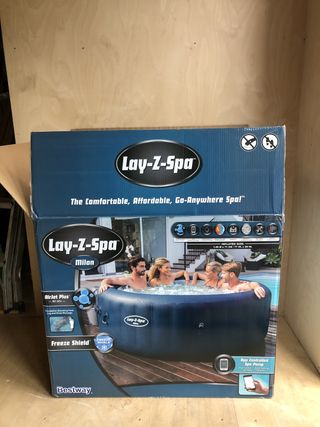 Inside the box you'll find the hot tub itself, the cover and an inflatable lid, the ChemConnect which connects the heater and the pool, the filter cartridge, the pump (which is also the heater), and extra fittings for the pump kit. Separately, and in a much smaller box, is a free starter cleaning kit. That comes separately and costs extra (around £29.99), and you absolutely need it for testing and cleaning the water.
Lazy-Z-Spa Milan setup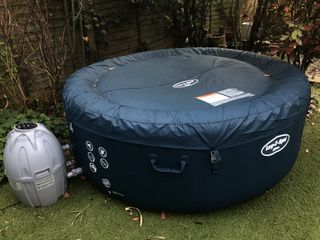 The Milan is easy to assemble, only taking about half an hour for us to set it up first time – it's inflated automatically in about five minutes by pressing the 'ON' button on the pump and then pressing the 'BUBBLE' function. Inflated, it measures 1.96m x 71cm. There is a lot to read in the manual which took around 30 minutes to get through, but the instructions are easy to follow and there are some image instructions. Plus, Lay-Z-Spa's YouTube videos are useful for showing you how to set up your hot tub. As for filling the pool with water from our garden hose, it took about an hour.
The manual says to check and clean filter cartridges every day; do this, and you only need to change the water once a month. If pool chemical treatment is not used (we'd advise it is), then water should be changed after every use. To do this, you need to drain the hot tub, which is at the bottom of the hot tub, to one side; it's therefore important to ensure the plug is in a place that's convenient for drainage – that's a lot of water to flood the garden with at one time. If you have a drainage pump, that won't be an issue as you'll be able to drain the hot tub to wherever is convenient.
Another setup consideration: you need a flat space to place the hot tub on, and it is not advisable to place it on anything on stilts (think: raised deck) or surfaces such as untreated cork, timber or other porous materials; the hot tub filled with water is equivalent to the weight of 10 people (and then you need to add the weight of the people that get in it).
And another: there needs to be room for the quite sizeable (think: small vacuum cleaner-sized, see below) heater attachment (and you may not want to be able to see that from the house); and you also need room to get around the outside of the tub to undo the clips on the cover.
Lay-Z-Spa Milan energy consumption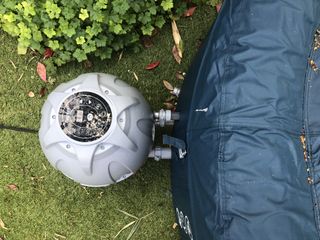 One member of our family (no names mentioned. Dave) was worried about the cost of keeping the pool heated. Checking with Lay-Z-Spa, it looks like it would cost around £7 to £10 a week if it were to be run constantly – so, in theory, £520 a year. Does it need to run constantly? That depends on how often you will be using your hot tub. We LOVED using it during the recent warm spell but have obviously been less keen now the temperature has dipped a bit. That said, it does have Lay-Z Spa's Freeze Shield™ technology, which allows you to use your hot tub all year round. It works by activating a pump power-saving mode that uses minimal energy while ensuring the water doesn't freeze on those sub-zero nights. We're not that hardy, but if you are, good luck.
Heating up the Lay-Z-Spa Milan
Lay-Z Spa says it takes from six to 12 hours for the water to heat up in England in the summer; the temperature outside does slightly affect this. However, even in a warm spell in late March we found it took more like 24 hours to heat the water up in our hot tub. Lay-Z Spa says to expect it to take about an hour per degree, but that does depend on the weather/air temperature. With energy bills in mind, as soon as we were out, we popped the lid back on (it's held down with sturdy clips (see below), which is handy when it's windy), and turned the heater off; then we set the timer to come back on again in the morning before we planned to use it again in the late afternoon, so that it was toasty by the time we wanted to get in. The downside to this approach? You can't use the hot tub spontaneously. By the way, you can operate the timer manually or via the app on your phone, which means you could go out for the day, decide you want a hot tub session later and set it to come on, ready for when you get home.
Lay-Z-Spa design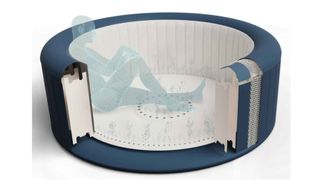 Call us shallow, we're moving on to looks: the Milan looks like a very tall, expensive paddling pool. It's a basic model, so there are no lights – you'll need to make sure your garden's well-lit if you're going to be using it at night.
What's it like to use? Lay-Z-Spa says it will fit up to six people. It WILL, but four is much more comfortable. Two is a proper treat. It's also recommended that children under 8 don't go in – to give you an idea: an average-sized adult will have the water up to their neck when they sit down in a full tub (and of course the water level rises every time someone else gets in). The cushioned, inflatable sides are super comfortable.
Controlling the Lay-Z-Spa Milan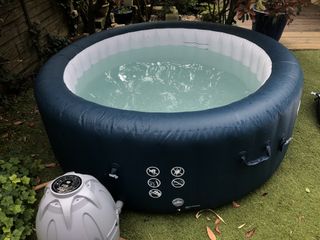 We got the hot tub's temperature up to about 40ºC – that's more or less the temperature of a comfortable, warm bath. You might like it cooler. Bear in mind, though, that with the bubbles going, the temperature of the water drops 3ºC in 10 minutes. We were impressed with the bubbles – there are 80 all surrounding air jets. It doesn't feel like a hot tub in a top class spa... but it does feel like a bona fide hot tub – and it's very relaxing to use (especially at the moment). BTW, every 15 minutes, the bubbles automatically cut out but can be turned back on straight away.
I mentioned the Wi-Fi control just now. You can download the app by searching 'Lay-Z-Spa' to create an account (the app only supports Android 7.0 and above or iOS 10.0 and above). We used it to make sure the hot tub was ready to use as soon as we were; we set the temperature, activated the timer and controlled the bubbles with it, too. There's even voice control via Amazon Alexa and Google Assistant that allows you to change the settings on everything from the massage system to the temperature – without moving.
Let's talk safety functions. There is a child lock function – a lock button on the pump must be held down before any functions such as the bubbles or the temperature are adjusted. Small children will have some difficulty opening the lid (these clips also have a child lock function) – but still, the obvious safety precautions must be taken if you're leaving the hot tub filled with children of any ages around. A warning from Lay-Z-Spa: you should not use the hot tub when it is raining to avoid electric shock. They also recommend not using an extension lead to power your hot tub (the cable is 7m long, so where you place your hot tub will need some consideration – or rewiring).
Our verdict...
What's our verdict? Well, we were ALWAYS going to love it. It is a real treat to get into after a hard day at the coalface. Is it worth the £500-odd spend? We think it will get plenty of use, from spring right through to the autumn for years to come (we suspect it might morph into a paddling pool in hot weather; it doesn't take up too much room, so has been a great addition to our small urban garden; and, because it can be deflated, it a) won't suffer the effects of winter and b) can come with us if we ever move house again. Oh yes, we will be taking it with us.
You didn't want a picture with us in it, did you? No chance.
More garden-friendly reviews: