Not got a paddling pool yet? What!? This hot weather makes having one a must – and if a staycation is all the vacation you'll be getting, you can afford to splash out...
Below you'll find a round up of incredible paddling pools – some are just amazing buys; others are great deals deals – along with some of our favourite makes and models designed to keep the kids occupied for at least a few hours. Find more inspiration to keep you busy outdoors on our garden ideas page.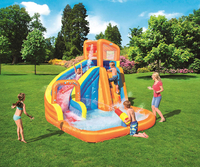 Bestway H2OGO! Turbo Splash Inflatable Mega Bouncy Castle Water Park| £599.99 at Amazon
This bouncy castle water park does come with a huge price tag, but if you're not going on hols this year... why not spend your budget on this? It'll keep the kids quiet for weeks. It IS available more cheaply at B&Q (an amazing £275), but it's constantly sold out at the moment... we are keeping an eye on it. It come with a curved slide; a heavy duty blower that inflates the water park in less than two minutes; a large play pool area and climbing wall with three handles and five foot-steps; a water gun; and a dumping bucket that drops water randomly for a soaked surprise that keeps the slide sloppy.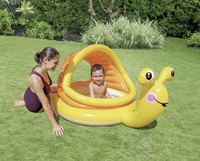 Intex Lazy Snail Paddling Pool With Shade | £20 at Argos
Looking for a teeny tiny pool for a little one? This snail might just be the cutest little paddling pool we've ever seen. Plus, it offers plenty of shade to protect your little one from the sun while they splash about.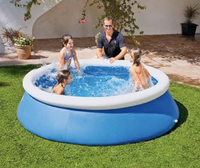 Bestway Quick Up Round Family Pool | £40 at Argos
This 8 ft. pool offers plenty of fun for all the family. Quick to set up, it's deep enough that little ones will enjoy getting their goggles on and going for a little swim.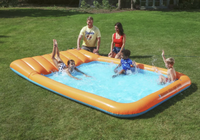 Bestway Slide in Splash Pool | £40 at Argos
A great way to help them burn off all that excess energy, this splash pool is sure to provide hours of fun. And it's much safer than the make shift slip 'n' slides we've all seen on the internet.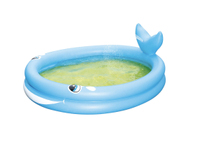 Summer Waves Baby Whale Splash Pool with Sprayer | £12.99 at John Lewis & Partners
Another one for littlies, this whale inspired splash pool is perfect for keeping them cool as the weather warms up, is shallow enough to be a great first introduction to paddling pools and even gently squirts water from its tail for extra fun.
We're also doing everything we can to keep you entertained during the coronavirus outbreak over on our No Place Like Home hub.
Looking for more ways to keep kids entertained?