An interiors lover has revealed how she made some purse-friendly festive decorations. As budget Christmas decorating ideas go, you can't get much better than this.
So if you're in the mood for some crafting, these hanging star wall decorations are a great option. They'll add a festive flourish to any room of your home, without overwhelming the space.
'This is the easiest, cheapest Christmas decoration with maximum impact!' says Jessica. 'You'll need 7 bags, a bit of string, some glue and that's it!
'Pack of 10 bags is only £1 from @georgeatasda what a bargain,' she writes. To make one star, Jessica takes seven brown paper bags from Asda. You can also get them at Amazon.
Firstly, she cuts the handles off each bag and makes sure the bottom isn't folded back on itself so it doesn't mess up the design.
She then draws two lines with a ruler across the paper and some small semi-circles where the lines meet. To make the circles even, she draws around a small roll of tape.
Next, Jessica cuts out the shape and glues the bags together using a T-shape of glue. Then she cuts all of the remaining bags in the same shape and hangs the star up with some string.
'Such a great idea! Need to try this,' one of Jessica's followers comments. 'This is so clever, I love them,' writes another.
Hung up in small clusters of three at different heights, these paper bag Christmas star decorations inject some fun and festive spirit. Try putting some in the kitchen, a room that often gets neglected when it comes to decorations.
Alternatively, you could make smaller ones to add to your Christmas mantel decor or to display in a window.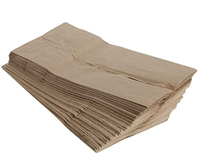 Pack of 40 Brown Paper Lunch Bags | $5.35 at Amazon
You can also pick up brown paper bags at Amazon. These ones have no handle, making this Christmas craft project even quicker and easier. Working out around 13 cents per bag, they're a bargain.
As well as being cheap and easy to make, these brown paper bag stars are the perfect example of apartment Christmas decor that won't make your small space feel cluttered. They're also ideal if you prefer neutrals over bright and bold colors.
Once you've made one or two successfully, you can play around with different shapes and designs to create something unique.