We don't know about you, but we've been using our own vacuum cleaner – handheld, that is – at home a way lot more with everyone in the house a lot more. Whether for removing a patch of pet hair/chocolate/biscuit crumbs from the sofa, tackling a spray of cereal on the kitchen floor, getting those dust balls in tight corners, or cleaning out the car, a handheld vac is a cleaning appliance you really shouldn't miss out on.
So if you're still lugging a large vacuum cleaner out of the cupboard for every clean-up, or your current handheld isn't doing the job it should, you'll want to pick up this top model right now – and save £££s.
The Black & Decker PD1820LGB Flexi Cordless Handheld Vacuum is on sale for just £44.99 and, because it's one of our top handheld vacuums, we really don't want you to miss out.
You can get the lowdown on the best handheld vacuum 2020 in our guide, but why do we rate the Black & Decker PD1820LGB Flexi Cordless Handheld Vacuum so highly? Read on to find out more.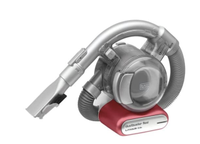 Black & Decker PD1820LGB Flexi Cordless Handheld Vacuum, Was £79.99, now £44.99
At number two on our list, and significantly cheaper than our brilliant but pricey number one pick for handheld vacuums (if you're wondering, it's the Dyson V7 Trigger, which sells for around £199).
Well, first of all, it'll clean up high as well as on lower-down surfaces, so cupboard tops in the kitchen, tall bookcases and door frames can all be relieved of the dust they accumulate. The lengths of the nozzles on this handy little number mean you won't be limited in where you can reach.
It comes equipped with two-in-one nozzle, upholstery brush and crevice nozzle, too, so we reckon it's up to all the cleaning tasks and areas you could throw at it, high and low.
Naturally, it's cordless, so there's no need to play chase the socket and hope the lead is long enough when you're vacuuming with this handheld machine.
Another plus point is its easy empty container – a necessity in our book as getting rid of the muck you've sucked up should be as fuss-free as possible. It has a 0.6ltr capacity, by the way, so there's room for the dust/fur/crumb combos you have to tackle without trekking to the bin all the time.
With a battery life of 15 minutes, and a durable design, we say this handheld vac is definitely worth snapping up now.