Leave the butcher knives in the kitchen: no carve pumpkin decorating ideas allow creepy creativity to flourish, minus the mess. It's time to kick back with your craft supplies, a scary movie, and those preemptive works of art.
Our FYPs are filled to the brim with fun decor ideas for the spooky season, and while an astonishing number of hand-carved creations on the platform took our breath away, we were particularly attracted to the simple projects with a big "wow" factor.
If you're still in search of DIY Halloween decorating ideas before October 31st rolls around, no carve pumpkin ideas just might be the way to go! Thank you for the inspo, TikTok!
No carve pumpkin decorating ideas from TikTok
Interior designers and DIY experts weigh in on a few no-carve methods from our FYPs, so it's time to get inspired! Plus, there are quite a few Halloween decorating tips to complement your gourds.
Molly Shannon founded Canadian Succulents out of a love for succulents and a belief that a gift should be beautiful, long-lasting, and green. Her shop is located in a small greenhouse in Uxbridge, Ontario, where she and her team grow the succulents that make up our living creations. They use these drought-tolerant plants to design easy-to-care-for and eco-friendly arrangements for centerpieces, wedding and party favors, and more.
1. Glitter Pumpkins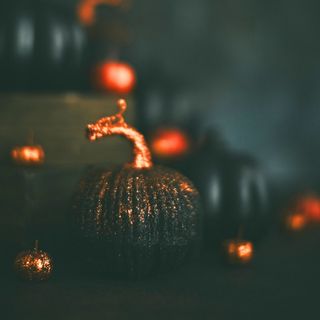 For a sparkly sensation this spooky season, look no further than glitter.
"It's great because it's easy and an eye-catcher," says designer Chantelle Hartman Malarkey "I love that there are so many colors, so you can pick one that matches the rest of your Halloween decor, or one that stands out to give your porch a pop of color."
Just snag a spray adhesive for your pumpkin, sprinkle your glitter shade of choice on newspaper clippings or an old tablecloth, and there you have it!
Chantelle Hartman Malarkey, a.k.a. the Lifestyle Alchemist, is an interior designer, photographer, home chef, hosting expert, and blogger who shares ideas about family travel hacks, beauty must-haves, delicious recipes, among other topics, with her followers.
2. Decoupage Pumpkins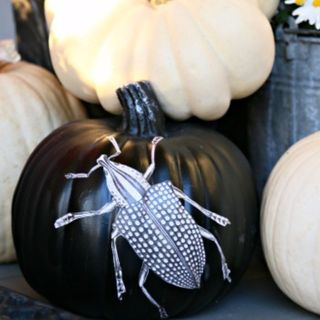 Decoupage is having a moment, and crafters are opting for plenty of fun prints and drawings, particularly within the floral variety.
"This craft medium is easy to work with and allows me to decorate real or faux pumpkins with paper designs or natural elements," says Kim Demmon of Today's Creative Life. "I can easily create a stylish theme without picking up a carving tool. Using vintage bug graphics is my favorite."
We are all here for the creepy crawlers...just as long as they're plastered onto pumpkins and not walking around our abode. Find a paper material that you like—let's say the Halloween napkins you just snagged from the grocery store—add some Mod Podge to your pumpkin and get ready for your final product to look museum-worthy.
Kim has been dishing up a creative slice of life since 2007. Today's Creative Life brings simple and unique ways to celebrate the everyday through DIY projects, recipes, and more.
3. Pumpkin Succulents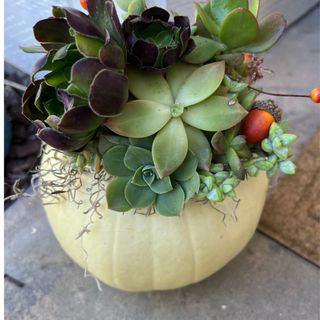 The experts at Surebonder didn't have to do much to convince us to go the green route with a pumpkin succulent this October.
Take a glue skillet or glue gun and apply succulent leaves and stems, followed by other rustic items like acorns and fancier items such as bows, if you so choose. The Surebonder pros recommend starting with moss as a base on top of the stem of the pumpkin and decorating from there. What you do next is entirely up to you.
If you are in need of a little inspo, Canadian Succulents has the whole trend on lock.
4. Accessorized Pumpkins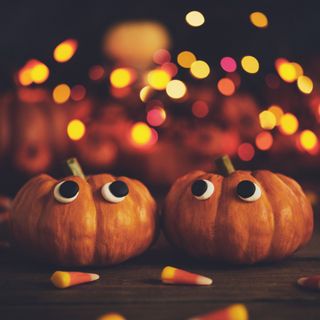 A good gourd is a well-accessorized gourd.
"Googly eyes are great for spooky pumpkins and for making any character pumpkins," Hartman Malarkey notes. "Pipe cleaners can make fun arms for the pumpkin or can even be formed into spiders you can attach to the pumpkin."
And of course, stickers are a must, particularly if you're crafting with little ones. Consider using stickers as a simpler approach to decoupage but with a similar aesthetic.
5. Painted Pumpkins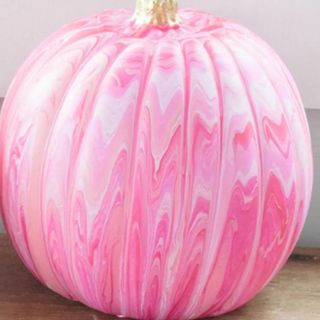 Going Picasso is a classic for a reason, but of course, people have decided to take their pumpkin painting up a notch in honor of the spookiest time of the year. Crafter Elizabeth Jones inspired our favorite look this year—the no-paint pouring method, which gives off a super psychadelic look.
How do you achieve it? Get about four shades or so of the same color and manually pour them into a disposable cup, one by one. Then, place your pumpkin atop a paper cup and pour out the paint.
"My Halloween decorations are now cute and whimsical, with a lot of pink," she tells Real Homes. "I love choosing non-traditional Fall colors to decorate pumpkins with."
Since 2013, Elizabeth Jones has been blogging at Country Peony and inspiring others to craft a happy life! After her professional stint in PR and events, Elizabeth ventured back to a farmhouse in Texas and has been keeping crafty ever since.
What to buy for no-carve pumpkin ideas
FAQs
What is the best way to decorate a pumpkin without carving it?
There are plenty of options if you're looking for pumpkin carving alternatives. First and foremost, there's pumpkin painting. If you'd rather take another route than that, you can opt for decoupage prints, adding adhesive spray and glitter, placing stickers and accessories like googly eyes on the pumpkin, or even using Sharpies to color on them.
What works best to draw on pumpkins?
Though people are opting to color their pumpkins with Sharpies, particularly if kids are involved, the best way to add color to pumpkins is via acrylic paint.
How do you decorate a pumpkin easily?
You can paint a pumpkin, put glitter on a pumpkin, or add accessories like stickers, pipe cleaners, and so forth. We particularly love crafter Elizabeth Jones' fun no-paint pumpkin method: all you do is take four colors of the same shade, add them into a cup one by one, and turn the cup over and watch everything pour out—you'll be left with a psychedelic-looking gourd.
---
Make sure you have cute Halloween decor buys to complement your project, and turn to your FYP for more no carve pumpkin decorating ideas on TikTok.