A blogger recently shared a resourceful cleaning hack on Instagram, reusing one of those mesh produce bags that your onions come in for cleaning a pan. Always on the hunt for more natural spring cleaning tips and ways to live more sustainably, we gave it a go.
@byjillee uses a thick mesh bag, plus some olive oil, and salt to clean her cast-iron pan. I tried it out on a grimy baking tray, but with an old mesh bag of limes.
It worked, but sadly I don't think the bag was heavy-duty enough for the job.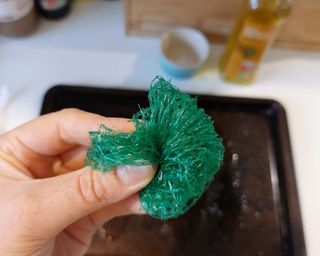 In a video on Instagram, @byjillee cuts open a bag of onions, scrunches it up into a ball, and uses it as a makeshift scour to clean her cast iron pan. 'Mesh bags are perfect for those tough cleaning jobs,' she writes.
'The next time you buy produce in a mesh bag don't throw it away until you use it for one more thing! ♻️ Have you ever tried this?' she continues.
'Never would have thought to do this. Fantastic idea,' one follower commented.
'Yes! Really works!' said another. One Instagrammer commented that they cut the mesh bag up or tie it in knots before disposing of it, to prevent wildlife from getting caught up in them.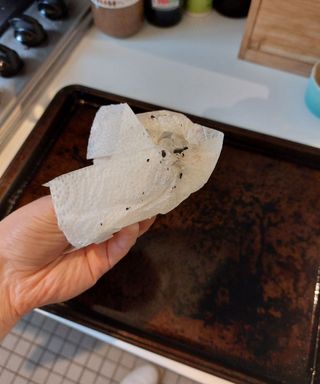 I followed every step just as @byjillee did, first having a Salt Bae moment and scattering salt flakes on the tray. I then poured (too much) olive oil onto the tray and scrubbed.
Things got veeery oily, but when I went over it with a paper towel, some large black, burnt-on grime did come off easily from around the edges. It's a really simple idea and I'd definitely recommend it if you're keen to use more eco-friendly cleaning products at home, as it makes use of something you'd usually just throw away.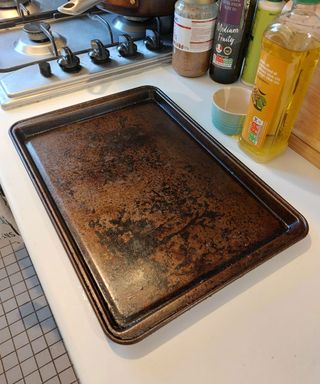 But make sure the mesh is of the more substantial and tough variety, or it won't clean it thoroughly. I think the mesh produce bag cleaning hack would be great for banishing stubborn food residue from stainless steel pots and pans or for cleaning the stove.
The tray looked very shiny afterward, and given that oven trays never really feel 100% clean, I'd give the whole thing a 6.5/10.