As all Marie Kondo fans know, tidying is good, and clutter is out. The KonMari method means letting go of the items that no longer spark joy, while retaining those that speak to the heart.
There are, of course, many reasons an item may speak to your heart, but they include being pretty useful, nay essential, and we reckon it's for all these things that Marie Kondo loves this wall organiser.
Storing small essentials can be challenging after all. Put them somewhere capacious and they can get lost, and stash them with other miscellaneous things and they're inclined to work themselves into a knot. Rummaging through a drawer for the right item when you're in the middle of a task surely won't bring you Marie Kondo-like serenity.
What will bring calm are the neat pockets of a wall organiser that mean tangles can be avoided. The other big plus points of a design like this? You can hang it right where you need it, and it's ideal for small homes and small rooms. Use up dead wall space or hang it on the back of a door, and you don't need storage furniture that'll fill up the floor.
Liking the idea very much and can't wait to get tidying? Marie Kondo's favourite wall organiser is just below – and we've found some fabulous dupes that'll do you proud.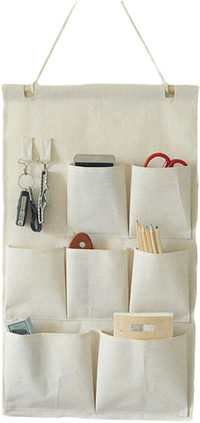 CaLeQi Hanging Storage Bag | £9.99
Seven pockets plus two hooks provide a home for plenty of essentials where they're easy to grab if you put this organiser on your wall. It's made from cotton and linen and would complement any space.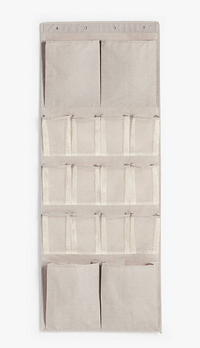 John Lewis & Partners Over The Door Hanging Organiser | £18
Rather than fixing this design to the wall, you hang it over a door. Where to use it? Bathroom, bedroom, utility... We like the fact that the mesh pockets give a clear view of the smallest things stored inside for speedy location.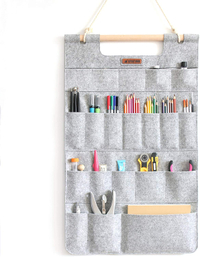 Lucky Sign Hanging Organiser | £29.99
This smart grey organiser is designed for stationery, but we reckon it would work a treat in a whole host of situations. Made from felt, it's tactile and smart looking, too.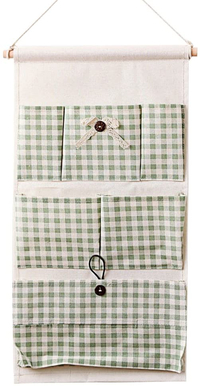 KINDOYO Hanging Storage Bag | £7.99
This design is a country-style take with gingham pockets – and very pretty it is, too. It's got a PE coated water and moisture-proof lining that makes it durable, and different sized pockets so you can store a range of items.