If you're looking to expand your smart home system, we'd recommend investing in smart lighting – with the best smart bulbs as your easiest first step. Why? Because they're versatile, easy to set-up and will give your home an impressively futuristic feel.
Far from being a totally unnecessary gimmick, smart bulbs – and especially those from Philips Hue, which are our top rated option – can totally transform the ambience of your home. Plus, they make for a pretty nifty home security solution if you're looking to beef up your approach to protecting your property.
That's right, if you're heading away from home, it's possible to set lighting schedules that give the impression that someone's home, even if they're not. This has been proven to deter criminal opportunists and feels less invasive than installing smart cameras.
If you're really into film or gaming, it's also possible to connect your smart lighting to your TV and set your bulbs to mimic the on-screen action. The same can be achieved for music buffs too, allowing you to achieve the ultimate ambience.
Now that we've told you exactly why you need Philips Hue smart bulbs, we'll tell you exactly where you should buy them. John Lewis. This coveted smart lighting is currently on offer, with discounts on bulbs, starter kits and more. Shop the full range. Or check out our favourites, below...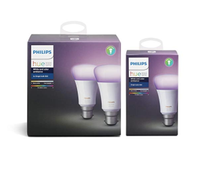 Philips Hue White Wireless Lighting LED Light Bulb (2 pack) | Was £34.98, now £27.48
Already started building a Philips Hue smart lighting system? If you're in need of new bulbs, this is the deal for you. Pick up a two pack of E27 Edison Screw Cap, B22 Bayonet Cap Bulb, GU10 Bulbs or E14 Small Edison Screw Bulbs for less than £30. Genius.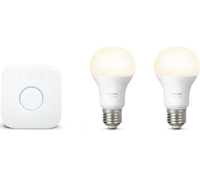 Philips Hue White Starter Kit with 2 E27 Bulbs and Google Nest Mini Smart Speaker | Was £108.99, now £96.99
Totally new to the world of smart home tech? You'll need a smart assistant in order to make use of your smart lighting. Luckily this bundle offers the super popular Google Nest Mini, along with the the Philips Hue bridge – essential for connecting your lighting – and two E27 bulbs. And for less than £100. Brilliant.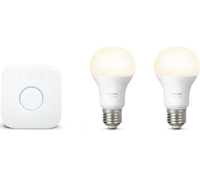 Philips Hue White and Colour Ambiance Starter Kit with 2 E27 Bulbs and Google Nest Mini Smart Speaker | Was £178.99, now £152.99
Like the idea of coloured lighting? If you're new to the world of smart lighting, we'd recommend picking up this White and Colour Ambiance Starter Kit. It comes with one of the ever-popular Google Nest Minis, along with the Philips Hue Bridge and two coloured bulbs, which give you access to over 16 million shades of coloured light.
Looking for more?