After a hugely popular first series (which came out PRE-pandemic – time flies!) Love Is Blind is back. Fans of the Netflix blind dating show will have noticed the statement metallic wine glasses that appear in every. Single. Episode.
Love them or loathe them, they're instantly recognizable as the Love Is Blind gold wine glasses, most probably chosen to avoid continuity errors. If you fancy adding some glamour to your bar cart ideas or are looking for a final flourish for setting the table for dinner parties, these could be just the thing.
Where to buy the gold Love Is Blind wine glasses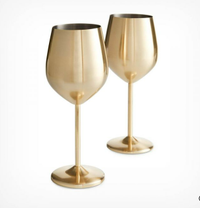 Vonshef Brushed Gold Wine Glasses, £19.99 at Vonshef
Pick up this set of two oversized, opaque wine glasses from Vonshef. They're an easy way to add a shiny metallic element to your tablescape or bar cart, and will catch the light from candles.
If you're in the US, it won't be so easy to get your hands on them, unfortunately. You'll need to keep an eye on the Love Is Blind gold wine glasses, at Amazon and see if they come back into stock. These copper versions on Amazon are similar, though.
The gold glasses also been causing quite a stir on Twitter. 'Can someone please explain to me why all the wine/drink glasses everywhere in Love is Blind are opaque metal,' writes one viewer.
'This bothers me more than it should.'
Another wrote, 'the strongest relationship in love is blind is the prop designer's with gold wine glasses.' When asked about why the glasses are so ubiquitous on the show, producer Chris Coelen told Variety, 'I don't know, it's something I like.
'When you turn on the show, you know it's our show. It's a very authentic, really true following of these people's journeys, but I like the fact that we have this sort of connective tissue with that in a really light way, it's fun.'
Episode 10, where all the weddings take place, will land on Netflix today at 8am BST, and the Where Are They Now episode will arrive at the same time next month, on Friday, March 4th.
Cheers!