A weekend of wreath making sounds pretty dreaming to us, turn on the Christmas tunes, pour a glass of mulled wine, and before you go saying it's too early, anything goes!
Actually, if Instagram is anything to go by it would seem like loads of you are embracing the early festive spirit and we're all making Christmas wreaths and getting up the decs earlier than in previous years – so we have turned to the pros at Bloom, for all their best wreath tips so you can make yours the best yet.
'Nothing makes a statement quite like a fresh, full and abundant wreath adorning your front door in the cold winter. They captivate your senses every time you're near – the look, the feel, the intoxicating scent – they're full of the magic we crave during the dark, winter months.' Says Larry Walshe Bloom's founder and luxury florist.
'Beyond the basic steps, there are a few useful tips to take on board when designing your own wreath, but the most important thing is to get creative and have fun playing with textures and scents. And if in doubt, our simple rule of thumb is the bigger, the better.' We couldn't agree more! Keep scrolling for all of Larry's top tips and if you are after more Christmas wreaths head over to our gallery next.
1. Always check the size of the door before starting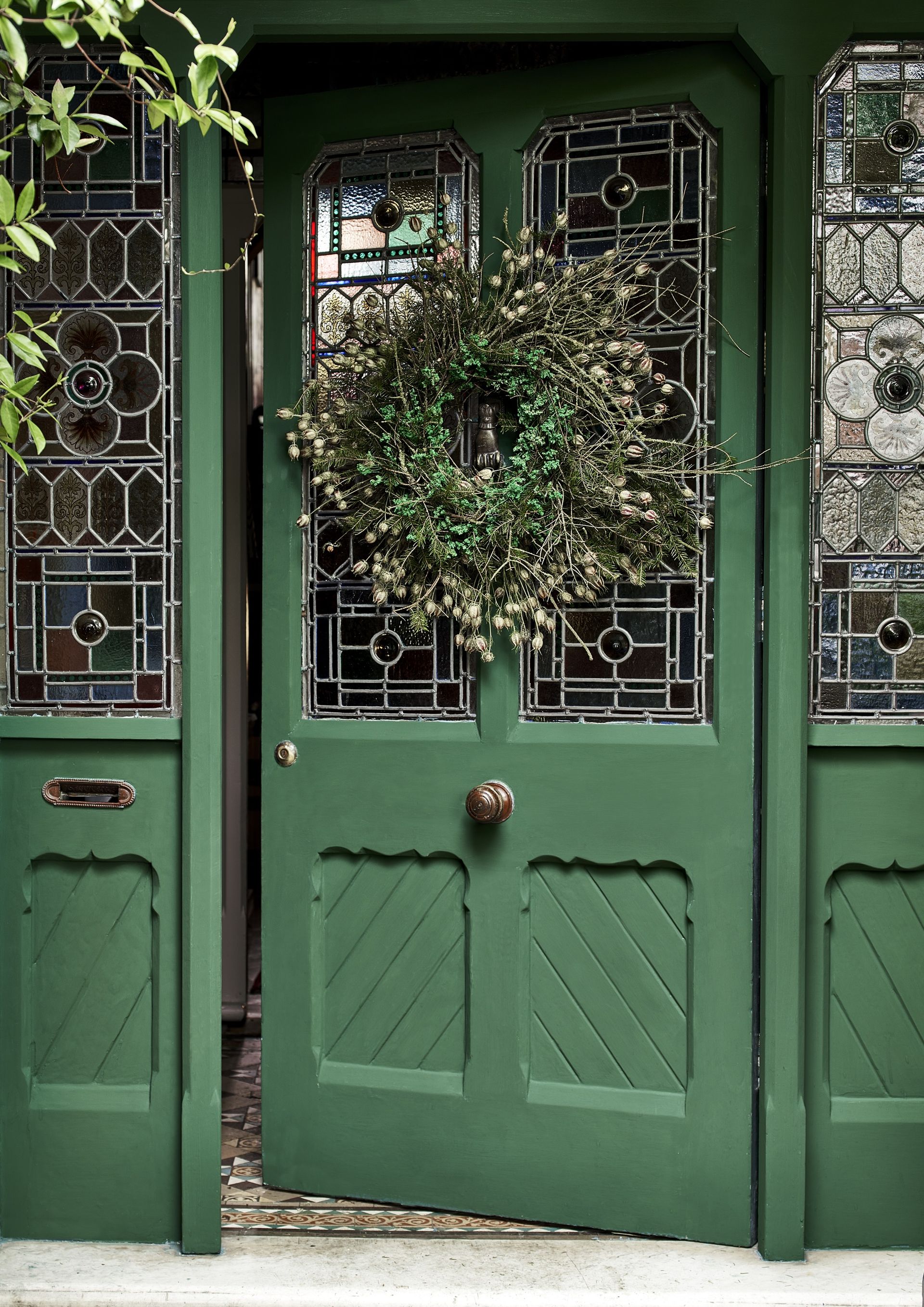 Firstly, check the width of your front door to ensure your wreath is the perfect size – about 13" to 16" is usually more than ample to create a fabulous impact without getting in the way of the function of the door.
Once you know the size of wreath you'll be making, you will need a moss ring, a good pair of scissors or secateurs, twine and floristry wires. These can be found in most garden centres.
2. Consider your scheme
For a luxurious wreath, it's best to work tonally – different textures of the same colour work well to add depth and interest whilst ensuring the overall look is tasteful, sophisticated and sure to suit your other Christmas decorations.
For a bolder wreath, consider complementary colour schemes; choosing opposing hues from a colour wheel will create a little more impact. Think sumptuous golds with deep blues or timeless red and green with woodland inspired browns and balanced with snow inspired whites for an effortless, natural look.
Consider whether you want to add any other design elements such as baubles. These can create a strong burst of colour and impact - perfect if you want your wreath to really make a statement. If you're after continuity with your festive decorations, opt for baubles that match the decorations on your Christmas tree, but if you're after something a bit more individual, there's nothing stopping you from incorporating a rainbow of different coloured baubles in your wreath.
Similarly, if you have any broken Christmas tree decorations, you can love them once again by adding them to your wreath design for a really personal touch.
3. Pick the perfect foliage base
There is nothing finer than a fresh DIY Christmas wreath – fragrant Nordmann Fir Spruce is a popular base for most wreaths. Combine this with Berried Ivy, Conifer and Berried Eucalyptus to help conjure the spirit of the season every time you walk through your door.
Dried ingredients are wonderfully textural and can work to enhance a scheme which is both style savvy and creative. Dried fruits are a firm favourite for good reason; the colour and the scent add a real punch. Similarly, bundles of cinnamon or bunches of dried lavender are wonderful scented additions. Remember – you're designing with your eyes and your nose.
If you're lucky enough to live near a woodland or green space, spend some time foraging for natural items to include. Anything native to your home environment not only makes for a wonderfully unique design, but working with the local flora and fauna will result in an even more meaningful wreath - think pinecones, branches with lichen, feathers, and red berries.
And let your creativity flow – if you love the texture of an ingredient but it's not going to work with your colour scheme, why not paint it?
4. Build your wreath up from large pieces to small
Start by adding the fresh spruce or base foliage to the moss ring – if you have a glass door or plan to hang your wreath in the window, make sure to dress the back of your wreath too to ensure no glimpses of an unsightly moss ring.
Then take small bunches of the remaining foliage and larger dried ingredients and secure to the moss ring using twine.
The final step is to add the smaller dried ingredients or decorative elements using the wire before placing it directly through the foliage and moss ring and out the other side. Then bend and return the wire back through to hide the ends. Continue until your wreath is complete.
5. Don't forget the finishing touches
It's Christmas, so don't be shy about making a statement with the finishing touches. Adding a large bow is a lovely way to finish your design – you can either match it to the colours in the wreath or choose a complementary, opposing colour for a bigger impact.
If you don't have any sustainable ribbon or you prefer a more understated design, opt for a classic wreath sans ribbon and let all your wonderful, natural ingredients do the talking.
Psstt... You can of course make everything really simple and order a lovely DIY wreath kit from Bloom.