HGTV star Kortney Wilson has transformed the outdated kitchen in her Kentucky family lakehouse, and the final result is seriously impressive. But one thing you might not realize at first is that only two or three key elements have actually changed.
The realtor and designer has brought her modern blue kitchen ideas to life with Nieu Cabinet Doors in a soft gray-blue tone. A stunning new quartz worktop has been installed, and the walls were given a fresh lick of white paint.
But when it comes to the actual footprint of the kitchen, nothing has changed. Maintaining the original layout made the renovation much cheaper, and more eco-friendly.
Before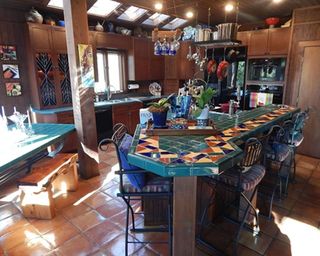 Previously, the retro kitchen had loads of oppressive wooden cabinetry that made the space feel dark, plus colorful tiles on the kitchen island that had seen better days. Making It Home star Kortney Wilson updated the countertops with quartz and this made the existing cabinetry look even more dated.
The blue cabinet doors have given the kitchen a sleek new look and a much calmer vibe. It also looks infinitely more inviting.
After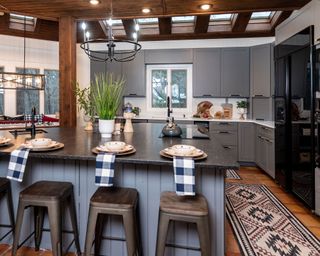 Replacing the cabinet doors was a far more sustainable way to update the space than ripping the entire kitchen out. 'It was such a win to find such beautifully made cabinet doors to help modernize my lake house kitchen while reducing my carbon footprint on this renovation,' says Kortney.
'I'm so grateful that I didn't have to just gut it all and start from scratch but that the result looks like I did just that,' Kortney adds. Are your cabinets crying out for some paint? Read up on how to paint kitchen cabinets for a similar update to Kortney's.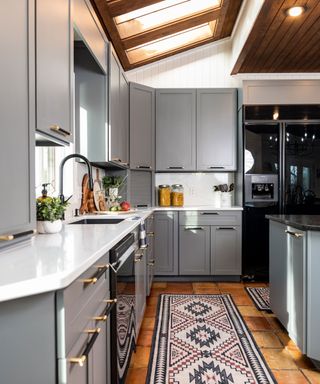 The white board and batten walls really brighten things up, and the kitchen rugs bring texture and a more homey feel. The existing layout had a lot going for it as an entertaining space.
With the stove located on the island meant whoever's cooking can be involved in the conversation with people sitting on the bar stools or at the dining table in the far corner.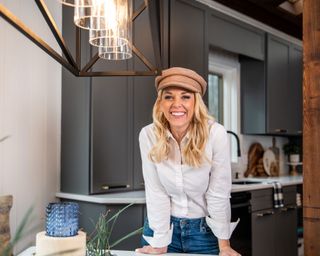 It's blue makeover means guests will want to stick around. 'I can see a boatload of people in there making memories for years to come,' Kortney says.