Kendall Jenner's bathroom tiles are the real show-stopper of her house tour. While she might be a novice in the kitchen (need we mention the infamous cucumber-cutting incident) but we have to hand it to the model, her bathroom is nothing short of stunning. In fact, her whole Cali pad is the stuff of boho dreams.
Although she's gotten attention in the tabloids for her recent romantic endeavors and family shenanigans on Hulu's Kardashians, her creative abode is not nearly as appreciated as it should be. It's charming, a bit rustic, and wholly delightful.
In particular, her W.C. has made the social media rounds, largely thanks to her brass tub. But now her tile style is said to be making a resurgence, so if you were mulling over small bathroom ideas, Kenny's got ya covered.
What does Kendall Jenner have in her bathroom?
Aside from the luxurious tub and the ornate red and gold rug before it, Kendall's bathroom — which made an appearance in Architectural Digest in 2020 — is known for its deep green Zellige tiles, a Moroccan-inspired aesthetic that makes you feel rejuvenated.
"Zellige tiles are currently trending all over Instagram and Pinterest," says interior stylist Vivianne Chow. "They're a popular choice for kitchens and bathrooms because of the beautiful texture, subtle color variation, and handmade look that they bring to a space."
Rotem Eylor, the founder and CEO of Republic Floor, believes that the varied, imperfect appearance adds to the charm and only makes the design more enviable, as "people are infusing more of their personalities into their home designs and decor."
The problem? The real deal can be a pretty penny and require extensive upkeep, though it is durable. But fear not — we'll help you recreate the look. (Cute bathroom decor buys? You best believe we're coming for you.)
Vivianne Chow is an interior stylist and founder of the home decor blog, VivandTimHome.com. She's passionate about sharing the best modern home decor to buy and recently built a dream custom home with her husband Tim. Together they're tackling decorating room by room and sharing design tips and ideas along the way!
Rotem Eylor is an entrepreneur, forward thinker, and hands-on CEO and Founder of Republic Floor, a successful flooring company based in the U.S. Eylor has achieved great success through hard work and dedication and has proven that with the right mindset, all can be achieved. Eylor calls his approach "Guerrilla Operations." One of his key management skills is being able to turn the ship quickly, no matter the size of the ship.
How to recreate the Zellige look in your small bathroom
People are drawn to the unique aesthetic and variety of colors, not to mention the texture and depth gives them an organic almost natural feel," notes Alice Moszczynski, an interior designer at Planner 5D. "They evoke a sense of travel and cultural appreciation, bringing in a bit of that worldliness into your home."
It's no surprise that the globally renowned model would have a bit of travel flair infused into her space. But how do you make it happen in your own abode when space is not quite as available as it is at Kendall's? In the event you hadn't heard, the pros flagged dark shades as the worst colors for a small bathroom.
First things first, you'll want to go the temporary route if you're a renter, as the real deal might not be a feasible project for your landlord to take on.
"Embrace peel-and-stick versions or even wallpaper that mimics the Zellige patterns. It's a commitment-free approach to capture the allure without altering the original space," says interior design expert Artem Kropovinsky. (Should you be interested, there are plenty of peel-and-stick wallpapers to complement the temporary tiles.)
Also, rather than go for a complete floor-to-ceiling Zellige look, start with a particular area. Is there a section you want to pop? Perhaps you found a cool mirror to brighten your small bathroom, and the tile with "bespoke beauty," as Kropovinsky says, is the way to pull it all together.
"If you don't want to commit to covering the whole bathroom, choose a prominent area in the room to experiment with a Zellige accent wall and accentuate with complimenting patterns and colors through towels, mirrors, and accessories," suggests Claudia Hearne, interior designer and managing director of Hearne House Ltd.
This is an especially good idea if you have your heart set on a darker hue but you're confined to a small space. It's best not to overwhelm the allotted room you do have.
She adds, "If the peel-and-stick option doesn't appeal, the Zellige tile effect can be mimicked using textured paint and stencils."
Alice Moszczynski is an interior designer at Planner 5D, which focuses on creating impactful, sustainable interiors for community organizations, prioritizing responsible design. She holds a BFA from the Rhode Island School of Design and has worked for prestigious firms throughout New York City.
Artem Kropovinsky is an interior design expert and founder of Arsight, an award-winning interior design studio based in New York.
Claudia Hearne is an interior designer and managing director of Hearne House Ltd., which offers a build and project management service across London and the South East.
Get Kendall Jenner's Zellige tile look
Ready to give it a whirl? It's time to start peeling and sticking, friends!
Prices were correct at the time of publication.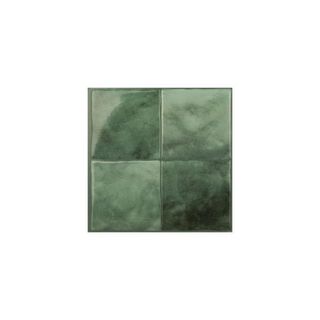 L9 x W9
1. Smart Tiles Backsplash in Green Taza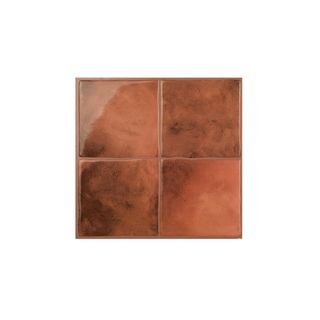 L9 x W9
2. Smart Tiles Backsplash in Orange Safi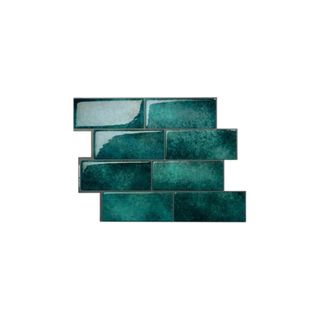 L12 x W8
3. Peel and Stick Gel Backsplash Tile Metro
---
Need more ways to add style to your W.C.? These small bathroom vanity ideas are ones to copy if you can't splash the cash.