With many of us spending more time in our kitchens than usual, it's impossible not to crown our coffee machines the unsung hero of quarantine. This undisputed winner has undoubtedly made our mornings better and the shift into working-from-home as painless as possible.
In a matter of minutes, our machines have our go-to cup of joe ready, and in turn, left us feeling as energized as ever, prepared to tackle whatever the day throws our way.
Chances are many of you are like me and have opted to go above-and-beyond and upgraded your everyday essentials to one of the best coffee machines on the market. Now in the event you haven't? The holiday season is the perfect time to score one of this season's most coveted kitchen gifts.
Jonathan Adler, who is one of the most famous and most sought after interior designers in the business, teamed up with Keurig to create the coffee machine to end all other coffee machines.
Together, this dreamy duo served up not only this limited-edition K-Mini Single Serve Coffee machine but also conjured up a 14oz limited-edition mug that pairs to perfection. (And if you think you're dreaming after reading that sentence? You're not.)
Available at Target, both items featured in the most vibrant blue and white design, similarly echo some of Adler's signature art deco prints of the past. So, when added to any kitchen corner or cabinet? These must-haves will make a bold, impactful statement that takes up little-to-no room. Talk about smart styling!
Plus, if that wasn't enough? For a limited time, shoppers can score this single-serve machine majorly marked down for just $69.99, and the 14.oz ceramic mug, running for $9.99. And if you're thinking what we're thinking?
For anyone who's in search of a holiday gift (or gift) for all the coffee-lovers in their life? Both choices are absolute staples this holiday season, and now there's never been a better time to shop them.
Go ahead and add both items to your carts and avoid any Blue Christmas' without them.
Also, be sure to also check out our review on the Keurig Single-Serve Coffee Maker here!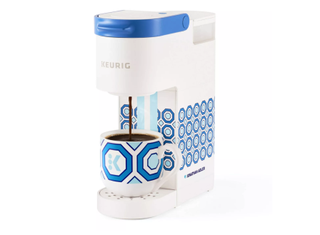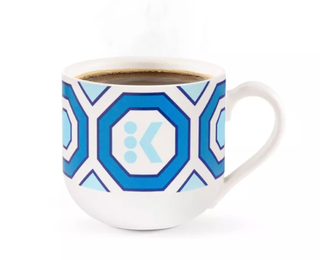 Still, want more? Check out additional Keurig offerings below: