Jonathan Adler has revealed his secret to making the bathroom feel that little bit more glamorous. The famous interior decorator and head judge of HGTV's Design Star: Next Gen says that a lamp is the solution to a drab bathroom.
Obviously, any lighting needs to be incorporated carefully and with advice from an electrician when there's water involved. Provided that you can pop a lamp into your space safely, it's a fabulous bathroom lighting idea that will make things much more flattering.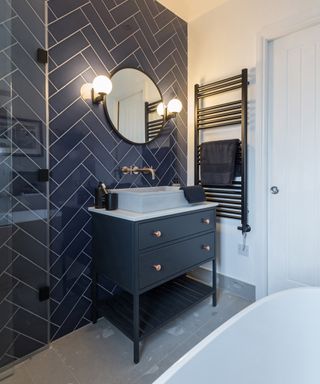 Jonathan Adler is a well-known figure in the interior design world, famous for his ceramics, SoHo boutique, and eponymous interiors business. As part of his work with Sipsmith, he recently told us how to add a hint of glamour to the bathroom.
'A lamp! Bathrooms deserve moody lighting and, bonus, 4 out of 5 people agree your wrinkles will look less wrinkly in diffused light,' Jonathan Adler says.
Ideally, a bathroom will have both task lighting so you can see what you're doing, and moody or ambient lighting for relaxing in the bathtub. And a dimmer on everything so you can adjust light levels easily.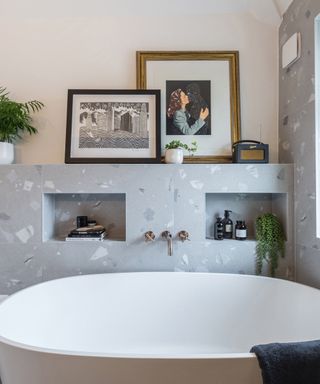 As Jonathan suggests, bathrooms aren't often places we lavish with cozy, layered lighting. But wallpaper and textiles are becoming increasingly common in bathrooms as we start to treat them more like 'rooms in which we bathe.'
So why not go the whole way and add a lamp? We think a little wireless mushroom lamp would look great perched on top of the shelf next to the houseplant in the bathroom image above.
If you're not keen on the idea of lamps in the bathroom, you could always use Jonathan's tip in a powder room or downstairs toilet. We like the idea of adding a lamp into a second bathroom to guide the way when guests come round.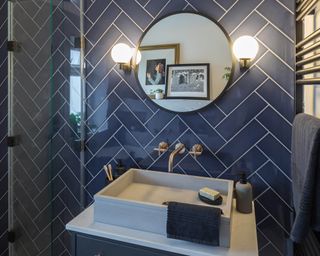 A lamp or wall light that diffuses the light is great for those occasions when you're there for relaxation. 'Lighting is often overlooked in a bathroom but one way to change this is by installing wall lights as well as the main one,' says Barrie Cutchie, Design Director at BC Designs.
'Having these on a dimmer will also allow you to control the vibe, with them turned down low when wanting a relaxing bath on an evening. They are also great at highlighting different features or zones of a bathroom such as a vanity unit which can be one of the starring features of your bathroom,' says Barrie.
We previously shared an expert bathroom lighting hack involving two lights on either side of the mirror to banish shadows. As bathroom ideas go, Jonathan's glamorous bathroom tip is a little controversial, but if you can make it work, do it!
Add some fancy soap, fresh white towels, and a vase of eucalyptus and you're good to go.