Fixer Upper star Joanna Gaines recently shared the news that she and Chip had an exciting new houseplant arrival at their Magnolia store in Waco: a gigantic staghorn fern.
When Jo posted a video of it being installed on Instagram, fans were left feverishly googling this unusual variety and how to care for it.
The large plant with elegant antler-shaped leaves is now pride of place in the homeware store. We know it's only a matter of time before the staghorn fern trend takes over.
We're big on houseplants and firmly believe the best indoor plants breathe life and joy into your space – but even we hadn't heard of this one...
'Meet Earle 😍 He's a 26-year-old staghorn fern that traveled all the way from Florida to his new home here at @magnolia!' Joanna Gaines writes in the caption of her Insta post.
'If you're in town, stop by the Silos to meet Earle and see how our incredible visual team brought spring to life in the shop!'
Staghorn ferns or Platycerium are tropical plants native to Asia and Australia that grow onto other trees. They have circular leaves that absorb most of the nutrients and water and large pronged, stag horn-shaped leaves.
They can live for many years when in good care, and grow very big. The huge spike in search the day Joanna Gaines revealed her new plant tells us the staghorn fern trend is blossoming.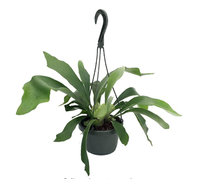 Staghorn Fern 6.5" Hanging Plant - Exotic House Plant, $25 at Amazon
Welcome a delightful staghorn fern into your own space with this plant from Amazon that comes in a hanging pot. With its unusual leaves, it's sure to receive compliments.
How do you care for a staghorn fern?
Staghorn ferns need bright, indirect light and thorough watering when dry. As a tropical variety, staghorn ferns benefit from regular misting with a spray bottle to increase humidity levels around their foliage.
You could try mounting yours on a wall indoors to mimic the way it grows on trees in the wild, or even hang it in a north-facing porch or conservatory. In the video on Instagram, Joanna feeds Earle some banana peel for some extra potassium.
How cold can staghorn ferns tolerate?
Staghorn ferns make brilliant houseplants and will grow happily between a temperature range of 50 and 100°F (10 - 37.7°C). If you're worried, read up on how to care for houseplants and take time to notice any changes in your plant to catch any problems early on.
Will you be adding one to your plant collection?