An island is one of the most highly coveted kitchen features you could possibly have. As for a double kitchen island? For a large majority, it's reserved for our 'dream kitchen' Pinterest boards due to just how much space it would take up.
However, if you do have the square footage, boy does this kitchen island idea open up room for preparing food and entertaining - as Joanna Gaines demonstrates on a recent episode of Fixer Upper: Welcome Home.
Before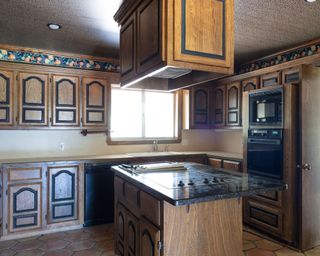 In the episode, Joanna and Chip take on the 'Mediterranean Money Pit' home of Christina, a doctor, and her husband David who works as an attorney. The property looked great from the outside, but their clients assured them that inside, there was a lot of work to be done.
Entering the kitchen, pictured above, must have felt like walking into a time warp – although it did have a kitchen island. The wooden cabinetry was very dated, and what with the gaudy orange and lemon wallpapered border and random leopard print ceiling, it was truly stuck in the 70s.
Although we have to admit, we would love to meet the previous owners of this property to ask how they landed on the leopard print for the ceiling...
After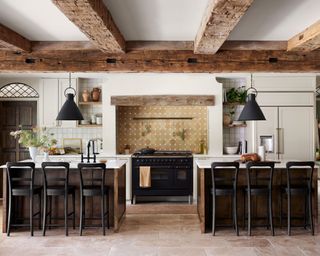 As one of the main things clients David and Christina wanted was a gathering place for their extended family, Chip and Jo knocked down the wall dividing the kitchen from the living room and added the double island.
The kitchen islands tick a lot of boxes, giving the family additional storage, somewhere to spread out ingredients while baking, and it's also just a nice spot to eat some quick breakfast. You can just imagine a relaxed get-together taking place here, family and friends chatting and enjoying some food.
Jo incorporated a range of other stylish, modern kitchen ideas such as matte black bar stools, white countertops and oversized light fittings to zone the space.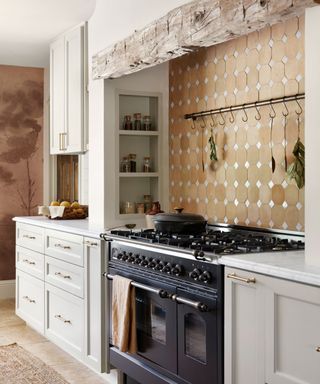 We love the tiled backsplash and warm-toned files underfoot, which honor the Mediterranean style of the building. The beam above the cooker matches those on the ceiling, bringing a feeling of warmth and a sense of history.
The best thing about the extravagant double island is the beautiful symmetry it creates, balancing out the large open-concept area.