Two household names have come together for the collaboration of all collaborations. And it feels so right. Many of us aspire to be like Joanna Gaines (perhaps why her Hearth & Home with Magnolia line at Target has been so successful) as well as dream of owning the kitchen classic that is a KitchenAid stand mixer.
Gaines expanded into small kitchen electrics territory and joined forces with KitchenAid to create a special edition matte green version of the KitchenAid Artisan 10-Speed Stand Mixer that is available exclusively at Target.
The Pebbled Palm differs from the typical shiny KitchenAid models with its matte textured finish that is reminiscent of cement and seriously striking. The gorgeous deep teal was released alongside the Gaines' holiday baking collection, rounded out with great giftables like cookie cutters, spatulas, and decorative towels.
The Hearth & Home with Magnolia edition comes with a special collector's insert packed in the box as well as the typical KitchenAid accessories like a coated flat beater, coated dough hook, 6-wire whip, and a pouring shield. Interestingly enough, the stand mixer is not co-branded with any Hearth & Home with Magnolia markings, but it is truly unique to any KitchenAid finish we've seen before.
Like any other Artisan Series mixers, the spacious 5-quart size has the capacity to mix up to nine dozen cookies, four loaves of bread, or seven pounds of potatoes in a single batch. It also has 10 speeds to take on a range of tasks like mixing ingredients, kneading dough, or whipping cream.
If you've been holding out on a KitchenAid of your own, we think this special design is the perfect excuse to splurge on a stand mixer that will be the perfect companion for baking projects, family gatherings, and beyond. Don't forget the addition of Gaines' latest edition of Magnolia Table that's sure to come in handy for recipe inspiration.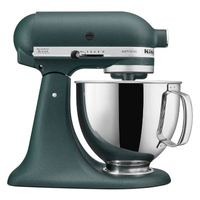 KitchenAid Artisan 10-Speed Stand Mixer - Hearth & Hand with Magnolia | $399.99 at Target
We're obsessed with the matte and textured finish of the Pebbled Palm stand mixer. The on-trend green will stand out on countertops in all the right ways. Plus, it's the ultimate kitchen companion for whatever baking project you take on.
Read next...