Jamie Oliver fan? Us too, which is why we've done a load of research to find out exactly where (*okay some things are lookalikes) he buys his oh-so Instagrammable cookware from. We're talking the roasting dishes, decorative plates, soup bowls and more. All of which are quite often featured on his 'gram.
Speaking of which, we had a little stalk of his Instagram account – @jamieoliver for those who don't know – and we've found duplicates of certain stuff that has been featured. Over the sound of our rumbling bellies, of course. How does everything look so good? Have a browse below to see what we've found – this way you can buy the best of the best dinnerware and cookware (and the most stylish according to Jamie) for when guests come over to dine.
For more great kitchen ideas, get tons of design tips in our dedicated feature.
1. A classic large baking tray

John Lewis & Partners Enamelware Baking Tray | £20
This 41cm white and grey enamelled rectangular pie dish is great for your savoury or sweet pies. The surface keeps mess to a minimum and the tray can be easily cleaned in the dishwasher. It looks great on the table, too. As modelled by Jamie Oliver's mushroom cannelloni pie...
2. Beautiful plates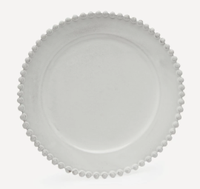 Large Adélaïde Dinner Plate | £105 at Liberty
This lovely dinner plate features on Jamie's Instagram page quite a lot. Well, either that or it's a very good lookalike. It's made from exposed clay...
3. An amazing frying pan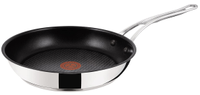 Tefal Jamie Oliver Stainless Steel Premium Series Non-Stick Frypan, 28cm | £55 £46.82 (save £8.18) at Amazon
This frying pan has an ultra-durable non-stick coating reinforced with titanium particles. Made with Thermo-spot technology – the spot turns full red when pan has reached its ideal temperature – this pan has comfortable to use (and sturdy) riveted stainless steel handles. It's compatible with all hobs including induction, too. Clearly, Jamie likes using it! As seen cooking this delightful looking mushroom dish...
4. Easy to use graters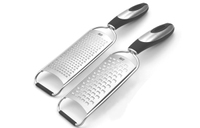 Jamie Oliver Fine and Coarse Grater set | £27.28 at Amazon
Jamie suggests a fine grater as a kitchen must-have and we agree. The razor-sharp acid etched stainless steel blades give optimum performance (mind those fingers); the angled non-slip handles give added stability; and there's a protective blade covers for safe storage. The coarse grater is ideal for vegetables and hard cheeses and fine grater for citrus zest, cheeses and chocolate. Dishwasher-safe!
5. A lovely soup bowl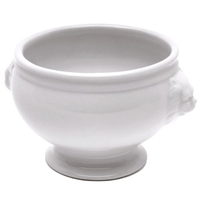 Royal Genware Lion Head Soup Bowls | £24.98 for 6 at Amazon
We're not quite sure who owns specific bowls for soup, but we are here for these ones. They are white gloss glazed while they feature two lion heads on either side. Definitely one for Christmas lunch...
6. A blue roasting dish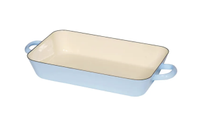 Riess 33 x 20cm Pastel Blue Roasting Dish | £44.99 at Trouva
This lovely roasting dish has enamelled handles and it looks rather similar to the one Jamie Oliver is using for his lovely sausage and mash pie. It can be used on all types of hubs as well as in the oven up to 450ºC, and it's easy to clean.