When we hear news of a new (potential) best vacuum cleaner on the block, we can't wait to share it with you. Here we go: introducing the Dyson 360 Heurist robot vacuum – the brand's latest robotics innovation to launch, which is happening today! It's the result of more than 20 years' of robot vacuum development, and has the powerful suction that Dyson is known for, plus a host of gizmos and gadgets to boot.
This clever robot vacuum cleaner will continually learn and adapt to your home by mapping out its route, and it won't get lost either because it has intelligent Simultaneous Localisation and Mapping (SLAM) vision system for accurate navigation (wish our other halves had that when we're driving somewhere with them so we don't have to be accused of back-seat driving).
It even has eight advanced sensors so it can see precisely where it's going, 20% more suction and 20 times more memory than the Dyson 360 Eye, a full width-brush bar so it vacuums wherever it goes AND it can all be controlled through the Dyson Link app – wow, that's a lot of tech!
To be among the first in the UK and Ireland to get your hands on this rather impressive piece of kit, you can buy it direct from Dyson now.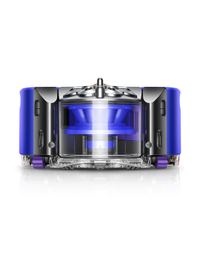 Dyson 360 Heurist Robot Vacuum | Now £799.99
The wait is over, you can now buy the Dyson 360 Heurist direct from the manufacturers – it's not just a gadget; it has eight sensors, powerful suction and a full width-brush bar so it can clean your home!
More vacuum cleaner recommendations