The Instant Pot Black Friday sale is on, with our favourite retailers giving generous discounts on just about every model of the much-loved appliance. If you have an old, noisy pressure cooker, or a slow cooker that's seen better days, or you're a bit overwhelmed by the sheer number of pans you have to keep in your kitchen for cooking different types of meals, you should definitely give the Instant Pot a good look. You can even – gasp! – make your own yoghurt in this amazing appliance.
Still not sure if you should get one? We answer the question 'Should I get an Instant Pot this Black Friday?' in a separate article.
The best Instant Pot deals UK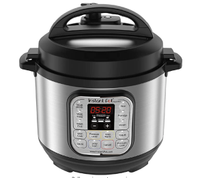 Instant Pot IPDuo-30 Duo Mini | £69.99 £59.99 at Amazon
The mini is such a useful size – the three-litre Instant Pot is perfect if you cook for one, or they can be used alongside another Instant Pot as a designated side/starter cooker or rice cooker. It has all the same programmes and three speed settings as a normal-sized Instant Pot, too.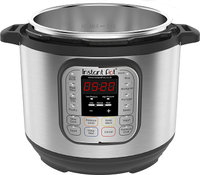 Instant Pot Duo 7-in-1 Electric Pressure Cooker | £84.99 £59.99 at Amazon
This is no ordinary pressure cooker, replacing seven different cooking appliances, from a rice cooker to steamer. It can also make authentic-style yoghurt – breakfast sorted.
What we really like about all the different ways you can use it is the warmer function – once done cooking, it will keep your food warm enough to eat without overcooking.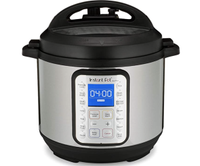 Instant Pot Duo Plus 80 | £119.99 £99.99 at Amazon
An update on the Instant Pot Duo, this model features an improved lid with a seal and a cooking indicator that lets you know when cooking starts and how long is left. There are 15 different cooking programmes for everything from ribs to rice and from soups to eggs. And the stainless steel exterior is fingerprint resistant, so it'll always look brand new.
The best Instant Pot deals US
In the US? There are plenty of deals around!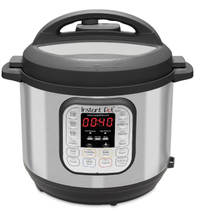 Instant Pot Duo Nova 6 quart 7-in-1 One-Touch Multi-Use Programmable Pressure Cooker with New Easy Seal Lid | $99.99 $49.99 at Target
This foolproof version is ideal for pressure cooker newbies, and is the updated version of the model above. The Duo Nova does everything the original Duo does, plus features an EasySeal Lid that automatically seals when you start cooking, as well as a cooking progress indicator so you can monitor your food as you go. Because they're the same price, we're calling this one the better deal.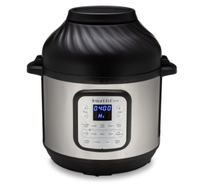 Instant Pot Duo Crisp and Air Fryer | $129 $79 at Walmart
For everyone who like slow cooking, but sometimes just craves some nice fries, this Instant Pot model is definitely worth checking out. It's the same Instant Pot Duo with its many cooking functions, from steam cooking to sous vide and an air fryer. Air fryers are great because they deliver on flavor while minimising the use of fat, and here it simply attaches as a lid.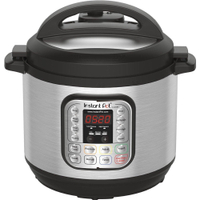 Instant Pot DUO80 8 Qt 7-in-1 Multi- Use Programmable Pressure Cooker | $149.99 $99 at Walmart
The Instant Pot DUO80 is named America's most-loved multicooker for a reason: it can cook chicken in six to eight minutes; ribs in 15 to 25 minutes; and a fish fillet in just two to three minutes. Trust us when we say this is the kitchen appliance you need to making cooking an easy chore.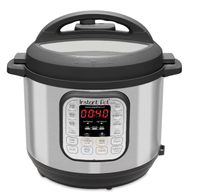 Instant Pot Duo 6qt 7-in-1 Pressure Cooker| $99.99 $79.99 at Target
Don't need the wifi option? This version is comparable to the smart version in that it functions as a pressure cooker, slow cooker, steamer, etc., and comes with 14 smart programs designed to perfectly cook whatever's on the menu.