Whether you love what you've done with your living room or you've always felt that it's a little bit lacking, chances are good that after a year of treating your living room as your home office, restaurant, bar, and personal movie theatre, it could use a little sprucing up to ensure it remains visually interesting and comfortable to spend time in.
The goal of making your home look better aesthetically is ultimately tied to making it feel better—both in terms of comfort and how the space actually makes you feel when you retreat into it … which, thankfully, doesn't typically require a huge redesign budget to achieve.
In fact, when it comes to keeping your living room design looking fresh and put together, it's really all about taking care to keep things in order while creating enough visual interest that you'll actually enjoy looking at.
Below, we spoke to a handful of interior designers in our network to get their top tips on how to make your living room look and feel better—without spending a dime on new furniture, paint, or even artwork. From taking time to declutter and restyle your space to enlisting the help of friends and family who share your design taste, here's exactly how to give your living room a refresh for free.
Do a decluttering marathon.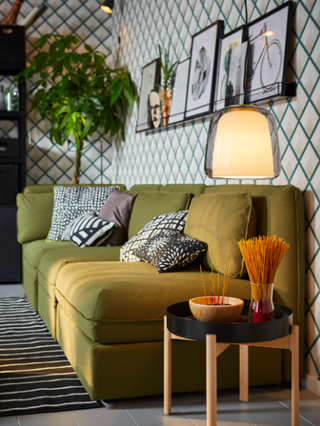 "Nothing makes a home look tired and messy than clutter," says Michele Vig, Founder & Chief Organizer at Neat Little Nest in Minneapolis, Minnesota. "Spending time decluttering your home, which is the act of deciding what you want to keep and what you want to say goodbye to, is a free way to freshen up the space."
Create a "home" for everything you own.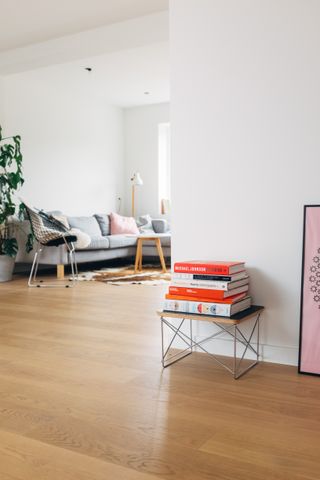 In order for your home to be more put together, you'll need to first create a "home" for everything you own. According to Vig, without an organizational system in place, it is difficult for anyone, especially someone who has a demanding schedule, to keep their spaces tidy and looking fresh. "If you need low cost organization ideas, repurpose those cardboard boxes and containers from the grocery store!" she suggests. Once you've found a home for an item, it's also a good idea to label it. This helps create an organization system that's easy to follow.
Use a weekly reset routine to keep spaces tidy.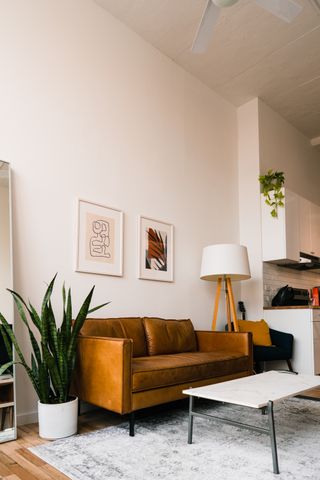 A weekly reset is choosing one day of the week to reset your home, which includes putting items back in their homes, taking inventory of supplies and planning any purchases and cleaning any areas of your home that need it. "Having a weekly routine might be the biggest game-changer for keeping your home decluttered, organized and fresh," says Vig. "For many, Sunday is a good choice for a weekly reset because it sets them up for a successful week ahead."
Restyle your books and knick-knacks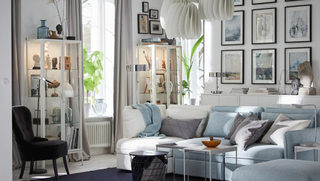 Ashley Libath, Founder of Ashley Libath Design in Montauk, New York, suggests taking everything off any existing bookshelf or countertop and restyling it in a fresh and visually interesting way. "You'd be surprised at how a different arrangement of your same items can change the feel of a space," she says.
Bring the outdoors inside.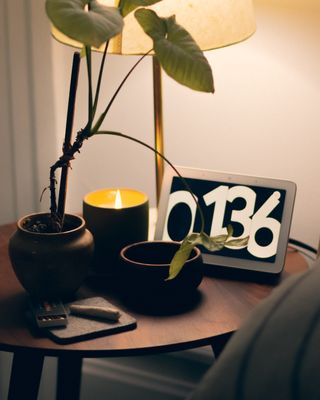 "Put fresh flowers or greenery from your yard in a vase or decorative container to help bring life to your home," suggests Susan Peters, Owner of 9108 Designs in Clifton, Virginia. "There are many plants and trees you can trim and use inside as table and counter décor. In warmer months, a bud vase with a single flower in a bathroom or a bouquet on your coffee table can help add interest and beauty to your home." In the colder months, snips from an evergreen bush or even an arrangement of bare branches can add a welcome touch of nature to your home.
Don't have access to an abundance of green space to forage from? Grocery store flowers can also be an inexpensive option if you don't have flowers growing near your home but still want a little burst of nature indoors.
Shop your space.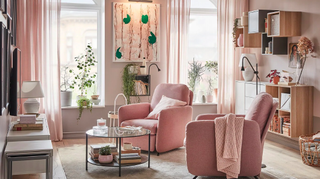 "One of my favorite free design tips is to shop your own house!," shares Jennifer Burt, Home Staging Expert and Designer at Mississippi Maximalism in Starkville, Mississippi. "I learned this trick when I moved from a tiny Manhattan apartment to a 3 story home during the recession and had to decorate on a tiny budget."
Burt suggests freshening up your home by color coordinating each room—choosing a central hue, then bringing pieces from your bathroom or bedroom into the living room and grouping them together for a dramatic effect.
"My foyer had artwork with green in it as well as green decorative boxes on the console table, the home office had orange and brown textiles and all the wood framed pictures we owned and the living room was a mix of pink coffee table books and black and white accessories," explained Burt. "Sticking to a color scheme kept me from impulse buying just because I liked something!"
Initiate an art exchange.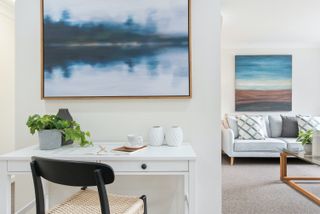 If you're looking for a way to freshen up your wall space but don't exactly want to part with the art or prints you've collected over the years, Burt suggests initiating an art swap. "Consider swapping artwork with a friend or a relative," she says. "I can remember my mom doing this with a neighbor when I was young. It is a fresh look for zero dollars!"
Arrange visually interesting items into groupings.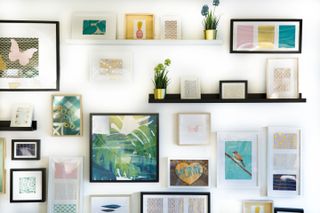 Wondering what to do with that souvenir snow globe collection you've amassed over the years or all those farmhouse antiques you inherited from a relative? Burt suggests grouping your collections together for a look with impact. Then, let these vignettes serve as focal points for your room. "Pick your favorites and store the rest," she suggests. "You could even consider alternating a couple of times a year when the seasons change."
Like collectable items, simply rearranging artwork can have a similar dramatic effect. "Rather than one lonely picture on a large wall, gather several that compliment each other and hang them together as a statement piece," adds Peters. "You can do this with photos as well!"