I've always loved the look of a trellis privacy wall on a porch or patio. They help to delineate the space and offer, well ... privacy. In the case of our patio, it is enclosed with stucco walls so we didn't really need the privacy but I've never loved the look of a plain stucco wall, and thought I could add some texture and interest to the area by creating a planter and trellis wall to cover the stucco.
See also: 15 trellis ideas to support veggies & vines, and add privacy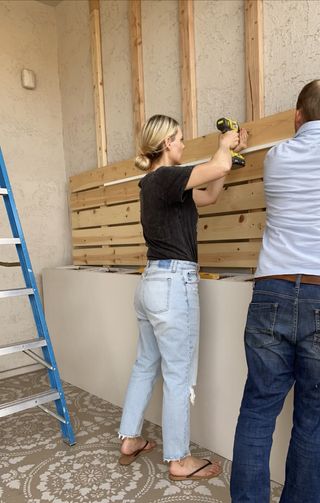 How to build a trellis wall with planters
To start, I built the frames for the planter boxes.
I used pressure-treated 2x4s and measured them so they would cover most of the length of the stucco wall.
If you are building planters and/or a trellis wall that will be exposed to the elements, you'll definitely want to use a wood that has been pressure treated or treat the wood yourself as well. In my case, I decided to stain the wood for my project and then seal it with a clear coat of polyacrylic.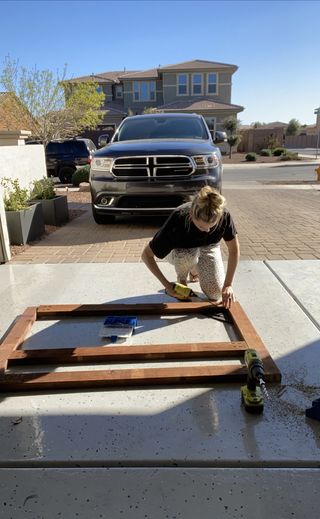 Then, I connected the 2x4s with screws and a drill, starting with one side of the planter.
Next, I built the base, top, and opposite site.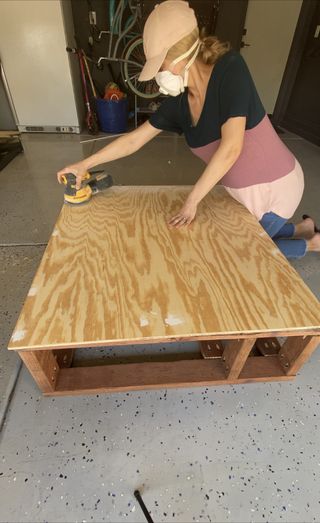 Once the frame was done, I covered the planter boxes with ¼" plywood and sanded, primed, and painted using an exterior paint for durability.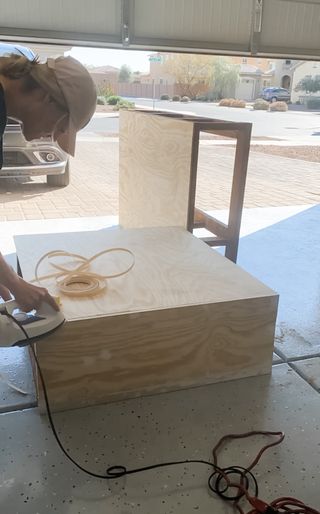 I knew that I wanted to have a dedicated place for plants so I drilled ½" holes using a spade bit into the top of the plywood. These holes I would use to anchor the fake stems. And I know there may be controversy over using faux plants, but in my case it made sense because of the lack of sunlight as well as the issue of running drip lines to water the plants … so, faux plants it was!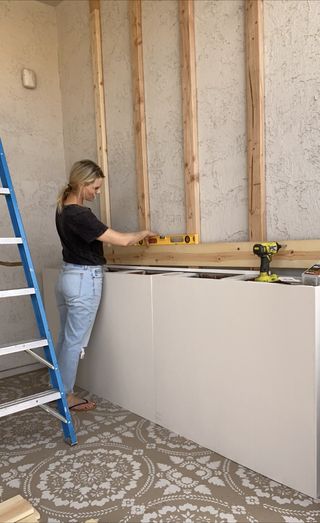 Then, it was time to build the trellis wall. I began constructing the structure that the trellis slats would be anchored to. I used vertical 2x4s that I screwed into the planter boxes and then the stucco, using at first, stucco anchors, but then realized that I could get the same durability by using 4" screws designed to be used in concrete or masonry. Once all the vertical pieces were installed it was time to start screwing in the horizontal slats!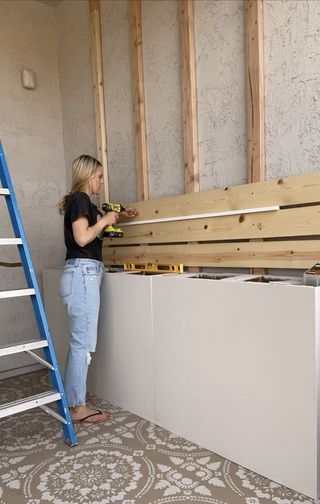 To make sure that my slats were evenly spaced I used a scrap piece of 1x2 in between each one. Make sure that you have a level on hand to ensure that each slat is perfectly level. That would be a mistake you would definitely notice! I secured each slat with three of the same 4" masonry screws, making sure to drill directly into the vertical 2x4s. I did have to make a few cuts and a notch using a jigsaw in one of the slats to accommodate the ceiling soffit.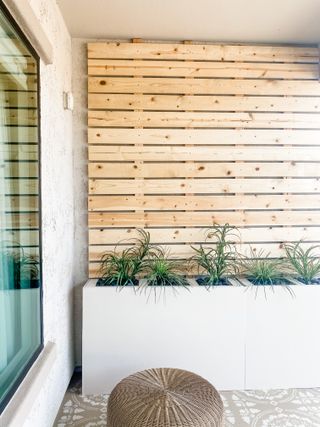 I couldn't believe that adding some planter boxes and wood detail to this wall made this space so much more interesting! I love the view outside my window now and instead of staring at a black stucco wall I have this pretty trellis wall staring back at me!