Hey now, hey now: there's a Hilary Duff fragrance piquing our interest, and we're not talking about the star's "With Love" perfume. Now, the Lizzie McGuire alumna is stepping into the home sphere with Below 60°, inspired by the most pristine air on the planet, which is below the 60th parallel south.
The debut line of 100% natural air fragrance devices has hit the scene and intends to keep your space filled with the "cleanest, purest, freshest air." We obviously don't need to tell you that this is what dreams are made of.
If you're looking to take your home fragrance up a notch, allow this delightful collection derived from essential oils to assist.
Meet the Hilary Duff fragrance line for homes: Below 60°
Things people with nice-smelling small homes always do is nix the bad stuff: artificial dyes, synthetic scents, etc. Luckily, Below 60°, where Duff serves as the chief brand director, is all about the real thing.
"Becoming a mom meant becoming more conscious and cautious about the products I use, so we've gone to the ends of the earth to develop unique, 100% natural fragrances from responsibly sourced ingredients," Duff said in a statement about Below 60°. "I can't wait to share them with you. They're fresh and fantastic, and so much fun."
At this time, there are three distinct scents ready to delight homebodies:
Mint Disco on Ice (mint, lavender, and glacial waters)
If Citrus Were a Feeling (grapefruit, lily, sandalwood)
Vanilla Buys a Timeshare in Paradise (pineapple, exotic coconut, and Tahitian vanilla)
If you're curious about how to make your home smell good, more fragrances are due to us in 2024, but given that the brand's starter kit—which includes a subscription option for $29.97 — will last three months, you're set for the time being. If anyone's curious, this is *definitely* on our Christmas list this year — and we have a feeling it'll be on yours, too.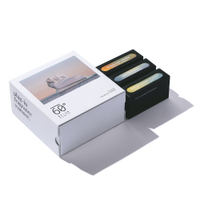 Below 60° Starter Kit | $58.96 from Below 60°
One fragrance diffuser and the brand's three signature scents:
Mint Disco on Ice
If Citrus Were a Feeling
Vanilla Buys a Timeshare in Paradise
Until 2024, we'll personally be settling in with If Citrus Were a Feeling, the scent Duff claims to be her favorite. Which one are you eyeing first?
---
Have nice-smelling scents on the brain? We can give you some guidance: our edit of the best essential oil diffusers for a safe (and cute) way to make your space smell amazing is worthy of a glance.